Seven California architects have been honored with the Gold Medal from the American Institute of Architects since the award was established in 1907. Bernard Maybeck, in 1951, was followed by William Wurster in 1969 and Richard Neutra (posthumously) in 1977. Then came Charles Moore (a nomad, born in Michigan, who was more Californian than anything else) in 1991, Frank Gehry, FAIA, (a Canadian who moved to Los Angeles at age 18) in 1999, and Thom Mayne, FAIA, in 2013.
This year's winner, Julia Morgan, is another posthumous honoree: She was born in San Francisco in 1872 and died there in 1957. Aside from a childhood year in New York and an important six-year stint in Paris, during which she became the first female student to earn a degree from the architecture division of the École des Beaux-Arts, she spent her entire life in Oakland, Berkeley, and San Francisco. Though she designed a YWCA in Honolulu in 1920 and sent sketches by mail for a house to be built in Auckland, New Zealand, in 1928, nearly all of her commissions were in her home state.
And a staggering number of commissions there were: Morgan, the first female architect to be licensed by the state of California, oversaw more than 700 built projects during her career, or an average of 15 per year between the time she founded her San Francisco office in 1904 and her decision to close it in 1951, when she was 79. (By contrast, Maybeck, her friend and mentor, completed an average of roughly two buildings per year.) Geographically, the California projects ranged from the Herald Examiner Building in downtown Los Angeles, a combination of Moorish and Mission Revival styles, all the way north to Wyntoon, the estate near Mount Shasta and the Oregon border where she designed several buildings between 1924 and 1943 for the newspaper's owner, William Randolph Hearst. Along with his mother, Phoebe Apperson Hearst, he was Morgan's most consistent and supportive client, commissioning her to design the extravagant group of buildings in San Simeon, Calif., known collectively as Hearst Castle.
Morgan's specialties included private houses as well as YWCAs and other women's clubs in several California cities. (A loose group of well-connected women around the state gave her support and work throughout her career.) The biggest collection of her work at one site is the Asilomar Conference Grounds, on the Monterey Peninsula, where she designed a total of 16 buildings for the YWCA between 1913 and 1929.
That prolific output is one reason it has taken so long for Morgan's work to win the sort of national notice symbolized by the AIA Gold Medal, which has never before gone to a woman. There was something supremely methodical, even metronomic, about her practice. ("She ran as efficient an office as I've ever been in," one of her employees said.) Typically we consider that sort of steadiness as being at odds with singular genius, which the clichés have led us to believe comes in bursts of unpredictable inspiration.
Morgan was hardly the kind of architect to madly sketch plans that had suddenly come to her on the back of a napkin. (I'm not sure any architect is, really, but she never came close to filling that stereotype.) Her muse was the grindstone. During her most prolific years, her office juggled two or three dozen projects at the same time. She often worked 18-hour days. She never married.
Morgan produced no manifestos, and she shunned the press. As Sara Holmes Boutelle, Morgan's biographer, put it, "She steadfastly refused to enter competitions, write articles, submit photographs to architectural magazines, or serve on committees, dismissing such activities as fit only for 'talking architects.' " Morgan had a similarly dim view of prepping her archive for posterity. When she retired, she had all her blueprints and other materials destroyed. She figured the only people who might have any use for them were her clients. And they had their own copies.
Morgan never hitched her architecture—or her career—to any theory or school. In this, she resembled another overlooked Californian, Irving Gill, who by 1915 was producing houses that were as radically spare and stripped of ornament as anything designed by Adolf Loos in Europe, but stayed largely unknown because he lacked Loos's interest in polemics. Morgan built a following that was restricted to her own professional circles and, largely, to the San Francisco Bay Area. But, like Gill, she understood structure and the behavior of materials deeply enough to make her architecture a vehicle for experiments in engineering, especially in her early embrace of concrete.

Certainly operating as a woman in a profession dominated by men had much to do with the way she carried herself. Morgan disdained publicity for reasons that were at least partly strategic. She had many clients who accepted the idea of an architecture practice headed by a woman but would not have been thrilled to see Morgan sticking her neck out for any cause, let alone a feminist one. Some have argued that this suited Morgan's temperament, since her priority was always to safeguard her ability to do her work.
Yet there's no doubt that she acutely felt the pressures that came with pushing her way into architecture's all-male world. In her first year as an undergraduate at the University of California, Berkeley—she would go on to become one of the first female students in the UC system to earn a degree in civil engineering, in 1894—she had to rely on her younger brother Avery to chaperone her by horse-drawn streetcar between the university and the family home in Oakland. (As a sophomore, she moved into a sorority house on campus.) In a letter from Paris, she wrote with some frustration that one of her École instructors "always seemed astonished if I do anything that shows the least intelligence."
Yet, in the end, those qualities—her consistency, her distaste for self-promotion, the obstacles she faced as a female architect—don't fully explain why her work was admired rather than celebrated for so long.
Another major factor has been the limited, even stunted, definition of innovation prevailing in architecture, and among critics and prize juries, since the beginning of the modern movement in the early years of the 20th century. That view has tended to lionize only those architects who break new formal ground or dramatically cut stylistic ties from their predecessors.
Morgan's work, by contrast, was anchored in synthesis. It took the Academic Classicism still dominant when she was studying at the École and mixed it with elements of the Bay Region style established around the turn of the century by Maybeck and others. The result was Beaux-Arts & Crafts, to coin a phrase: the emphasis on symmetry and decorum of the classical European approach combined with the connection to region and landscape fundamental to Bay Region architecture. Some of her work was plainly neoclassical, some more fully craftsman. But nearly all of it exists somewhere on that continuum.
When prompted by a client like Hearst, her architecture could be theatrical, whimsical, even extravagant. The buildings at San Simeon and Wyntoon were all three. In Southern California she adopted the Spanish Colonial Revival. Through the years, many critics and architectural historians have read these buildings against the backdrop of Modernism and dismissed her architecture as fussy or eclectic, which for many of them were synonyms for undisciplined. If there is one thing Morgan's work is not, it is undisciplined.
The projects over which she had more creative control were subtler, and often let material richness speak more loudly than form or revivalist style. St. John's Presbyterian Church in Berkeley, Calif., finished in 1910, is a blend of Romanesque, Gothic, Tudor, and Arts & Crafts elements that come masterfully together in a redwood interior that is complex and harmonious at the same time. A chapel and auditorium at Asilomar, from 1915 and 1928, respectively, apply the same approach. In these projects, the influence of the earliest Bay Region architects is evident; but Morgan added what their work lacked—or maybe sought, in the romantic spirit of John Ruskin, to avoid—namely a layer of urbane sophistication. There is William Morris in her architecture, but the Parisian years are clear to see, too. She took the rustic character of Maybeck's architecture, its bracing roughness, and smoothed it out, creating something more easily salable, sure, but also, in terms of technical skill and poise, often more impressive.
Most impressive of all were the buildings that brought together regional, historical, and cultural references all at once. Morgan's YWCA for San Francisco's Chinatown, finished in 1932, is among the best examples, a masonry building in a hilly urban setting with three towers topped with Chinese tile.
There is something of a chicken-and-egg quality to the question of Morgan's relationship to style. Was it the wide range of clients that inspired her diverse architectural output? Or was it more the case that she sought work from a wide range of clients so that she could satisfy her own native interest in stretching her talents? Many of her admirers have written that what made her work stand out is its absolute commitment to the desires of her clients, many of whom kept coming back to her; but I think this misses the point. Throughout her career she was arranging tests for herself, and, more often than not, passing them.
All the same, by virtue of personality and in service of her reputation, she exhibited a noticeable distaste for experimental form. In a 2005 book about Morgan and Asilomar, Russell L. Quacchia tells the story of a young architect in her office who sketched an inventive, fanciful set of stairs that struck his boss as unbuildable. "Well, young man," she told him dismissively, "I can't deal with fiction writers."
Still, you would have to have a pretty blinkered view of how architecture (or American culture) operated during Morgan's life not to see her as a remarkably, even astonishingly, groundbreaking figure. Her practice itself was the polemic. Her professional success and longevity were the radical statements of purpose.
Think about what it took to forge her career. She sailed to Paris after college because she'd heard that the École might soon open its entrance examinations to women. She learned French and worked as the only female architect in a series of Parisian ateliers. The École's exam was taxing, with written and oral sections; in a typical year, between 90 and 95 percent of the applicants failed. On her first try in 1897, competing in a foreign language against mostly native speakers, she placed 42nd of 376, which was not high enough: Only the top 30 were admitted. She failed a second time the following spring. In the fall of 1898, she tried a third time and succeeded, with the 13th highest score.
She took some solace in the fact that nearly all the French applicants who'd passed had also failed the first two times. She explained her determination to keep trying in a letter to friends: "A mixture of dislike of giving up something attempted and the sense of its being a sort of test in a small way, of work itself overcoming its natural disadvantages," she wrote, "made it seem a thing that really had to be won."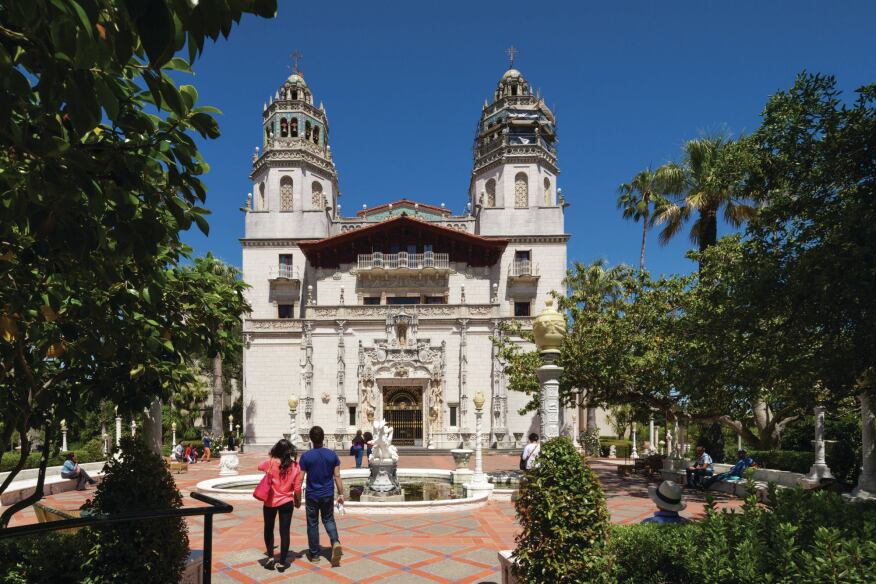 I grew up in a house designed by Julia Morgan. Built in 1920 for a couple named Lucy and Wallace Macgregor and their family—it was Lucy Macgregor who sought out Morgan—it sits on a wide, shallow parcel of land in the Berkeley Hills that slopes down toward San Francisco Bay. In the Morgan office, it was numbered Job 520. My parents bought it in 1972, the year I turned two. They still live there. The house was part of a new North Berkeley subdivision called Thousand Oaks: early photographs show it sitting nearly alone on its hillside. Lightly decorated with restrained, nearly abstracted Tudor half-timbering, it is symmetrical as it faces away from the bay and toward the street, with gables on either end and a wide dormer, with window boxes, above a substantial redwood front door.
Inside, the house continues briefly with this charade, that it is set in a flat English garden rather than the Berkeley Hills, facing a damp meadow beyond instead of the Golden Gate Bridge and San Francisco and the Pacific Ocean. But very quickly you realize that the architecture is, more than anything, a machine designed very efficiently to deliver visitors to the view it offers due west.
When you come through the door, you face the side of the staircase and a choice: to go either left or right. But either way you will reach one of a pair of large picture windows, one in the living room, near the southern end of the house, the other in the dining room, toward the north. In each room there is a fireplace set into a windowless wall to the east directly opposite the picture window to the west: the hearth in one direction and the world in the other.

There is a remarkable 2001 project by the photographer Richard Misrach, the "Golden Gate" series, showing the view from his house high in the Berkeley Hills (even higher than my parents' house) toward the bay, not as an iconic postcard perspective but as something shifting and unpredictable, the colors and tones changing by the week and the season. I remember something similar from my childhood: taking in that view every morning and every evening, over breakfast and dinner, and each day seeing a different effect, a slate gray monochrome in winter and pinkish-orange in summer, when the sun set way north over Marin County.
My bedroom was on the northeast corner of the second floor. It was designed for the daughter of the owners, an artist, so she'd have northern light. With redwood walls tucked beneath a sloping roof, it was a charming room with only one drawback: It was located on what was very clearly, even to a child, the wrong side of the house, away from the view, facing the street instead of the bay, overlooking people walking their dogs instead of sailboat races. But the room itself almost seemed to sense this, and off the main room was an extra space, too modest to be called a sitting room, that turned toward the west. One small window, maybe 18 inches square, offered an oblique view of the Golden Gate, although it wasn't until I was nearly a teenager that I became tall enough to see the bridge through it. The room is shaped roughly like the letter L, and, like the rest of the house, what counts is the pull exerted by the part of the L that bends west, toward the view.
The house is a pretty good shorthand for Morgan and her approach. It is a California house in the same rather complex way she was a California architect. Its equilibrium and handsome redwood interior mask the careful rigor of its plan. In opening itself up to its setting in the strategic, generous way it does, it combines materials and landscape to create something far more striking than the sum of its well-ordered parts. It is a beautiful house willing to concede that the views it frames are more beautiful still.