Category: Work
Award
Once Manhattan's warehouse sector, Chelsea is today a contemporary art gallery district. But with the rise of the High Line and the high-end residential buildings it has attracted, Chelsea might be something else tomorrow—which is why the galleries that are committed to staying are either consolidating or expanding. David Zwirner, one of New York's four mega-giant galleries, is leading the charge for more space with its new 30,000-square-foot gallery building.
Designed by local firm Selldorf Architects, the building's exposed concrete façade references the neighborhood's industrial past while also projecting its own modern program. The museum-quality (and museum-sized) exhibition space includes a column-free, 5,000-square-foot ground-floor gallery with a nearly 19-foot-high ceiling—built for showcasing a range of works by some of the world's most innovative artists. The concrete floors and sawtooth skylights in this gallery extend the industrial language of the façade into the primary program space.
A skylit stairwell rises all five levels of the building, connecting primary and secondary galleries with the building's other function: as a working office for art dealers, art handlers, artists, and art assistants. Selldorf's sliding teak system for the storefront engages both curious passersby and committed collectors, establishing an inviting portal into the neutral context of the white-cube space. The architects' selection of materials and textures balances the requirements for inward- and outward-facing spaces meant for private work and public exhibition alike. "Even in New York, where so many buildings are really background buildings, this fits in really well with what's going on in the street and avoids being just another drab gallery," juror Cathy Lang Ho said.
See all of the winners of ARCHITECT's 2013 Annual Design Review here.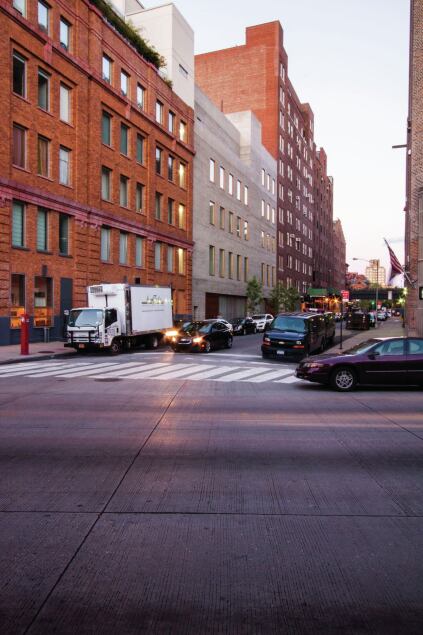 ---
Project Credits Project David Zwirner, New York
Client David Zwirner
Architect Selldorf Architects, New York—Annabelle Selldorf, FAIA (principal); Sara Lopergolo, AIA (partner-in-charge); Julie Hausch-Fen (project manager); David Moore, Susan Parapetti (project architects); Matthew Kanewske, Laura Samul, Dylan Sauer (project team)
General Contractor Eurostruct
Structural Engineer DeSimone Consulting Engineers
M/E/P Engineer AltieriSeborWieber
Concrete Consultant Reginald Hough Associates
Geotechnical Engineer Langan Engineering & Environmental Services
LEED / Sustainable Design Consultant Atelier Ten
Lighting Designer Renfro Design Group, Atelier Ten
Terrace Garden Designer Piet Oudolf
Green Roof Consultant Goode Green
Envelope Consultant James R. Gainfort, AIA Consulting Architects
Environmental Engineer Roux Associates
Acoustic Consultant Shen Milsom Wilke
Elevator Consultant IROS Elevator Design Services
Fire Alarm Consultant Acotech Services
Expediter Jam Consultants
Specifications Writer Construction Specifications
Size 30,000 square feet
Cost Withheld