Fayetteville, Ark., faces conflicting food fortunes. On one hand, the state is impressively productive (second in chicken production, third in turkey and catfish, and home to food giants Tyson Foods and Walmart). "Fayetteville is in one of the state's most prosperous regions," juror Sasa Radulovic said, "but it also has the highest rate of childhood hunger in the U.S." As a way to reconcile this disparity, the University of Arkansas Community Design Center (UACDC) came up with Fayetteville 2030, a set of planning guidelines that would introduce urban agriculture at scales that benefit local communities. The plan would complement the city's growth projections by including a food-production program into yet-to-be developed land, merging agriculture with infrastructure, transportation, and housing. Strategies would include community gardens, composting networks, greenhouses, aquaculture facilities, and edible parks. Unlike the larger-scale industrial food production that ships food out of Arkansas, Fayetteville 2030 would distribute crops locally through exchanges, hubs, and markets. UACDC conceived the plan in such a way that it would meet other municipal objectives, too, including economic development, energy conservation, and resilience.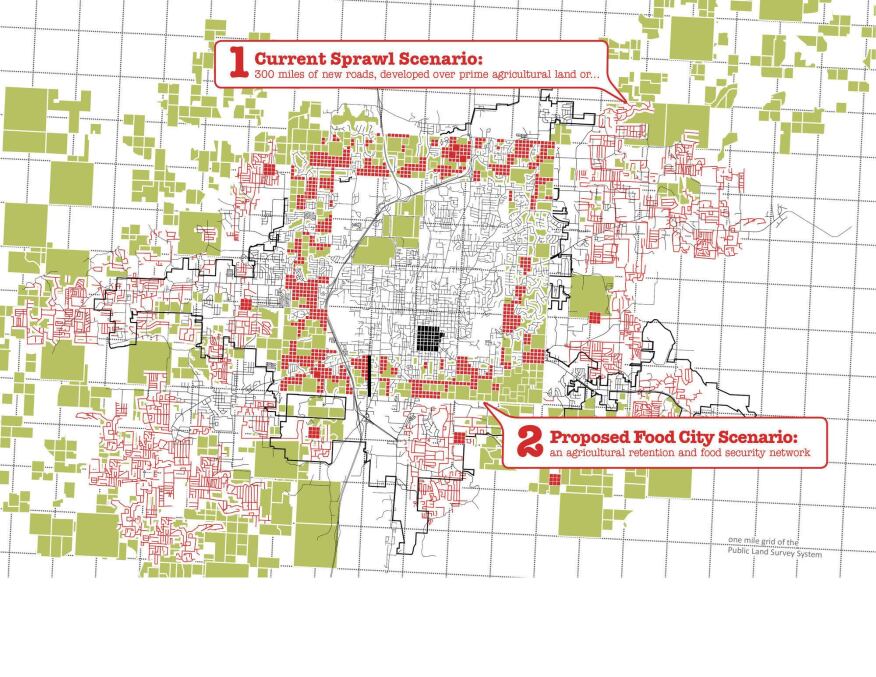 Project Credits
Project Fayetteville 2030: Food City Scenario, Fayetteville, Ark.
Client City of Fayetteville—Matthew Petty (alderman and community organizer)
Architect University of Arkansas Community Design Center (UACDC), Fayetteville, Ark.—Stephen Luoni, Assoc. AIA (director); Jeffrey Huber, AIA (assistant director); Cory Amos, Assoc. AIA, Meredith Hendricks, David Jimenez, Allison Thurmond Quinlan, Assoc. AIA (project designers); Linda Komlos (administrative specialist)
Funding Decade of Design Grant Program, the American Institute of Architects, and the Clinton Global Initiative
UACDC Students Jonathan Elmore, Jacob Larison, Kimberly Murray, Ryne Pruitt, Richard Adam Stowe, Patrick Templeton, Leniqueca Welcome, Geronimo Debeza-Rodriquez, Jacob Drew Short, Timothy Patterson, Rachel Raben, Sarah Evans Jones, Paul Mosley
University of Arkansas Department of Biological and Agricultural Engineering and Center for Agricultural and Rural Sustainability Marty Matlock (area director); Nick Stoddart, Ben Putman, Lori Silva, Aaron Thomason, Barb Lombardi, John Beyers, Katie Whitbeck, Paige Heller, Jaime Gile, Nick Lombardo, Mike Crouse (students)
University of Arkansas Dale Bumpers College of Agricultural, Food, and Life Sciences Ruben Morawicki
University of Arkansas School of Law and LL.M Program in Agricultural and Food Law Susan Schneider
Size 35,000 acres
See all of the other Progressive Architecture winners here.