The 2013 AIA National Healthcare Design Awards feature a dozen of the best healthcare designs, chosen by The American Institute of Architects (AIA) Academy of Architecture for Health (AAH). The Healthcare Awards program highlights both building design and research into healthcare design. In addition to serving the basic functional requirements of hospitals, these winning projects also address issues of sustainability, social responsibility, and urban integration. The 12 winning projects were awarded in five categories, as described below. The jury included Joan Saba, AIA, (jury chair) of NBBJ; Orlando T. Maione, AIA, of Maione Associates; Mike Mense, FAIA, of mmenseArchitects; Kathy Reno, of Joint Commission Resources; Bill Rostenberg, FAIA, of Stantec; Bryan Shiles, AIA, of WRNS; and Ron Smith, AIA, of Design At The Intersection.
To view details and images of each of the winning projects, please visit ARCHITECT's Project Gallery.
Category A: Built, Less than $25 million in construction cost
The LEED Gold-pending UCLA Outpatient Surgery and Oncology Center in Santa Monica, Calif.—a facility featuring less clinical environments—won in both built and on-the-boards categories.
Sited on San Juan Island, Wash., the Peace Island Medical Center used the Living Building Challenge to influence decisions on sustainable initiatives such as natural ventilation, reduced potable water use, and minimal energy use.
Two projects were rewarded for combining multiple facilities into a single building. The Adamsville Regional Health Center houses a variety of programs, including childcare facilities, a behavioral health clinic, and a workforce community center, in addition to its primary care clinic in a 34,000-square-foot building completed in 275 days. The 60,000-square-foot Everett Clinic Smokey Point Medical Center; meanwhile, boasts 20 different medical specialties under its roof.
Category B: Build, More than $25 million in construction cost
Patients in the University of Minnesota Amplatz Children's Hospital are encouraged to explore the facilities with themed interiors that feature an interactive "Passport to Discovery" program.
Phase one of a new 35-acre campus, the 11-story Palomar Medical Center features garden spaces on every level.
The 760,000-square-foot San Antonio Military Medical Center, adds a LEED Silver-certified rehabilitation clinic to the existing Brooke Army Medical Center.

Category C: Unbuilt
Sheikh Khalifa Medical City combines three hospitals into one 3-million-square-foot, 838-bed complex in Abu Dhabi, United Arab Emirates. Shared medical facilities fill a two-story plinth at the base, and bed towers rise from the elevated ground plane of the podium's roof.
Category D: Innovations in Planning and Design Research, Built and Unbuilt
Two innovative projects received awards for proposing alternative solutions to medical issues. The Brigham and Women's Hospital, Advanced Multimodality Image Guided Operating Room (AMIGO) moves medical equipment around a patient, allowing for static surgery within a kinetic environment, while another project, Rethinking the Need for Emergency Department Beds, examines the triage process and proposes sitting exams for patients requiring less urgent care.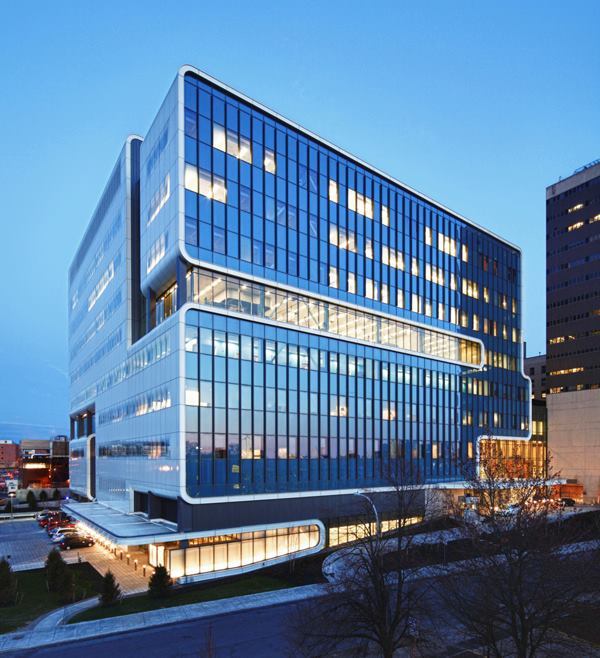 The Kaleida Health, Gates Vascular Institute and UB Clinical Translational Research Center sandwiches a collaborative core between two facilities, the Gates Vascular Institute, and the Clinical Translational Research Center, with its architecture unifying these otherwise separate programs.
Category E: Master Planning Urban Design for Healthcare Settings
Thinking about the hospital as an urban activator was the underlying principal behind Focal Point Community Campus; within the campus, a third-floor band of food and retail spaces serves as a circulatory system within the facility.
For more details and images of the 2013 National Healthcare Design Awards, visit ARCHITECT's Project Gallery.