Every other year, the AIA and the American Library Association dole out the AIA/ALA Library Building Awards to honor the best libraries recently built across the country. This year, six recipients were recognized for their excellence in the architectural design of libraries and how the designs respond to the needs of the surrounding residences. The winners include a renovation to Paul Rudolph's utopian vision in Massachusetts, a new structure in Iowa following an unprecedented flood, and a children's education center with a holistic approach.
The jury included Christine Verbitzki, AIA, senior associate at GUND Partnership; Drew Harrington, dean of the library at the University of Portland; James Richärd, AIA, principal of richärd+bauer; Clyde Scoles, director of Toledo Public Library; Doug Stieve, AIA, principal at Wiss, Janney of Elstner Associates; and John F. Szabo, the city librarian of Los Angeles Public Library.
Cedar Rapids Public Library, Cedar Rapids, Iowa by OPN Architects
After the community experienced a monstrous flood, the city came together to build a responsive site with a publicly accessible green roof and underground storm water collection chambers. The building is LEED Platinum certified.
Claire T. Carney Library Addition & Renovation, University of Massachusetts, Dartmouth by designLAB architects
As Paul Rudolph's centerpiece for a utopian community campus, this formerly dysfunctional building gained collaborative work spaces and an expansive common room encased in glass after a two-year renovation process. Since completion, the entrance count has tripled.
Hillary Rodham Clinton Children's Library and Learning Center, Little Rock, Ark., by Polk Stanley Wilcox Architects
Set in a neglected neighborhood, this center built for children not only houses books and performance spaces, but areas to learn about healthy eating, agriculture, and the natural environment.
Mission Branch Library, San Antonio, Texas, by Muñoz and Co.
This catalyst for new development in an underserved community features local materials, such as three brick bovedas (cross vaults built without centering) in the L-shaped lobby and San Saba Sandstone wainscot that wraps the entire exterior along the white stucco walls.
Slover Library, Norfolk, Va., by Newman Architects with Tymoff + Moss
A former courthouse and city hall, the 115-year-old Seaboard Building building gained a seven-story glass walled addition, and arched openings along the western wall, but still maintains the original design intent with restored masonry.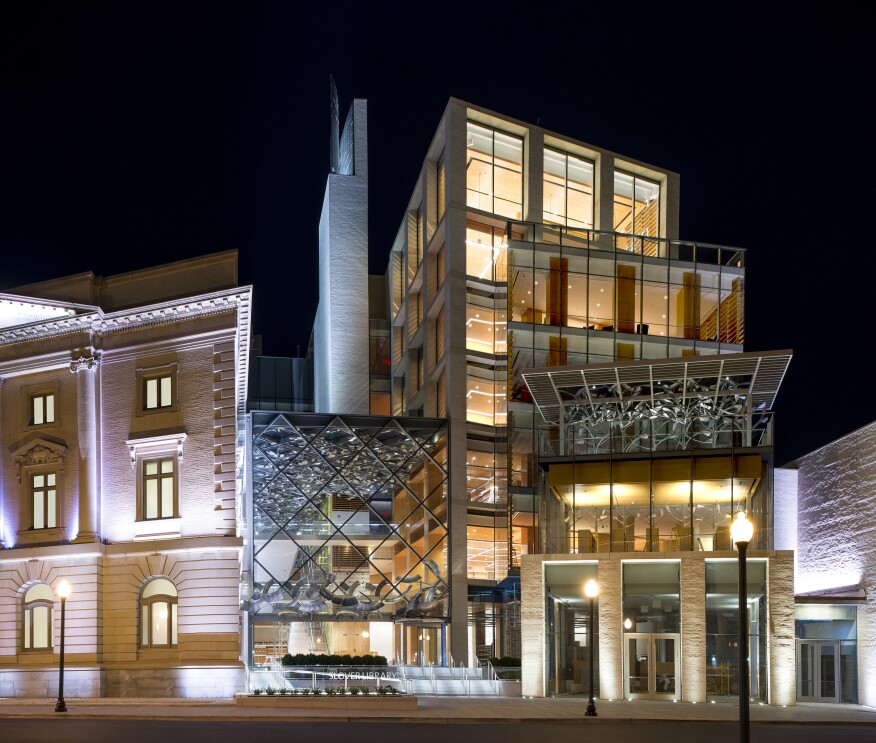 Vancouver Community Library, Vancouver, Wash., by The Miller Hull Partnership
This new five-story building features a multi-story glass atrium to encourage outsiders to explore the contents offered inside. Once there, the interiors offer wayfinding features such as an "adventurous" staircase and a graphic "knowledge wall."