To Our ARCHITECT Readers,
It's been a wild couple of matches between the 32 AIA Gold Medal winners, but we've finally arrived at the championship round. After four rounds of voting, the last two architects standing are now battling it out for the 2016 Arch Madness Title. But first, let's recap Round Four.
In the last round, Italian architect Renzo Piano, Hon. FAIA, went head to head with Richard Meier, AIA, from New York. Piano, known for the structurally engineered gem that is the Centre Georges Pompidou in Paris, gave a valiant effort throughout several rounds, besting predecessors and contemporaries alike, including Richard Neutra, Sir Norman Foster, Hon. FAIA, and E. Fay Jones, last year's Arch Madness winner. But in the end, Meier, who gracefully illustrates his works in watercolor, beat him out by a 10 percent margin.
The other match was between the self-taught Japanese architect Tadao Ando, Hon. FAIA, and Thom Mayne, FAIA, the Los Angeles architect who has caused as many upsets in this year's Arch Madness tournament as in the design world. Ando, lauded for constructions that are airy and open, also took the previous rounds by storm. In Round Three, he beat out Chinese-American modernist I.M. Pei, AIA, by 46 votes. And in Round Two, he shut out Charles Moore by a whopping 126 votes. Even so, this wasn't enough to topple Mayne, who swept Ando by 51 votes—a notable feat since Mayne edged out Frank Gehry, AIA, in the previous round.
Alas, here we are at the Championship Round. Facing off are East Coaster Meier and Mayne, representing the West Coast. To vote, click on the name or picture of the architect you prefer.
The polls for this round close on Tuesday, April 5, at 11:59 p.m. Check back then to see who won it all, and follow other readers' choices by tweeting out #ArchMadness2016.

Select an architect to learn more and to vote!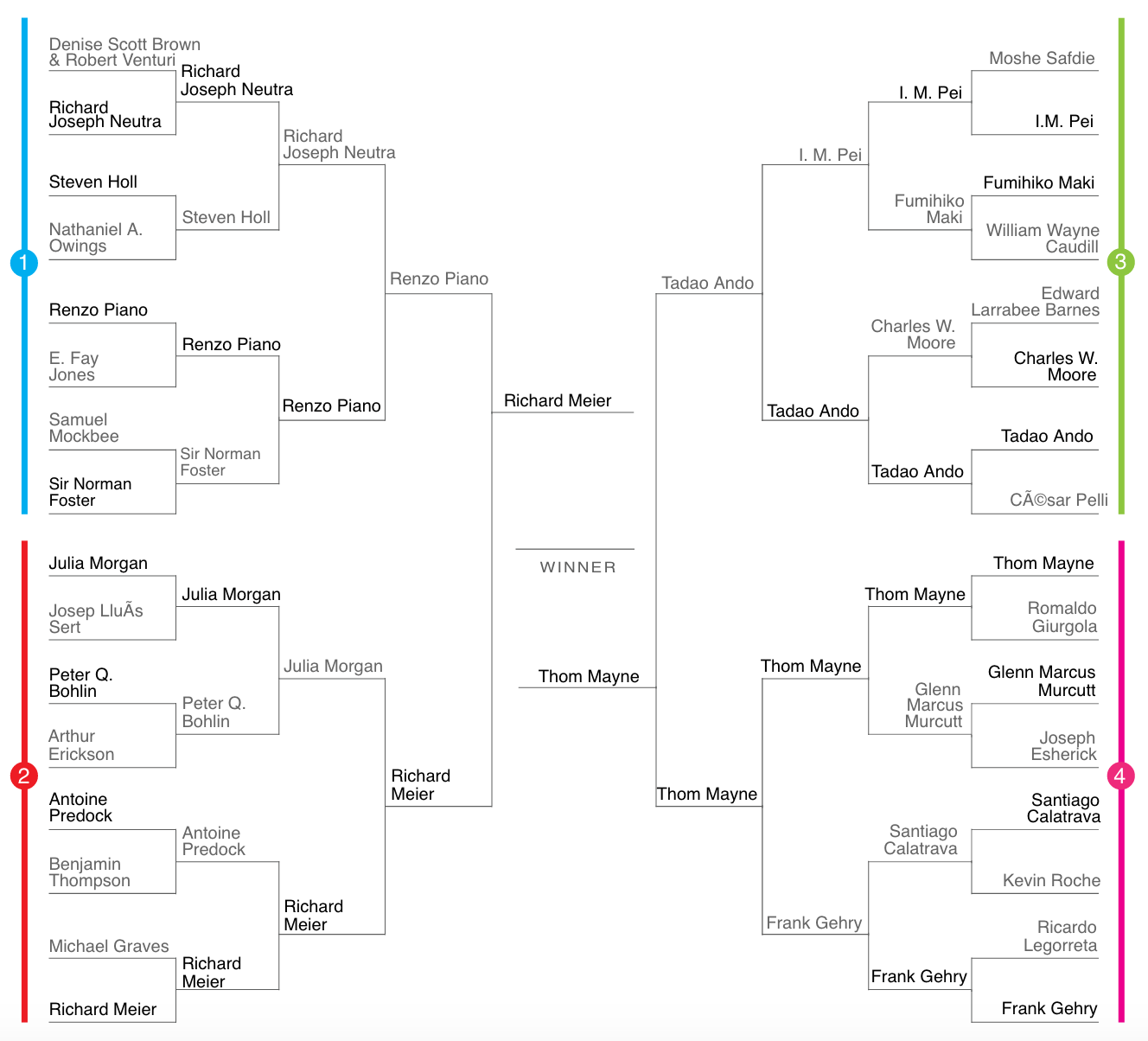 FINAL ROUND
<