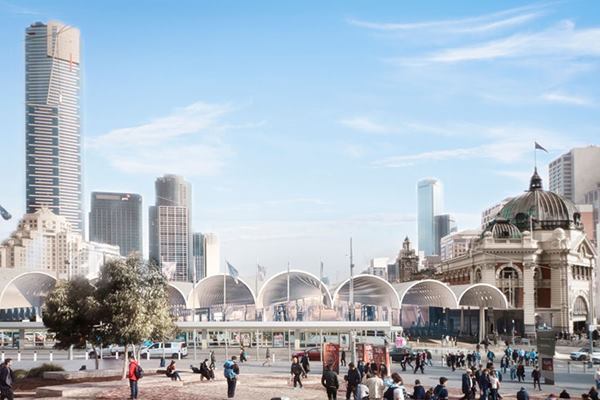 A unanimous jury has selected the proposal from collaborating firms Hassell and Herzog & de Meuron as the winner of the Flinders Street Station competition, which was organized by Major Projects Victoria to revitalize the Melbourne, Australia, rail-interchange terminal. The Victorian Coalition Government began soliciting entries in November 2011 for its competition to reimagine Flinders Street Station. Citing issues of widespread economic benefit and an analysis of the Infrastructure Australia cost-benefit process, the jury selected the Hassell and Herzog & de Meuron entry from a field of six short-listed projects. Each of the finalist projects was judged based on the criteria of overall design merit, transportation functions, built form as it relates to cultural heritage and urban design, and value for money spent during development delivery.
The Hassell and Herzog & de Meuron proposal, which features a roof of latticed barrel vaults, was described by the jury, which was led by Victorian government architect professor Geoffrey London, as "a beautiful and compelling integration of aspects of the original station design, strongly reinforcing its gateway status." These signature vaults, which are laid out one per track along the passenger concourse, were inspired by never-realized features of the station's 1899 design by Fawcett and Ashworth, according to the proposal. The jury commended the design team for the vaulting, which it cited as being "robustly and cleverly detailed to provide shelter, light, and natural ventilation as well as an enjoyable, atmospheric, and highly memorable place."
The six short-listed entries were open to public voting for two weeks on the competition's website, with the team of Eduardo Velasquez, Manuel Pineda, and Santiago Medina winning the People's Choice Award, based on 286,250 site visits from 161 countries. The eponymous designers, graduates of the University of Melbourne, emphasized the idea of having a publicly accessible courtyard within the station, with an overhead urban park bringing green space to the station's urban environment. With the public voting on criteria of overall design merit, transport, heritage, and urban design, this proposal garnered the highest ratings in each category; the competition-winning proposal from Hassell and Herzog & de Meuron placed third in the overall popular vote. Each of the five nonwinning finalist teams—including Velasquez, Pineda, and Medina—will receive an equal share of prize money that had been allocated for second and third prizes, per the jury's decision.
To view all of the Flinders Street Station competition entries, please visit ARCHITECT's Project Gallery.