Before celebrating its 20th anniversary this fall, Auburn University's Rural Studio has a few more milestones to mark. In Newbern, Ala. (population: 186), where the program is based, the studio has undertaken a mission to create civic spaces for the community. This spring saw the opening of a new town hall, the genesis of which was an earlier Rural Studio project: an adjacent fire station that was completed in 2005. The station was meant to provide the volunteer fire department with classroom space and a garage for its trucks, and to double as the city council building. During meetings, so the thinking went, fire trucks would be pulled out from the garage, freeing up room for the town council to assemble. But in practice, the council often ended up meeting between the trucks in an interior that was hot in the summer and cold in the winter.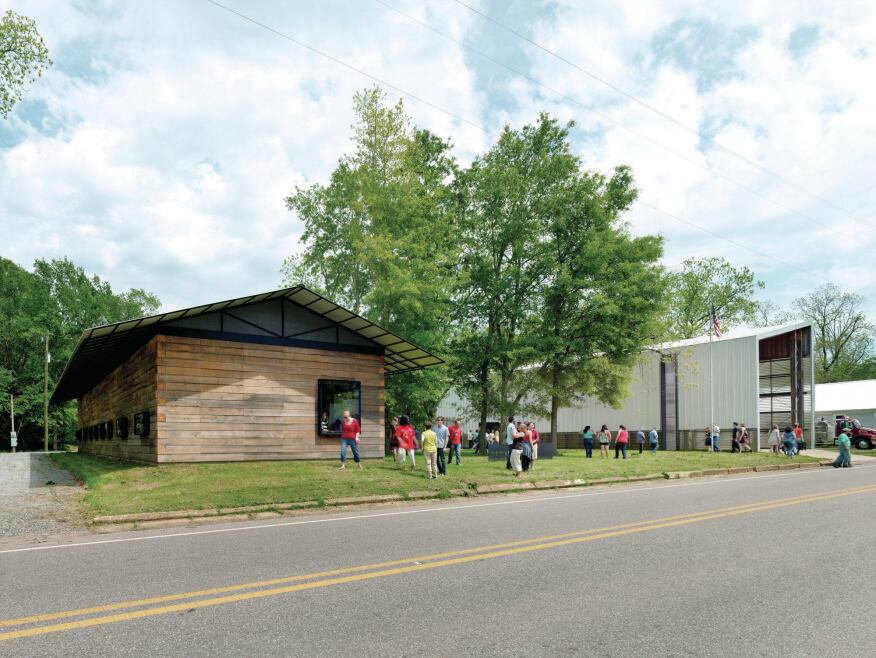 "It worked very well for fire trucks, but less well for human beings," concedes Andrew Freear, who has been the director of Rural Studio since 2002, and currently serves on ARCHITECT's editorial advisory board. Not one to be discouraged, though, he set his sights on designs for a new town hall. Designed and built by students David Frazier, Brett Bowers, Mallory Garrett, and Zane Morgan, the building provides space for council meetings and community gatherings. Linked to the fire station with a Rural Studio–designed courtyard, replete with a barbecue pit, the hall completes a new town square for Newbern. (A library is also under way on the other side of the road.)

The designers set out to impart the town hall with civic stature, but they wanted to be sure not to compete with the firehouse, which has its own elegant presence. "After a lot of consideration," remembers Frazier, "we reasoned that the new building didn't have to compete with the fire station in scale, but that it could really achieve a presence through the material." Taking advantage of a local lumber industry, they determined that wood would be a cost- and energy-efficient choice, but worried that cladding a structural frame with timber would introduce added material cost, and would result in a flimsy-looking building. Instead, they devised a system of stacked cypress beams, eliminating the need for extraneous finishes and hardware, and giving the structure a certain gravitas.

"With the town hall, the students considered absolutely everything, from light fixtures to door handles. You name it, they designed it," Freear says. "The project really set a new level for Rural Studio." As the program celebrates its 20th anniversary, Freear is keeping his eyes on the future. Several key projects are slated to finish up over the next few months, including the Newbern library; a two-bedroom, $20,000 house; and the Lions Park Scouts building, in Greensboro, Ala.

The town hall is already proving its civic worth. Freear reports that when the U.S. Postal Service was planning to cut hours, the building became a venue for concerned residents to discuss the changes. It's also been a successful pedagogical tool: "We were never told we couldn't do anything, but we were asked 'Why?' a lot," Frazier recalls. "If we could justify it, then we could go ahead, but if it just looked cool, we had to give it more."
---
Project Credits
Project Newbern Town Hall, Newbern, Ala.
Client Mayor Woody Stokes, the town council, and the town of Newbern
Architect Rural Studio, Auburn University, Newbern, Ala.—Richard Hudgens, AIA (architect of record); David Frazier, Mallory Garrett, Brett Bowers, Zane Morgan (student design/build team); Andrew Freear, Richard Hudgens, AIA, Danny Wicke, Mackenzie Stagg (faculty team)
Environmental Consultant Atelier Ten—Paul Stoller
Structural Engineer GFGR—Joe Farruggia
Architecture & Landscape Xavier Vendrell Studio—Xavier Vendrell
Architectural Detailing Wheeler Kearns Architects—Dan Wheeler, FAIA
Lighting Consultant Atelier Ten—Meghan Smith-Campbell
Specialist Metal Fabrication Metal Inc.—Lauren Danley
Size 1,909 square feet
Cost Withheld
Material and Sources
Adhesives, Coatings, and Sealants Emseal emseal.com
Appliances Haier (refrigerator) haier.com; Samsung (range) samsung.com
Concrete River City Industries, Demopolis, Ala.
Exterior Wall Systems Plantation Cypress, Dothan, Ala. (8"-by-8" old-growth Bald Cypress supplier)
Fabrics and Finishes Drywall, painted white (interior walls and ceilings); steel angles (window frames); finished concrete slab (floor); steel tubing (trusses)
Flooring Cedar Ridge Excavating, Newbern, Ala.
Furniture Custom, fabricated by team (conference table); CB2 (chairs) cb2.com
Glass Ace Glass aceglassinc.com
HVAC LG Electronics lg.com
Insulation Johns Manville (ceiling batt insulation) jm.com; Pactiv (foundation) greenguard.pactiv.com
Lighting Cooper Lighting cooperindustries.com (fluorescent); custom baffles fabricated by team; Hampton Bay (pendants) lightinghamptonbay.com
Masonry and Stone Jenkins Brick (barbecue pit) jenkinsbrick.com
Metal Cain Steel cainsteel.com; McNichols (expanded metal) mcnichols.com; Turnipseed International turnipseed.biz
Roofing Sloan Supply sloansupply.com
Site and Landscape Products L'Hoist North America (gravel) lhoist.us
Structural System Load-bearing cypress timber walls, stacked horizontally, fastened together with continuous threaded rods. The roof is comprised of 43 king-post-style trusses made of 1 ½"-by-1 ½" steel tubing
Windows, Curtainwalls, and Doors Kawneer North America (doors) kawneer.com