Six residences across North Carolina have been named as winners in this year's Matsumoto Prize Awards. Held by the Durham, N.C.-based nonprofit North Carolina Modernist Houses, the annual program celebrates residential designs that hearken back to the work of modernist architect George Matsumoto, FAIA. The six projects are divvied up between two categories: the Jury Awards and People's Choice Awards.
The jury, which comprised Ray Kappe, FAIA, founder of Kappe Architects, in San Rafael, Calif.; Alison Brooks, principal and creative director of Alison Brooks Architects, in London; Joshua Prince-Ramus, AIA, principal of REX, in Brooklyn, N.Y.; Harry Wolf, AIA, of Wolf Architecture, in West Hollywood, Calif.; Miami Beach, Fla.-based designer Charles McMurray; and English production designer Nathan Crowley chose three sites as the competition's first-, second-, and third-prize winners.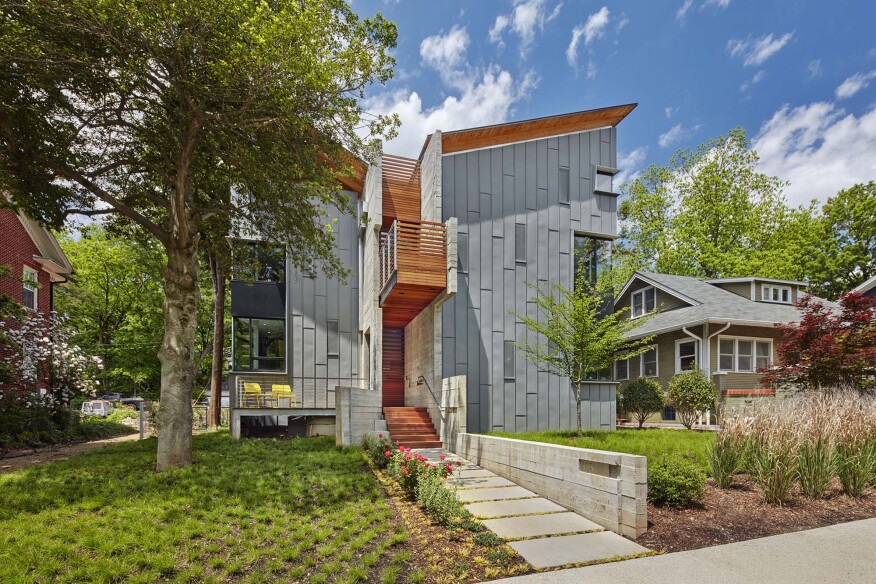 The first prize was awarded to 123 Hillcrest, a single-family residence designed by Raleigh, N.C., firm Alphin Design Build and located in Raleigh's Cameron Park neighborhood. Two board-formed concrete walls articulate the property, running from the public sidewalk to the back of the site's private service alley. Serving as vital design components, the pair start in the basement of the four-level home, and rise through two floors and three volumes, supporting the inverted, cantilevered roof, part of which serves as an outdoor living space .
Second prize went to In Situ Studio's Corbett Residence in Bahama, N.C. The Raleigh-based firm came up with a single-story structure executed as a low black box on a slanted wood site. The abrupt line of the form mimics the sun's horizon, and is oriented to allow maximal sunlight in the wooded natural environment.
Third prize was given to the Medlin Residence, also designed by In Situ Studio, in Raleigh. Due to the site's irregular topography—it is cut by a stream to to the north and a steep hill to the south—the architects devised an L-shaped construction. The resulting structure affords the clients a courtyard nestled between the two volumes. A staircase flanks the north-facing façade with a bold, black silhouette.
In addition to the top three prizes, the People's Choice Awards were determined by the public through online voting. The first place selection was Blauhaus, in Winston-Salem, N.C., of local firm Stitch Design Shop. As a nod to the German-born client's childhood home, the site flaunts a gabled form with a modern twist.
Second place in the People's Choice Awards went to Alphin Design Build's 123 Hillcrest—the jury's top pick.
Third place in the popular vote went to Ciel 10, in Asheville, N.C., by local firm Retro + Fit + Design. The Deconstructivist mountain home is comprosed of several stacked block forms pivoting from the building's core to offer views of the surrounding Blue Ridge Mountains.