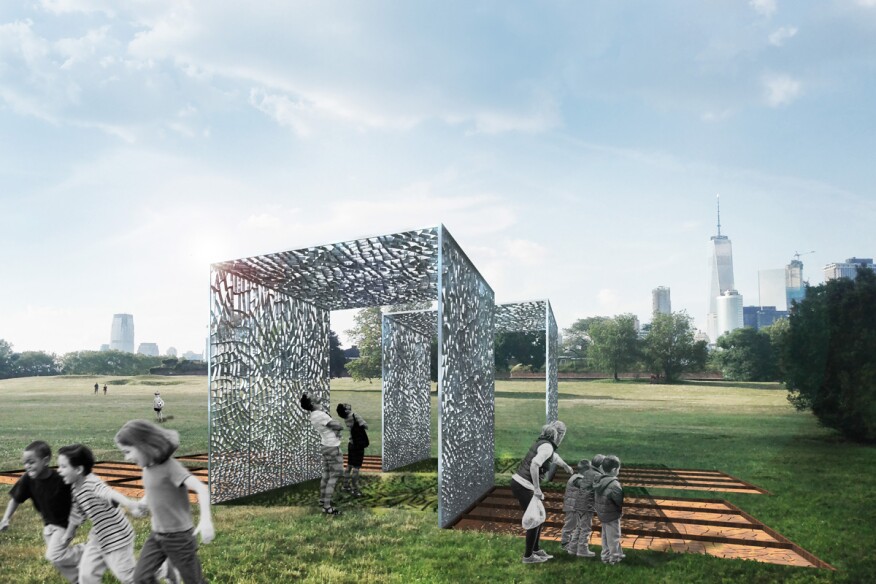 Participatory arts event Figment, the Emerging New York Architects Committee of the American Institute of Architects New York Chapter, and the Structural Engineers Association of New York have announced the seventh winner of the annual City of Dreams Pavilion Competition, which emphasizes sustainable design with a "focus on the future of a world that faces strains on both economic and natural resources." Besides promoting sustainability, the competition requires designers to think outside of the box and consider the environmental impact of their structures and the materials they use, both during and after the installation.
After reviewing more than 100 design proposals, the jury chose Team Aesop' s Cast & Place as the winner. The temporary pavilion will be constructed on Governors Island in New York this summer out of soil from the nearby East River and 250,000 recycled aluminum cans.
Team Aesop—made up of principal Josh Draper of PrePost, designer Lisa Ramsburg and director of operations Powell Draper from Schlaich Bergermann & Partner, Edward M. Segal from Hofstra University, and Max Dowd from the Cooper Union—decided on the idea of drying the soil from the East River to use as a cast for the final building material. Once the dried soil has cracked, the aluminum cans will be melted down and poured into those cracks. Then, when the aluminum is dry, the river dirt will be washed away by rain to create panels that will be put together for the structure of the pavilion, which will provide a respite from the summertime sun for visitors to the New York City park.
Although the exact location of the pavilion on Governors Island has not yet been determined, Team Aesop continues to raise money for the project, obtain approvals, and refine their design.
Previous pavilion winners include Billion Oyster Pavilion by BanG Studio; Organic Growth by Izaskun Chinchilla Architects; Governors Cup by CDR Studio; Head in the Clouds by StudioKCA; Burble Bup by the Bittertang Farm; and Living Pavilion by Ann Ha and Behrang Behin.