The jury for the Pritzker Architecture Prize has named Shigeru Ban, Hon. FAIA, its 36th laureate, recognizing his material resourcefulness as well as his humanitarian mission as an architect. What the Pritzker Prize means to the industry changes each year with every successive selection (not to mention the architects passed over for recognition). ARCHITECT assembled four writers to break down what it all means: Alexandra Lange (Design Observer; 2014 Loeb Fellow at Harvard GSD), Christopher Hawthorne (Los Angeles Times), Mark Lamster (The Dallas Morning News), and Carolina A. Miranda (ARCHITECT). The lightly edited reply-all email thread appears below.
ARCHITECT: In the run-up to Monday's announcement of the Pritzker Prize, two names emerged as the candidates to beat: Steven Holl and David Chipperfield, both perennial frontrunners. Do you agree with the jury's decision to go a different route with Shigeru Ban?
And a followup question: Is this a satisfying selection after the jury denied Denise Scott Brown honors last year? It's worth noting two names that also get mentioned during Pritzker-watching season: Jeanne Gang and Denise Scott Brown.
Is the @PritzkerPrize still relevant today? Some opinions on how the prize has lost its luster with archaic values http://t.co/R883SEsct3

— Women in Design (@WID_GSD) March 24, 2014
Christopher Hawthorne: It's always entertaining to read the Pritzker tea leaves, and this year seems especially open to that kind of interpretation, given the beating the prize has taken in the last 18 months or so regarding 1) its failure to recognize Denise Scott Brown alongside Robert Venturi in 1991 and, more generally, its dismal track record when it comes to female architects and 2) its tendency to honor architects who work mostly for the 1 percent. Obviously Ban's choice doesn't address the first problem, but I do think it can be read as an effort to deal with the second.
In this sense his appeal to the Pritzker is obvious—you could even say he's right out of central casting for a jury eager to change the conversation from both DSB and globe-trotting starchitecture. But ultimately I think the jury's interest in doing just that led them to choose a figure whose buildings—as buildings—don't always hold up to extended scrutiny.
When it came to Wang Shu two years ago, another unorthodox choice, the jury wasn't really taking a risk because, well, so few Western critics have seen his buildings. The Pritzker controlled the narrative, at least in the English-language press. Ban is obviously a different story. I find his body of work both impressive for its range and a little thin. The little cardboard community center I saw in Onagawa, near Fukushima, was graceful. The Pomidou Metz is less assured, with its overscaled woven roof, bloated atrium and conventional galleries (although I definitely appreciated being able to reach it in less than 90 minutes on the high-speed train from Paris). And then there's the Nomadic Museum, which I saw in New York before it was reassembled in L.A. the following year. Thanks in part to its sepulchral lighting and the super-cheesy photographs it held by Gregory Colbert, it almost seemed a parody of an eco-conscious effort, constructed as it was of shipping containers, a colonnade of cardboard tubes and carefully arranged beds of smooth white stones. The photographs were the kind of thing you'd see lining the walls of a yoga studio—the whole project, actually, had that feel.
It will be fascinating, then, to see the Aspen Art Museum when it opens in August. It seems a tighter design than Metz, more resolved, but then it's always dangerous to judge from a set of renderings.

Carolina A. Miranda: On a political level, I think Ban was really smart choice on behalf of the Pritzker jury. Last year, they came off as really tone deaf on the whole Denise Scott Brown controversy. The organization did not engage its critics and took months to issue an official response on the matter. They came off as disconnected and aloof—not a good thing in the age of social media. Choosing Holl or Chipperfield might have seemed like more of the same. Ban provided a winner that is difficult to quibble with. Even if his portfolio of successful permanent structures is thin in places, he is a designer with a track record of doing innovative things in crisis situations. And, like Christopher points out, it moves architecture away from the ivory tower/1 percent image. None of this means, of course, that the Pritzker shouldn't be looking for more women to honor.
All of that said, I think the Ban selection is interesting for other reasons, too. I come to architecture from the world of art and in that sphere I feel like I see a movement toward impermanence. Artists, curators and arts administrators are all in a process of reconsidering the nature of public art. Statues have to be maintained in perpetuity. But an action or a temporary installation does not. Yet it can provide just as much impact—if not more—in the way it engages the community around it. A curator I once spoke with talked about the "fascism of permanence" and it's an idea that really resonated with me. If every artist built his little monument, we would have a planet paved with statues. If every architect did the same, we would pave the planet twice over. Ban gets us thinking about how we might have a bit of a lighter footprint—how we might be satisfied by an object that exists for as long as it's needed, then simply goes away. Only the idea remains. I'm really intrigued by that. Architecture is more than monuments. This award gets at that.
Well deserved / not surprised. Ban's aesthetic so in sync with the jury, disaster relief work brings necessary social dimension.

— Alexandra Lange (@LangeAlexandra) March 24, 2014

Alexandra Lange: I agree with you both about Ban being the ideal choice for a jury forced, even if it won't admit it, to change its criteria for excellence in architecture. Yes, the interest in social practice, design for the 99 percent, architecture for humanity—whatever you want to call it—is a trend of our time. But if the Pritzker can't change, can't award people who don't just do corporate work (many of the awards in the first decade), or museum work (many of the awards in the last decade), it will become irrelevant. Doesn't it already feel a little bit sillier this year, with the embargo, and all of you writing articles to be released at the exact same moment? Ban himself, in the published interviews, seems to be taking it seriously but lightly, and that feels different from the past.
But I think that is a generational shift rather than the monumental one Carolina is proposing. I don't think Ban would have won just for the refugee housing, a system to be packed up and redeployed. What he did was make cardboard architecture that looks, at least in pictures, as beautiful as permanent architecture, and because of that will probably be made permanent. His architecture refers to the work of the greats of international Western architecture history: Aalto, Fuller, Otto. It's still well within the lineage of Japanese architecture the Pritzker has rewarded so often.
But if the jury made this little movement this year, a shift that makes Steven Holl or David Chipperfield seem too disengaged or too fancy, what does that mean for the future? Who are the other socially engaged, aesthetically engaged architects out there? This is probably their moment. In the past the jury has seemed to seek some geographical balance, which would mean it was the southern hemisphere's turn next year. Nominations from South America? Alejandro Aravena is on the jury.

Mark Lamster: I've seen two of Ban's buildings in person; his Japanese pavilion at Expo 2000 in Hanover, a paper-tube structure that was impressive but overshadowed by the more impressive MVRDV Dutch pavilion, and his "Shutter House" condo in New York, an impressive if flawed project I reviewed for Design Observer. I admire what he does, and I think the award sends a positive message to the public, to the press, to other professionals, and especially to students about the value creativity, sustainability, and commitment to serving those in need—and doing it all without aesthetic compromise.
But I wonder if the Pritzker committee doesn't have a certain Asian fetish. I do feel there is a component of the Occidental fascination with the Orient at play in its selections, a subtle sense of romantic projection about notions of eastern simplicity and refinement. Maybe now that I'm in Texas I'm more jingoistic, but it does seem odd to me that Thom Mayne (whose work I don't especially appreciate) is the only American laureate since 1991, when Denise Scott Brown was summarily passed over. Meanwhile, three of the last five winners are from Japan.
Over a dinner with a few architects and historians last night, however, the question wasn't so much about whether Ban was a worthy winner, but whether we needed the Pritzker Prize at all. This was the question Scott Brown put forward; her argument was that the creation of a guru class was a problem for women, as the guru would always be a man. That's changed a little bit, today. Zaha is as much of a guru as anyone. But do we need gurus? Is the value of the Pritzker—a little annual publicity for the profession—worth creating a two class system, between stars and non-stars? It seems we've repudiated "starchitecture," but we still love talking about stars.
Ban's combo of humanitarian + high design was irresistible to jury. But his large-scale work is often disappointing. http://t.co/W9KIqj6Ykj

— ChristopherHawthorne (@HawthorneLAT) March 24, 2014

Miranda: Certainly, this gets at the general mushiness of the Pritzker to begin with. It's not necessarily lifetime achievement nor is it for a specific building. It's for "consistent and significant contributions to humanity and the built environment." The method by which architects and their works are evaluated have all the transparency of squid ink. A more interesting award is the Aga Khan Award since it honors specific buildings or projects and the firms that executed them, not individual architects. But all of this may be like bagging too much on the Oscars. It may be a hot mess, but we're all gonna watch no matter what.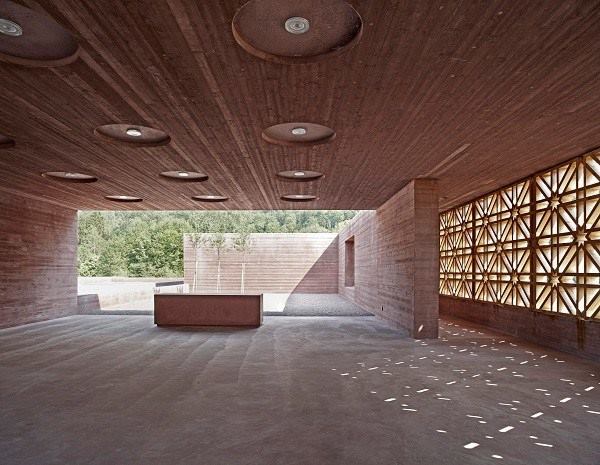 Lange: But are we? Yes, the Pritzker winner always gets an article of his own in the New York Times, and there are no other design awards with that guarantee. But as that coverage becomes a more diffuse "prize" in its own way, and already-famous architects certainly have a thousand other ways to distribute their work, I wonder if the Pritzker's importance has already started to wane. Scott Brown doesn't have her award, but last year's petition has not been without a wider institution-destabilizing influence. We all read the fine print on the Pritzker, the AIA changed the rules for its Gold Medal to allow for partnerships (though really, they should have just folded the Gold Medal into the Firm Award). Awards like the Aga Kahn were also designed in reaction to the Pritzker. I was recently struck by the wording on the Boston Society of Architects Harleston Parker Medal, for "the single most beautiful building or other structure" built in metro Boston in the last 10 years. It is like a miniature version of the AIA 25-Year Award, which I maintain has the best track record in the awards business. What would a better prize look like? How much money would it take to fund one?
love shigeru ban, but pritzker's got an asian fetish. http://t.co/Zq1uPGLQal

— mark lamster (@marklamster) March 24, 2014
ARCHITECT: I'd like to quote something that Carolina wrote (if you will indulge a self-serving link). It's along the lines of what several of you are saying:
In the past, the award has honored aesthetes (Wang Shu, Peter Zumthor), monuments men (Thom Mayne, FAIA; Jean Nouvel, Hon. FAIA), and the occasional architect's architect (Glenn Murcutt, Hon. FAIA). In choosing to honor Ban, it is pointing at a need that goes beyond glitzy museums, commercial towers, and private homes for the well-to-do.
Lamster might call this fourth category Oriental. I use the term advisedly, to characterize the "romantic projection about notions of eastern simplicity and refinement" that he sees in the Pritzker's selection of many Japanese architects in recent years. Alexandra says that she predicts a selection from South America. Either way, it seems to indicate a pattern of selection that resists the frontrunner—David Chipperfield, Steven Holl—in favor of voices from other continents and economic climates than North America's.
Correct me if I'm wrong, but I detect some dissatisfaction with this direction. Why is that? Did the Pritzker deal itself too much damage by not awarding Denise Scott Brown (by not recognizing women) to work today to overcome some of its prejudices? Or is the Pritzker just an unwieldy instrument for recognizing talent that isn't monumental in its privilege? I hope I'm not misstating anyone here when I say that you all agree that Ban represents the jury favoring progressive values but that no one thinks the Pritzker is a more progressive award for it.

Lamster: It's the nature of the beast: critics will be critical of an award. That's part of its function, and in a good way, as it's a cue for us to talk about what's right and wrong in the profession, and do it before a national audience. So that, beyond the individual selection, is a value of having an award.
Hawthorne: It's awfully easy (and often fun) to complain about, but we need the Pritzker and will miss it when it's gone. If architecture's chief problem in the last twenty years has been self-satisfied insularity, an interest in closing ranks and a growing inability to create any meaningful connections with the public it serves, then this kind of ticket to mainstream discussion of architecture shouldn't be tossed away lightly, even if its track record is (very) spotty. I don't think architects realize how unwilling the mass-media press typically is even to mention architects by name. If thanks to our coverage the public now has some idea about the real philosophical divide between Shigeru Ban (and architects like him) and Zaha Hadid (and architects like her), then they know something valuable about the field they didn't know last week. Can we say the same about any art prize?
That doesn't mean we shouldn't take up Alexandra's question about what a better award might look like and how it would be started and supported.
The biggest problem with the Pritzker, it seems to me, is its unstinting and largely unexamined emphasis on newness and novelty and therefore its connection to marketing and big business of real-estate development. More than sexism I think this is the reason it refused to reopen the Denise Scott Brown case: It would have required going backward and digging messily into its own history. The biggest bias the prize has is not in favor of stars or men (although it does have both of those) but in favor of The New Thing, an avant garde, a leading edge; and now that the members of the jury have convinced themselves that humanitarian design is the leading edge, they can fold Ban right into the Pritzker fraternity. (Right next to Zaha!) This is what makes the prize so fundamentally American: all forward motion all the time.
This is also why the AIA 25-Year Award—and Alexandra's right about how good it is—has such a valuable role to play: because it bucks all of that, because it throws us back into an architecture we either never knew or had grown out of and then asks us to deal with a different set of priorities and attitudes about what makes good a good or important building. And because it honors buildings that have tended to fall out of popular favor, thus promoting the cause of historic preservation.

Lange: Another important aspect of the 25-Year Award is that these are buildings that have been seen, been used, even been changed over time. The nowness of the Pritzker means that the decision to award one architect over another, from year to year, often seems to depend on something spectacular completed very recently, and seen by very few. At least we know the Pritzker has enough money to fly the jurors around the world on a visiting tour, but I worry the ability of critics to wring larger meaning out of an individual win is compromised by lack of experience. Yes, this is a moment when people are paying attention, but now that we are not just going to take the jury's word for greatness, are we always equipped to fill in the blanks? The narrative for Ban was clear, at least, but I wish I could have read more about individual buildings and how they work. As I tweeted last night it would have been great if people in Christchurch, in Metz, in shelters, in the Metal Shutter House (no one wants to talk about the luxury condos that fund the rest) all started posting their own photos of his work in the here and now.
Next year's winner, Southern Hemisphere. #Pritzker

— Alexandra Lange (@LangeAlexandra) March 24, 2014
ARCHITECT: Any predictions for the Pritzker Prize next year? There will be a Pritzker Prize next year, right?
Hawthorne: Not who I think should win but who I think will win: Tod Williams & Billie Tsien, Jeanne Gang or Bijoy Jain. Dark horse: Annabelle Selldorf.

Lange: I already said it would be someone from the southern hemisphere. There is a lot of visually exciting, socially motivated work in South America and Alejandro Aravena, who is on the jury, is well positioned to advise.
I think Jeanne Gang will win one day, as she is both an excellent architect and ideal for the Pritzker in so many ways described above, but she probably needs to complete one more big, ambitious building.
Lamster: I'm not a fan of handicapping, and they have a habit of left-field picking. I wonder if Steven Holl has been passed over permanently. His connection to the Pamphlet Architecture program and Storefront for Art and Architecture add a little dimension to his candidacy.
If I had my druthers, I'd give it to Lebbeus Woods posthumously. But that ain't happening.
Miranda: I'm hoping Alexandra is right on this one. I would love to see an architect from the Southern Hemisphere win because 1) I think it's time and 2) it'd be interesting to see another set of architectural/urban/social issues addressed. The award has been a Bermuda triangle of Europe, the U.S., and Japan. It definitely needs to take the blinders off and look someplace else. Hopefully Aravena can point the group to some interesting work in that regard. But it shouldn't just be on him. That's a big jury with a lot of smart people. One would hope they're all equally motivated to look in the not-so-obvious places.