In terms of attendance, the Milan Expo is a surprising success. Over 700,000 people have already attended, and, instead of the 5,000 daily visitors the organizers expected, there are often 25,000. When I visited on a sunny weekday in May, there were lines to get into almost all the pavilions, while tables at the myriad eating establishments were equally difficult to find.
That makes it all the more disappointing that the Expo is so horrendously bad. What started as an ambitious plan on which Herzog & de Meuron and Stefano Boeri collaborated—which foresaw canals coursing through a fairground laid out like a Roman encampment, even allowing for a connection to downtown Milan on boats—is now just one interminable axis leading from nowhere to somewhere else past a host of country and corporate pavilions (it is often difficult to tell them apart) that have very little merit in and of themselves.

Of course there can be hidden gems that I missed. I only spent one day there, and I admit that is far too little time to see every exhibit, even with Mauro, our helpful architect who works for Nemesi, the architect of the Italian Pavilion (on which more in the next blog), sweet-talking us past countless lines. My main memory is trudging down the Expo's single axis, luckily covered by a tensile structure that looks like a clunky tribute to the late Frei Otto, trying to figure out why there were lines for what.
What I saw as I followed the axis was rows of boxes whose elongated shape comes from the desire to give each of them an address on the cardo, or main street. As a result, they all have to face the crowds with a narrow door and then somehow figure out how to make something of their long, otherwise unusable façades. Inside, the exhibits I saw all focused on multimedia presentations of one sort of the other that tried, at times fitfully, to align with the Expo's focus on food and agriculture.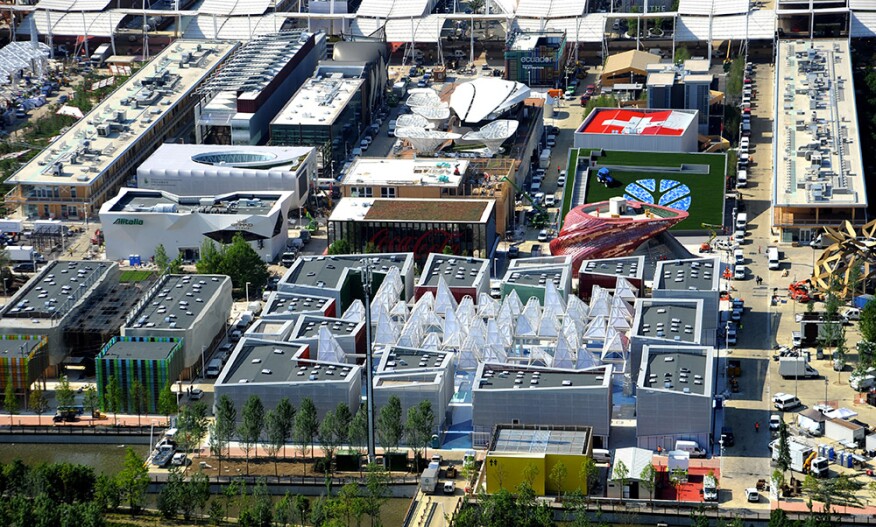 The best of the bunch were those that made the most of their site, with the U.K. Pavilion's metal beehive (created by a team under the direction of Wolfgang Buttress), standing behind a raised garden where actual bees were hard at work. The Israeli Pavilion (Knafo Klimor) used its long façade to show of different crops, so that the theme became the image, even though it would be difficult to grow such plants as wheat vertically. I thought the Chileans (architect Cristián Undurraga) did the most beautiful job, creating a diagonal grid of wood beams to shape their whole building.
Others tried and failed to play the sculpture game. Daniel Libeskind, AIA, made a purple snail for China's Vanke Corportion, while Norman Foster, Hon. FAIA, seemed to have confused Jordan's Petra with the United Arab Emirates for which he designed his sandstone-colored canyon. There is a whole lot of flailing going on in Milan, but the tight constraints of site and budget turn almost every offering into the architecture equivalent of a high school student trying to rock out.

So why is the Expo such a success? Perhaps it is the hunger for real experiences, and it is the very failures to create a complete and convincing irreality in the manner of a theme park that makes the experience so attractive. Perhaps the presentations are dramatic enough to strike nerves. Perhaps it is the hordes of students and tour groups on presold packages that pump the numbers. Or perhaps it is the food, which in its variety and quality is so much better than the architecture that it made me want to change my critical perspective. I came away professionally depressed but bodily sated.
The next World Expo will be in Dubai in 2020. I look forward to not attending, and hope that the better architects in the world will learn from their experiences here and snub such displays of propaganda without a point. But then again, we can also dream of the return of the glory days of the New York (1939 and 1984), Chicago, Paris, and Osaka fairs in an unlikely place. In the meantime, stay away.
Ed. note: Chicago will host an its inaugural Chicago Architecture Biennial in 2015.