OBJECT AIA three-cent postage stamp
ARTIST Robert Schultz
DATE 1957
PRICE $1.25/sheet of four
SOURCE eBay
A three-cent stamp won't go far today, but in 1957, it assured architects prominence along with speedy delivery.
That's when the American Institute of Architects (AIA) enticed the U.S. Postal Service into producing a centennial commemorative stamp. The modest icon offers a modernist column in the foreground with a Corinthian capital behind. The stamp histories call this placement an assertion of "progress" rather than any victory of new over old. The words "Centennial" and "American Institute of Architects 1957" appear in clean sans-serif capitals on a red-lilac ground.
Collectors prize the stamp on envelopes bearing the first postmark of the first day of issue: 9 a.m. on Feb. 23, 1957. On that day 100 years earlier, 13 architects met in New York to create the organization that would distinguish the profession from the building trades. As the AIA gathers this month to celebrate another 50 years, the stamp serves as a worthy salute to the founders' intentions.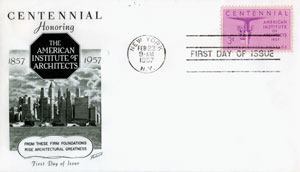 According to Fred Baumann of the American Philatelic Society, 120 million AIA stamps were printed and 106,647,500 sold. It is listed in the Scott Catalogue of U.S. Stamps and Covers as Scott 1089.
The stamp's design was selected by competition. The jury included architects Alexander C. Robinson III, Ronald S. Sensman, Leon Sentner Jr., and Talmadge C. Hughes, along with stamp expert Sol Glass, who recorded the event at the AIA Octagon in Washington, D.C. The panel sifted through 117 entries to choose the winner: a design by architect Robert Schultz of South Bend, Ind., an AIA fellow who died in 1977. His design was finessed into a stamp by William K. Schrage of the Bureau of Engraving and Printing, who rounded the top of the numeral "3" and centered the text (Schultz had specified flush left).
AIA archivist Nancy Hadley preserves Schultz's drawing and those of finalists, as well as several of the stamps themselves. She also has coveted first-day-of-issue envelopes, including one with a skyline of Manhattan and the legend, "From these firm foundations rise architectural greatness."
After 150 years, the grandeur and the challenge remain.
The price of centennial history: A single uncancelled AIA stamp trades for pennies on eBay, and it still qualifies for regular use. A plate block of four stamps can be acquired for $1.25.