While most pavilions at the 2015 Milan Expo merely echo the sentiment of this year's theme—Feeding the Planet, Energy for Life—others employ the pavilion quite literally as a source of inspiration and strategy to address the growing need and concern for healthy, secure, and sufficient food. Some of the most successful pavilions to come out of the 2015 Milan Expo include:
Austria
Literally breathing life into Expo, Austria's pavilion, Breathe, by architect and landscape designer Klaus Loenhart uses a reclaimed timber structure to surround a dense forest made of indigenous Austrian plants and flowers. The result is an ecosystem capable of providing oxygen for up to 1,800 people that simultaneously cools the surrounding air.
Bahrain
Bahrain, home to the contended site of the original Garden of Eden, produced a pavilion entitled Archaeologies of Green, designed by Dutch architect Anne Holtrop with landscape architect Anouk Vogel. The pavilion successfully re-examines Bahrain's agrarian heritage through a series of white concrete prefab panels that mediate between interior and exterior space and are arranged around a landscape of garden fruits and trees native to the country. The sleek modernist structure will return to Bahrain at the end of the Expo and will be rebuilt as a botanical garden.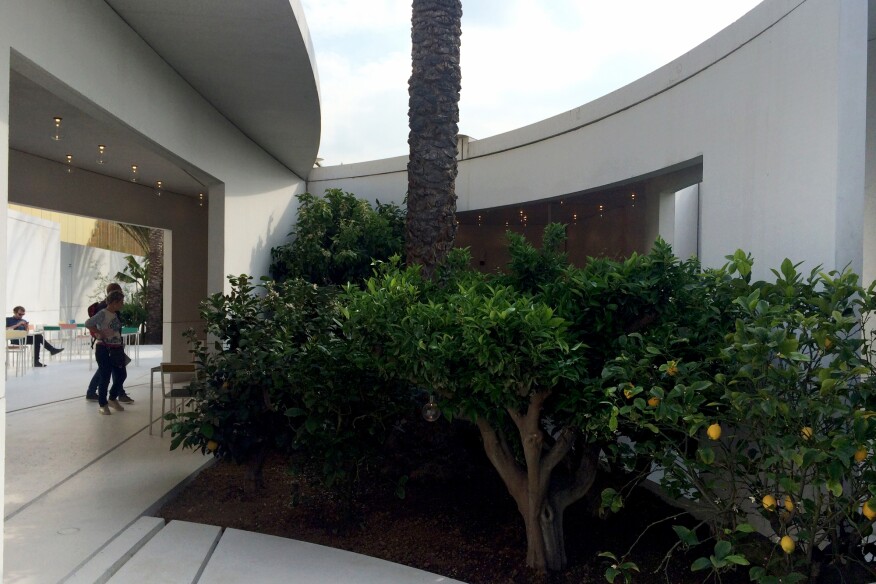 Switzerland
Designed by the young Swiss architecture firm Netwerch, this country's pavilion, Confooderatio Helvetica, comprises a large open platform with four towers, each filled one of four Swiss food products: coffee, dried apples, salt, and water. Visitors are welcomed to take as much as they want from the respective bins while being mindful that the supply will not be restocked for future Expo visitors. As the food diminishes, the platforms will lower and alter the structure of the pavilion.


United Kingdom
Inspired by research and new technology that monitors the health of beehives, the U.K. pavilion, aptly titled Hive, is made of aluminum pieces that form a giant beehive hovering over a sea of manicured lawns. Designed by artist Wolfgang Buttress, engineer Tristan Simmonds, and architectural practice BDP, and fabricated by Stage One, the pavilion tracks the movement of an actual beehive in Nottingham, U.K., where Buttress lives and works, through audiovisual effects.
United States
The USA Pavilion, American Food 2.0: United to Feed the People, designed by New York-based James Biber, FAIA, incorporates many state-of-the-art technologies and eco-friendly elements, which will be reused and recycled post-Expo. Features include wood planks from the famous boardwalk of Coney Island, N.Y.; a 7,200-square-foot vertical farm on the building façade by Dlandstudio; and a 10,000-square-foot canopy of SPD-SmartGlass panels, by SPD Control Systems Corp., that automatically adjusts its color and opacity in response to environmental conditions.