It was a good idea at the time. Downtown Denver in the early 1970s was down on its heels, suffering from the aftereffects of urban renewal and losing office workers to the growing suburbs—the same scenario then playing out in cities across the country. On most nights, downtown streets were all but deserted. The Denver Symphony Orchestra, which performed in a converted Beaux-Arts auditorium first used for the 1908 Democratic National Convention, still attracted crowds, as did the city's American Basketball Association team, the Denver Rockets, who played next door at the Auditorium Arena. So why not take the existing buildings, add a concert hall, a theater complex, and a parking garage, and tie it all together with a barrel-vaulted glass roof? That was the proposal from a group of visionary political and cultural leaders, including then Denver Post publisher Donald Seawall and former Mayor William McNichols Jr. This group envisioned a world-class performing arts center that would entice more suburbanites to visit the city and bring life back to downtown.

When it opened in 1979, the 12-acre Denver Center for the Performing Arts (now the Denver Performing Arts Complex, or DPAC) was widely praised for its innovative design and location. It was a self-contained urban arts complex in the mold of Lincoln Center, the Kennedy Center, and the Los Angeles Music Center—but as conceived by Kevin Roche John Dinkeloo and Associates, Denver's version was less monumental. Paul Goldberger, Hon. AIA, writing in The New York Times, called the theater complex "stunning" and "remarkably ambitious." But he picked up on a major design flaw: "The emphasis on the automobile makes it hard to tie the center to what little pedestrian activity does in fact exist in Denver. There will be shops on the ground floor of the garage, but since the Galleria-Plaza is one level above grade, there is not much relationship to the rest of the city."

Still, the performing arts center lived up to its initial critical acclaim, both artistically and economically. In the 1980s, as downtown Denver continued to struggle, the complex proved to be a major draw for city dwellers and suburbanites alike. That's still true. In 2013, according to an economic impact study, more than 781,000 patrons attended performances and events at DPAC. Of those, 77 percent came from outside the city. DPAC's total impact on Denver's economy, according to the study, was estimated at $141 million a year.

More than 35 years after it first opened, however, DPAC is showing its age. As the city booms—since 2000, Denver's downtown population has increased from 7,000 to 19,000, with more on the way—the complex, though still popular, has become something of an urban design relic. With help from New York–based H3 Hardy Collaboration Architecture, city officials are in the process of reimagining the center. A master plan is due by the end of the year. It's a complicated, politically charged assignment, but if done well, will bring a new center of vitality to downtown Denver.
The plaza, so alive on the evening I attended the symphony, felt sad and charmless, like a dying shopping mall.
A Denver resident, I have gone to concerts and plays at DPAC for years, but I wanted to take a fresh look at the place. So, on a recent Friday evening, I took a seat at one of the few benches inside the galleria, the plaza beneath the 80-foot-high glass archway. It was a busy night at the "Plex," as locals call it. The 2,839-seat Buell Theatre, converted from the old Auditorium Arena in 1991 and used mostly for traveling Broadway musicals, was showing "Motown the Musical." The 550-seat Space Theatre was hosting a play called "One Night in Miami …" The 778-seat Stage Theatre was putting on a rock musical called "The 12." The Ellie Caulkins Opera House, known as the "Ellie," which opened in 2005 after an extensive renovation of the 1908 auditorium, had the night off.

There was a pleasant buzz as patrons—young and old, some dressed up, others wearing jeans—made their way to the various theaters. In a city that still struggles with the concept of density, people actually brushed up against one another. DPAC may be in need of reimagining, but on performance nights, it's as vibrant as ever.

I attended a performance of the Colorado Symphony at Boettcher Concert Hall. Visiting conductor Cristian Măcelaru led the orchestra in works by Haydn and Shostakovich, with concertmaster Yumi Hwang-Williams playing Beethoven's sublime Violin Concert in D major. By my estimate, about half of Boettcher's 2,679 seats were occupied.

Designed by Hardy Holzman Pfeiffer Associates (the predecessor firm to current master planners H3 Hardy), Boettcher was the first concert hall in the nation with "in the round" seating. The boxy, beige-brick venue opened to much fanfare in 1978, one year before the rest of the performing arts center was completed. Boettcher was a key element, along with a concrete-and-glass theater complex designed by Roche Dinkeloo. Both buildings remain striking examples of 1970s civic architecture.

The same can't be said of the center's massive, five-level parking garage, which occupies an unfortunately prominent site at the corner of Arapahoe and 14th streets. In the 1970s, it was one of DPAC's major selling points, allowing patrons to walk safely and conveniently from their cars to their seats without ever setting foot on a city sidewalk.

DPAC was "perfect" for its time, says Jeremy Németh, associate professor and chair of the Department of Planning and Design at the University of Colorado Denver. (The city's 16th Street pedestrian mall, designed by I.M. Pei & Partners and completed in 1982, was another attempt to revive the urban core.) "But DPAC feels out of place today," Németh says. "And it's basically used four hours a night, maybe five days a week."

Indeed, during the day, and on nights when all of the theaters are dark, DPAC is a dead zone. I returned a few days later on a weekday. It was lunchtime, but over a 30-minute period, I counted only a handful of people in the vast galleria space, which is roughly 600 feet long and open to the elements on both ends, and most of them seemed to be at DPAC solely to purchase tickets for future performances. The plaza, so alive on the evening I attended the symphony, felt sad and charmless, like a dying shopping mall. There were no plants, no water fountains, no food carts, no kiosks. In one particularly barren section, rusted rebar was showing though cracked concrete. Piped-in classical music—Holst's "The Planets," conducted by Leonard Bernstein—played softly, but it only called attention to the fact that the space was utterly lifeless.

I was reminded of something Jane Jacobs said about Lincoln Center in a 1958 speech at the New School: "[It] is planned on the idiotic assumption that the natural neighbor of a hall is another hall. Nonsense. The natural neighbors of halls are restaurants, bars, florist shops, studios, music shops, all sorts of interesting places."

DPAC wasn't supposed to be this way. When ground was broken in 1975, Washington Post architecture critic Wolf Von Eckardt gushed that it "promises to be an exciting environment, a building complex where the function takes over, where the architecture serves as background for the performing arts, for the flowers, trees, street clocks, fountains, benches and other things that are to furnish the mall, for the view from the mall and for the people who will enjoy it."

And when Boettcher opened in 1978, a commemorative booklet promised that the still-under-construction galleria "will soon offer sidewalk cafés, restaurants, and shops," and its "park-like atmosphere … will form a relaxed and inviting setting for downtown shoppers and theater patrons."

Today, the only retail space in the galleria is a small shop called Dandoo's Fine Imports, which sells clothing and fabric from India and Nepal. Limelight Supper Club & Lounge is often packed before performances, but otherwise sits empty. Another restaurant, Kevin Taylor's at the Opera House, is open only on nights when there are events at the Ellie, the Buell, or Boettcher. Backstage Coffee, on the ground floor of the parking garage and facing 14th Street, is the exception: It is better connected to downtown and doesn't rely solely on DPAC patrons.


Michael Paglia, art and architecture critic for the Denver alternative weekly Westword, called it "one of the city's most wrongheaded ideas in recent memory."
How should DPAC be fixed? The debate began in earnest last year, when the Colorado Symphony—which, like many U.S. orchestras, has struggled financially in recent years—announced it might leave Boettcher and search for another home unless the city lowered the orchestra's annual $323,000 rent. The city council agreed to the cut. But then the Denver Post reported that the city's Arts & Venues agency, which oversees DPAC, was considering tearing down Boettcher and replacing it with an outdoor amphitheater in nearby Sculpture Park, on the center's western edge. The symphony, the agency suggested, could share the Ellie with Opera Colorado and the Colorado Ballet. (Not so easy, it turns out, given overlapping performance and rehearsal schedules.)

Michael Paglia, art and architecture critic for the Denver alternative weekly Westword, called it "one of the city's most wrongheaded ideas in recent memory." Boettcher, he wrote, is "an architectural gem" that helped put "a sleepy, midsized city" on the map. Fix it, but don't demolish it.
In September, Jerome Kern, the symphony's CEO, went on the offensive. He announced a "Build a Better Boettcher" plan that would preserve the concert hall but correct some of the flaws by decreasing audience capacity and incorporating a flexible seating system to allow for a variety of performance configurations. The $40 million redesign was hatched by local architecture firm Semple Brown Design, working pro bono.
Denver Mayor Michael Hancock then went even further. He announced he was putting together a team of 29 "arts leaders, planning experts, and Denver residents" to "reimagine" not only Boettcher but the entire performing arts complex. "Think boldly," he told them. Kern was among those given a seat at the table. Since December, the committee members have been gathering once a month.


At a meeting I attended in March, just after the city had signed the contract with H3 Hardy, firm principal John Fontillas, AIA, gave a brief presentation and then listened as committee members critiqued DPAC: The complex is too inward looking. It's cut off from the surrounding neighborhood, including the Colorado Convention Center, a block away, and the nearby Auraria Campus, home to three colleges and universities. It doesn't appeal to Millennials. It's empty during the day. It's ugly. How to fix it? Schedule more activities and events. Build a hotel or an apartment complex. Add more restaurants. Improve the signage. Enclose the galleria. Add space heaters. Change the name. Demolish the garage.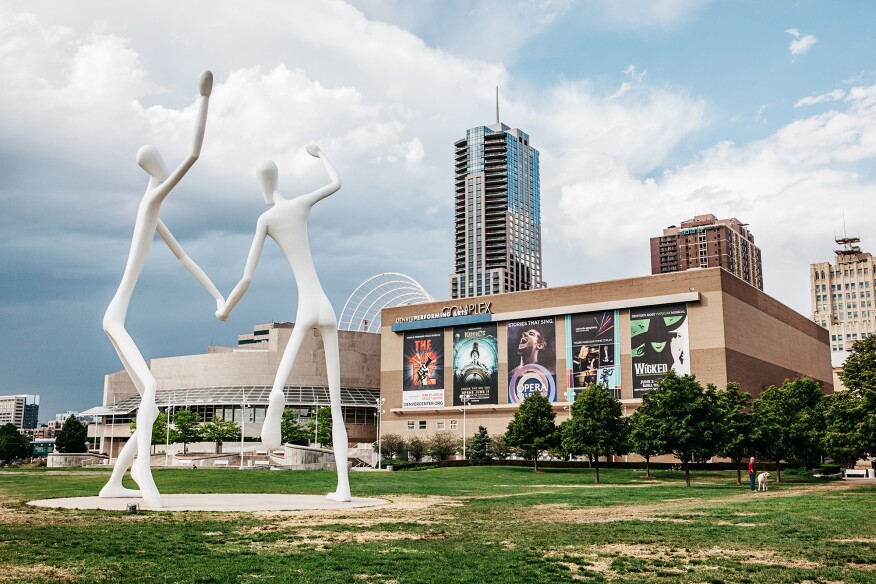 A few days later, I met Kent Rice, executive director of the city's Arts & Venues agency, at DPAC. It was mid-day, and sure enough, the place was dead. Rice, who is also on the mayor's committee, said he remembered coming downtown in the '70s with his father to see wrestling events at the Auditorium Arena. He echoed some of the comments I heard at the meeting. His vision for the center includes both programming and design changes. He'd like to draw a younger, more diverse crowd to the complex by offering performances and activities throughout the day. He'd like to see a private developer build a hotel or high-end condos on the property. (This would also help finance any redevelopment plan, which doesn't yet have a price tag.) He wants to see more events at Sculpture Park, which sits between DPAC and busy Speer Boulevard.

Rice looks at the existing retail space in the galleria and imagines an Apple store. He longs for a smaller theater for music and dance concerts that might not fill the Ellie, the Buell, or Boettcher. His agency is no longer talking about demolishing Boettcher, but he also makes it clear that the city's original plan to spend $17 million on infrastructure repairs doesn't make sense as long as the concert hall is used only by the symphony and the seating capacity remains 2,679. Perhaps looking for cover, he adds, "If H3 comes back and says Boettcher should become a child care center—which is unlikely—we would certainly consider it."

"The goal," he continues, "is to concoct ways to get more people into this complex, either inside for performances or in the galleria or in the park, so that they start making this a more vibrant place."
"God knows how long the symphony will be there, but to rip down a perfectly good building like Boettcher is bullshit."
As a young architect with Hardy Holzman Pfeiffer, H3's Fontillas was part of the design team that helped transform New York's crime-ridden Bryant Park into one of the city's most popular urban gathering spaces. He was also involved in the firm's renovation of the Brooklyn Academy of Music's Majestic (now Harvey) Theater, and he thinks its success in drawing a young, diverse audience to its innovative programs has relevance for Denver, a popular destination city for Millennials.

Fontillas also points to Diller Scofidio + Renfro's $1.2 billion makeover of Lincoln Center, which attempted to make the 16-acre cultural complex less fortresslike with the addition of green spaces, pedestrian-friendly street connections, a new fountain, improved signage, cafés, a destination restaurant, and free public Wi-Fi and concerts. (H3 designed a small theater, LCT3, that sits on the roof of Lincoln Center's Vivian Beaumont Theater.)

Walking around Denver, Fontillas sees a lively, booming downtown full of bars and restaurants, bike lanes, light rail, and new hotels and apartment buildings, yet DPAC has somehow missed out on the action. The complex was designed as a kind of one-stop shop for arts and entertainment, but that's not how consumers of culture behave today. They want to have a different kind of experience, Fontillas says, maybe starting with drinks before the show, or dinner in a different part of downtown. And when the performance ends, they don't necessarily want to rush to their cars and drive home. DPAC's success in the future will depend on how well H3 re-integrates it with Denver's urban fabric.

Reimagining DPAC, Fontillas says, isn't just a matter of redesigning a dead space, adding a couple of new restaurants, and hoping people will come. "We like to say, 'Start with the art. Start with the performance, the activity.' And then you begin to shape the spaces to accommodate the programming."

DPAC's location, adds Fontillas' colleague Steven Stainbrook, is a major asset. "There's tremendous opportunity here," he says. "It's a question of making better connections to existing street life. DPAC is an impressive facility despite all the complaints. There are a lot of cities that would die to have Denver's problems."

Still, Westword's Paglia, an ardent preservationist, worries that DPAC could be transformed beyond recognition, particularly if a redevelopment plan ends up being funded through a public–private partnership (which seems likely). "There are some powerful private interests who want to make hundreds of millions of dollars off this deal," he says, "and you can't do that by just cleaning the place and maintaining it. You have to do things like build hotels."

Former Denver city council member Susan Barnes-Gelt, who writes a monthly op-ed column for the Denver Post, agrees with Paglia that Boettcher should be preserved and reconfigured. "God knows how long the symphony will be there," she told me, "but to rip down a perfectly good building like Boettcher is bullshit." On the other hand, she isn't opposed to the idea of putting a hotel on top of the concert hall.

The parking garage, meanwhile, is the one building that many observers would be happy to see get blown up. But since it supports one side of the glass canopy, the structure is likely to remain in some form. Barnes-Gelt's idea for making it more functional: hang micro-housing units on it. (Denver's residential real estate boom has led to soaring rents and a dearth of affordable housing.)

In the end, nearly everyone I talked to thinks DPAC's flaws can be fixed. The general feeling is: Make the complex more appealing for those who currently use it, and turn it into a magnetic destination for those who don't. "DPAC," Rice says, "is a blank slate in a way. We have great assets. It's in a terrific location. There's no reason it can't become something better."