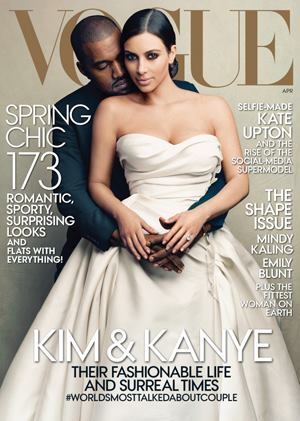 The Kanye West and Kim Kardashian cover of this month's Vogue, which hit newsstands Monday, could merit an entire column itself. West (one of only a handful of men to grace the cover) is looking at Kardashian, not the camera, as she stares directly into the lens. The whole image screams marriage, with a billowing Lanvin cream dress as a backdrop to a fifteen-carat diamond engagement ring in the center of the frame.
The inside shots are a sea of neutrals weighing heavily on cream and beige. In fact, the most vibrant photo is a behind the scenes shot featuring creative director Grace Coddington and her trademark ginger hair, who worked with photographer Annie Leibovitz for the shoot. European editor-at-large Hamish Bowles profiles the couple, also known as "Kimye."
"I am looking at all of this sci-fi, retro-future stuff, muted color palettes" for both his homes and his music projects, says Kanye, nestled with his fiancee in an accommodating banquette in Kris's shagadelic den-cum-bar. "Starting to build one language, you know?"
Here's what that design language might look like in the budding Kimye "dream world."
Swarovski crystals should be used wherever, whenever. This brand is name-dropped twice in the piece. "Jet-black" crystals tie back curtains in Kris Jenner's (mama Kardashian) entrance hall, as well as in the bedroom of West and Kardashian's little baby girl, North West, in a Tord Boontje chandelier.
Nurseries should be stylish, too. Bowles notes that the couple redid a newly-remodeled bedroom in Jenner's house for the baby. Along with the Boontje chandelier, the baby also gets shag carpeting, a Lucite crib, and, in Bowles' words, "a narcissism-nurturing mirrored wall."
Collaboration is key. West has already said that he works with five architects at a time. Claudio Silvestrin, Oana Stanescu, Joseph Dirand, Axel Vervoordt, Waldo Fernandez, Sandy Gallin, and Clint Nicholas are all mentioned as West collaborators. (West has also worked with David Benjamin, this year's pick for MoMA PS1 Young Architects Program.)
It must have two bathrooms and a garage that fits more than one car. West says that Silvestrin "will be like, 'I've been through three marriages—and we need to have two bathrooms!' " Kardashian, for her part, considered buying Elizabeth Taylor's house, but ultimately concluded "it wasn't realistic for me to purchase. It only had a one-car garage."
Multiple houses also help. The couple and baby is crashing with Jenner while they build their Bel Air place but store stuff in West's former house. West also has apartments in New York and Paris.
Vive la Versailles. Dirand "taught me about Corbusier and Jeanneret and Perriand," says Kanye, "but he gets everything—bases everything off of Versailles." For the Kimye wedding: "We could get the Hall of Mirrors or something," says Kanye. "We could turn up."