I caught the first inklings of an '80s revival more than a decade ago, when arty club acts like Fischerspooner, Miss Kittin, and the Scissor Sisters started riffing on classic New Order. Social media has proven fertile ground for '80s-philia, especially the visual platforms such as Pinterest, Flickr, and Tumblr. Tap around and you'll find parachute pants galore, GIFs from Tron and Blade Runner, Nathalie Du Pasquier prints, and renderings of Peter Eisenman, FAIA's Roman numeral houses. At this point, enthusiasm for the era has reached the centers of popular culture. Netflix's latest hit, the Duffer Brothers' sci-fi series Stranger Things, is a forthright ode to the work of John Carpenter, Brian De Palma, Ken Russell, Steven Spielberg, and other auteurs of the day. The '80s are back, my friends. And Postmodernism is coming along for the ride.
Some architects will shudder at the prospect of revisiting PoMo, however glancingly. After all, many dismiss the movement as an unhealthy deviation from Modernism's long march of progress. In 2001 (the year the Scissor Sisters got together) my colleagues and I at Architecture magazine did a "Where are they now?" issue about '80s greats and put Robert Venturi, FAIA, on the cover, with the quote, "I am not now and never have been a Postmodernist." Venturi chose his words carefully, echoing the boilerplate repudiation of Communism so many made during the Red Scare of the 1950s. These are strong words, especially coming from a man regularly described as the father of Postmodernism. When the Pope turns apostate, you can bet the faith is lost.
But Postmodernism didn't go away entirely, it just started wearing a lot more black. Rem Koolhaas, Hon. FAIA, is an obvious case in point. His first freestanding building in the U.S., the 2003 McCormick Tribune Campus Center at the Illinios Institute of Technology, plays with the conventions set by Ludwig Mies van der Rohe just as puckishly as Venturi and Denise Scott Brown, Hon. FAIA, tweaked the American commercial vernacular. The difference was that Koolhaas stuck to sanctioned modernist references: I-beam good, billboard bad.
Koolhaas raised a generation—Bjarke Ingels, Jeanne Gang, FAIA—that is equally beholden to Postmodernism, but perhaps less squeamish about it. PoMo influences were all over last year's Chicago Architecture Biennial, in work by emerging talents Andreas Angelidakis, Jimenez Lai, Norman Kelley, Onishimaki + Hyakudayuki Architects, and others. And at just about any architecture school these days, students borrow freely from Venturi and Scott Brown, Michael Graves, Arata Isozaki, Hon. FAIA, Aldo Rossi, James Stirling, and other PoMo masters.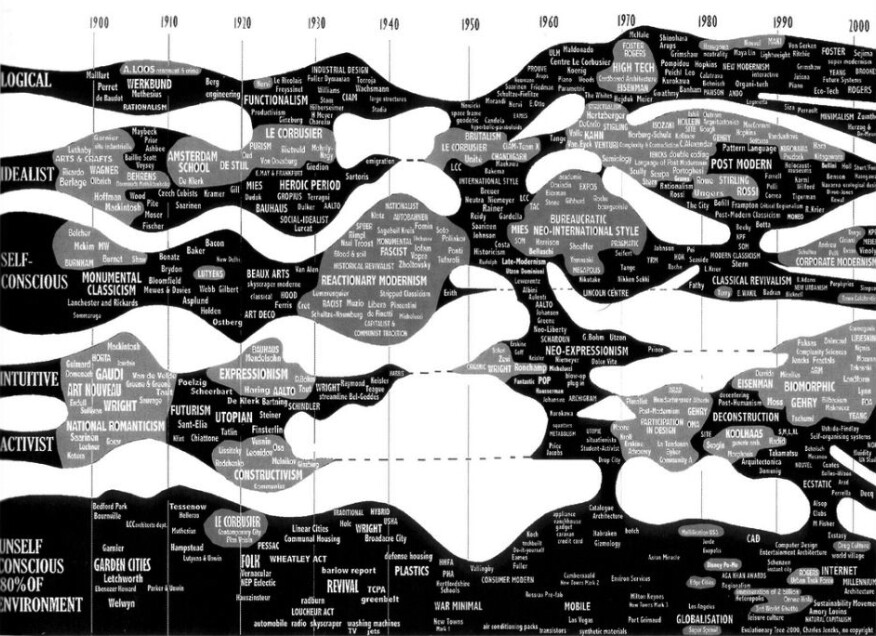 Where established architects may feel uneasy about having participated in a movement that fell so spectacularly out of fashion, younger designers and students can approach Postmodernism with an open mind. And that's good. Because Postmodernism has a lot to teach them, and all of us. As Charles Jencks' famous flowcharts illustrate, a happy cacophony of -isms were born and flourished under the big tent of Postmodernism: critical regionalism, traditionalism, New Urbanism, deconstructivism. And if there's anything the world needs now, it's to embrace the values of plurality and difference.