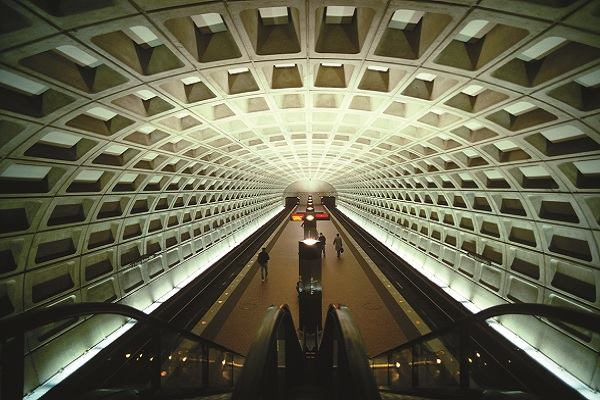 The court of architectural opinion has had a full docket lately. A recent major outcry caused New York's Museum of Modern Art to reconsider its decision to demolish the American Folk Art Museum building. (Huzzah!) Frank Gehry's scheme for the Eisenhower Memorial in Washington, D.C., remains under partisan attack. (Sigh.) And, less prominently, but no less importantly, public pressure has caused the Washington Metropolitan Area Transit Authority, or Metro, to dial back an ill-advised proposal to revamp its Harry Weese–designed stations around the capital. (Read this story for more.)
The Eisenhower and MoMA scraps have garnered widespread media attention, but the Metro situation has yet to emerge as a cause célèbre. This is unfortunate because Weese's grandly vaulted stations are no less than a national treasure—and arguably the most important postwar architecture in Washington. Any alterations to them should be undertaken with great care and under close scrutiny. The stations have suffered too many aesthetic indignities during their decades of service, including the addition of ugly and confusing ticket vending machines as well as functionally important but poorly integrated "bumpy" warning tiles along the platform edges.
Metro's in-house architect Ivailo Karadimov, AIA, revealed the latest plan in April. His mandate arose in part from rider complaints about dim interior lighting. "Karadimov proposed a number of changes," The Washington Post reports:
Stronger lights would be added atop the pylons. A line of lights along the center rib of the ceiling would be added on the mezzanine level … Lighting along the outside wall beside the tracks currently requires eight-foot-long fluorescent bulbs that are difficult to clean and obsolete enough that Metro has begun to stockpile them. Shorter, newer bulbs could be simply hosed down. "What's happening now is they don't clean them, they just replace them," Karadimov said.
Weese purposefully made the station lighting soft to create a countervailing sense of intimacy in his enormous underground spaces. The currently inadequate light levels seem less the fault of Weese's concept, however, and more a matter of poor maintenance. According to one Metro spokesperson, the situation could be improved, and perhaps resolved entirely, with more frequent cleaning, repair, and replacement of existing lamps and fixtures—along with a few judicious upgrades in technology.
But Karadimov wanted to go further, and attempt to brighten the stations through architectural modifications. He would have replaced Weese's curved concrete railings with glass, bronze hardware with stainless, and the signature brown paint of the signage with brighter colors. These moves wouldn't make the stations better—just a little more trendy.
The 1920s and '30s saw the robust architecture of what Lewis Mumford called "The Brown Decades" fall out of fashion. Masterworks by Frank Furness, H.H. Richardson, and Louis Sullivan were mindlessly altered or needlessly demolished for violating a transitory standard of good taste. Now it's Weese's turn. (And Bud Goldberg's. And Paul Rudolph's.)
Granted, not all postwar architecture was created equal. I eagerly await the demolition of New York's Madison Square Garden, for instance. But the preservation of Weese's stations should be a national priority. While Metro appears to have backed down from aspects of Karadimov's plan, alterations are still in the works. (Gulp.)
A commission of such import must be entrusted to the most sensitive and inventive design talents possible. Metro should pause, reboot, and tap expert advisers to find the right architects, through an open selection process. If you agree, speak up. Only our collective voices can make it so.