The perfect antidote to the ethereal and sometimes gimmicky work of James Turrell, about which I wrote last week, is the exhibition of the perverse materiality of the late Richard Artschwager, currently on view at the Hammer Museum at the University of California, Los Angeles, until Sept. 1.
Artschwager, who died earlier this year, did not have his first solo museum exhibition until he was 50 years old, and paid his bills until then by crafting simple but beautifully made furniture. Raised in Las Cruces, N.M., and trained as a biologist, he did not turn to art until after World War II. Initially he had little success. It was not until 1961, when he started using the skills he had developed as a carpenter to create monoliths covered with Formica, that the art world—and specifically, art dealer Leo Castelli—noticed.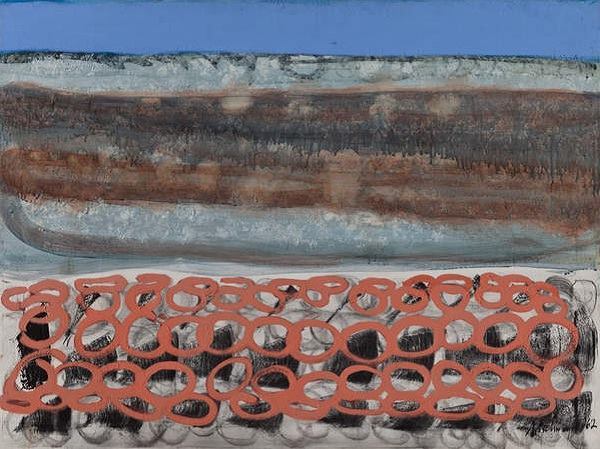 Artschwager's 1960s work hovers between an abstraction of dressers, benches, mirrors, and minimalist sculpture that has gained weight, texture, and Pop Art appeal through the application of Formica. In 1967, the artist developed his "blp," a lozenge shape that became his signature. It became an icon he lent to everything: from blps emblazoned on smoke stacks to three-dimensional exclamation signs he made out of blp-shaped acrylic bristles.
Over the following few decades, Artschwager embarked on an array of formal investigations that ranged from turning the photographs of the implosion of an Atlantic City hotel into a painting on Celotex, to furniturelike objects that hinted at either sexual or religious rituals, to drawings whose dearth of lines only emphasized forms that were not so much primal as perverse. He took wooden crates often used to ship art and displayed them as sculpture in their own right.

Truth be told, I had never concentrated on Artschwager, or, rather, I had turned away from work that seemed somehow creepy. His covering of monoliths with that supremely artificial material of Formica—and his refusal to let them be perfectly proportioned objects—offended my sensibilities, developed in architecture and honed by a love of minimalism. His appropriation of photographs, which he then blurred and made material with yet another artificial material, offended my latent idea of craft and skill. Even his blps seemed wrong: Their proportions stretched and their scale so variable, they were the opposite of either the organic elusiveness of Isamu Noguchi or the hard-won simplicity of Donald Judd.
I raced through the Hammer exhibition on my way to what turned out to be a forgettable exhibition of the work of A. Quincy Jones, who, on the photographic and drawn evidence on display there, was no more than a second-rate modernist. Deflated, I returned to the Artschwager exhibit (which was organized by the Yale University Art Gallery with the Whitney Museum of American Art). I was caught up in Artschwager's array of structures and images, each one of which defied my sense of what was right in terms of form, materiality, and even meaning—let alone taste.
Artschwager hit the scene at about the same time that Robert Venturi, FAIA, began making a name for himself with a similar love of the perverse, the complex, the monumental, and the real—i.e., the human-made and mass-produced products of modernity. Artschwager, however, kept on experimenting and pushing that sensibility his whole life. He produced an astonishing array of objects and images. Each one makes us reconsider what is right both in formal and in social terms: and art does not get much more right than that.
Aaron Betsky is a regularly featured columnist whose stories appear on this website each week. His views and conclusions are not necessarily those of ARCHITECT magazine nor of the American Institute of Architects.