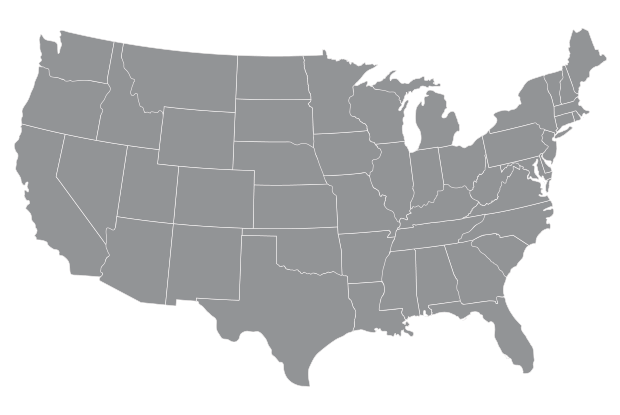 Click on cities to view exhibit info.
"Never Built Los Angelesuxazyvvavydrfdxb": A+D Museum, Los Angeles (July 28–Oct. 27)

This was not an exhibit designed to celebrate existing great architecture. This was an exhibit that begged the question, "what if?" Curated by Sam Lubell and Greg Goldin, and designed by Clive Wilkinson Architects, "Never Built Los Angeles" examined the many designs that could have transformed the city, including Frank Lloyd Wright's 1925 Civic Center, the original 1952 LAX plan with a glass dome by Pereira & Luckman, and the 2001 OMA proposal for the Los Angeles County Museum of Art (LACMA). "Had even one of those three projects been completed, the character of Los Angeles would be strikingly different. It would be a more public-minded, greener and perhaps a more equitable city than it is now," writes Los Angeles Times architecture critic Christopher Hawthorne, who also surveyed the larger "Pacific Standard Time Presents: Modern Architecture in L.A." series for ARCHITECT. "You could probably put together a show like this on any big American city. In Los Angeles, though, the distance between what's offered up to the public and what gets built has been unusually wide."

"Katharina Grosse: Wunderblock": Nasher Sculpture Center, Dallas (June 1–Sept. 1)

If you missed German artist Katharina Grosse's "Wunderblock" exhibit, you missed "the classiest acid trip you can take," as Dallas Observer art critic Jamie Laughlin described it. Taking inspiration from Abstract Expressionism and urban graffiti, Grosse spray-paints vibrant stains onto all sorts of surfaces: walls, ceilings, fiberglass sculptures, piles of dirt, seemingly everything but a canvas. Not the first artist who comes to mind for a show inside Renzo Piano's beautiful Nasher—but the risk paid off. "In the end, Grosse didn't spoil the travertine. Instead, her piece includes an elongated sculptural form that transcends from the interior of Piano's light-filled galleries out into the garden," writes D Magazine blogger Peter Simek.
"The Presence of the Past: Peter Zumthor Reconsiders LACMA": LACMA, Los Angeles (June 9–Sept. 15)

LACMA director Michael Govan and Decorative Arts department chief curator Wendy Kaplan assembled an exhibition to debut Peter Zumthor's design for a new campusuxazyvvavydrfdxb for the museum. "The Presence of the Past: Peter Zumthor Reconsiders LACMA" was one of the most important kinds of exhibits there can be in architecture: It was the site and premise for a debate about the very future of the museum hosting it. Hawthorne describes Zumthor as a "thoughtful, well-read architect, gregarious in a certain Swiss way," then expands: "But the fact remains that an architect who has spent his life and career solidifying his ties to one particular region in Central Europe is now at work on a project in Los Angeles, next to the La Brea Tar Pits and on the edge of the so-called Miracle Mile, that because of its size and prominent location is likely to serve as the capstone to his methodical and much-analyzed career."

The original design of the LACMA campus has many harsh critiques, ranging from Frank Gehry to the Swiss architect tapped to replace it. Amid the introduction of Zumthor new plans, the Nevada Museum of Art put on a showcase of architect William L. Pereira—including a detailed look at the original campus buildings. Curator Colin M. Robertson claims that the timing was purely coincidental and that the museum has no official stance on the fate of LACMA, but it made for an important backdrop to the discussion.

"Le Corbusier: An Atlas of Modern Landscapes": MoMA, New York City (June 15–Sept. 23)

The MoMA architecture and design department tends to recycle its stars, with 10 different Mies van der Rohe shows and numerous Frank Lloyd Wright displays over the years, as Joseph Giovannini explained in ARCHITECT. It was well past time for a show on the works of Charles-Édouard Jeanneret-Gris, known better to the world as Le Corbusier. Showcasing his work as an architect, urban planner, painter, and designer, the exhibit provided a comprehensive display of media with which Corbusier worked. "Though a comparable show might have been done 50 years ago, 'Le Corbusier: An Atlas of Modern Landscapes' is especially eye-catching for today's architects because the copious and diverse materials are all analog rather than digital, a near novelty nowadays, including vintage movie clips from the '20s," Giovannini wrote. "Besides showing how and what Le Corbusier thought in a clear, evenly distributed chronology, it exhibits how architects not long ago used analog tools, especially drawing and painting, to evolve and promote their thinking."
"Lebbeus Woods, Architect": San Francisco Museum of Modern Art (SFMOMA) San Francisco (Feb. 16–June 2)

Lebbeus Woods inspired a generation of architects, despite only ever completing one built project. He never truly intended his designs to be built. An exhibit at SFMOMA justifies the title of "architect" for Woods, approaching his career as one that explored the possibilities of design beyond the built environment. "While Woods' creations abound with startling asymmetry, bastardized organic shapes, and re-appropriated familiar structures (like the box), he's not dystopian; his disconcerting built environments belie a profound optimism," said SF Weekly writer Katie Tandy. Woods had been working with SFMOMA to collect works since the mid-1990s for this exhibit up until his death in October 2012.
"Mobile Homestead": Museum of Contemporary Art, Detroit (ongoing)


"Mobile Homestead" is artist Mike Kelley's first public art project and last work as an artist. It is a personal, intimate piece of architecture. The exhibit consists of a replica of the mobile home in which Kelley grew up in the suburbs of Detroit, now situated on a small lawn outside the museum building. Now it's up for use by anyone who wants to use, but as Anna Clark explained in ARCHITECT, Detroiters don't quite know what to do with it yet. Neither did Kelley when he created it. "This project developed in a way I would never have anticipated. Initially it was a secret project, designed for my own perverse amusement, situated in a lower-class suburb of Detroit," the artist wrote in a 2011 essay. "Going public led to a nightmare of complexity, not only in the production of the work but also, personally, in its very meaning for me. As public art, intended to have some sort of positive effect on the community in proximity to it, it is a total failure." Following its inaugural installation, the structure will serve as a memorial to Kelley, who committed suicide in January 2012—and whatever else Detroit residents want it to be.
"Party Walluxazyvvavydrfdxb": Museum of Modern Art (MoMA) P.S.1., Long Island City, N.Y. (July 27–Aug. 26)

To kick off the summer and MoMA P.S.1.'s 16th annual "Warm Up" music festival, Ithaca, N.Y.-based design firm Coda constructed a 40 foot-wall consisting of a steel skeleton skinned with wood scraps from old skateboards and replete with bags of water that stabilized the structure. The annual Young Architects Program competition that chooses the winning structure to display in MoMA P.S.1.'s courtyard honors designs that are interactive and eco-friendly; the "Warm Up" series is pure party. Critic Michelle Dean questioned whether the structure truly fit either bill, but "Party Wall" was certainly the punniest exhibit of 2013.

"James Turrell": Solomon R. Guggenheim Museum (June 21–Sept. 25)


James Turrell's exhibition extravaganza, which opened across four cities this summer, was the biggest art series of the year. Turrell, who "knocked the world off its feet" with this exhibit at the Guggenheim (according to New York Times writer Wil S. Hylton), examines the relationship between light, perception, and color. For his exhibit at LACMA, visitors entered into a metallic orb where they experienced a sensory overload for 12 minutes of bright colored lights and gummy digital sounds. "The session left me with eyes watering and knees wobbling, as if I'd just been teleported in from another dimension," said ARCHITECT contributor Carolina Miranda. Of the works exhibited, the most spectacular was Aten Reign, the often-Instagrammed, atrium-filling star at the Guggenheim show, which managed to "defy and celebrate the building all at once," wrote Alexandra Lange in ARCHITECT. Not content with dominating both coasts, Turrell installed another awesome retrospective in Houston—where the artist opened one of his signature skyspaces last year—and even a small show on the Eastern Shore in Maryland.
"Different Kinds of Water Pouring Into a Swimming Pool": Roy and Edna Disney/CalArts Theater, Los Angeles (Sept. 21–Nov. 24)

Spanish architect Andrés Jaque presented a collection of architectural case studies rendering the private outdoor spaces in L.A. as a new kind of typology within the larger urban setting. Jaque's interest in architecture sprouts not from physical structures, but from the social institutions that surround them and how people construct their daily lives as a response to the built environment—in this case, sprawl. The exhibit included shipping containers housing a vegetable garden, a pile of laundry baskets, and other elements of vernacular design. "He is not marginalizing architecture in an effort to save it. He thinks architecture is perfectly capable of saving itself," wrote Christopher Hawthorne.

"Charles Marville: Photographer of Paris": National Gallery of Art, Washington, D.C. (Sept. 29, 2013–Jan. 5, 2014)

The work of this photographic pioneer may remind us of the flâneur, the observer on foot taking everything in. Yet Marville was more instrumental to the history of Paris than any photographer on a casual stroll. "Marville was hired by the city on numerous occasions to document changes during the Second Empire under Emperor Napoleon III and urban planner Baron Georges-Eugène Haussmann," writes ARCHITECT's Sara Johnson. "This period saw the birth and death of many Parisian architectural structures and infrastructure." The Washington Post's Philip Kennicott says that Marville's work nevertheless "transcends the objectivity of documentary style, capturing intricate details and loading the image with small dramas."
"Oscar Niemeyer": Art Institute of Chicago, Chicago (July 20–Oct. 27)

Oscar Niemeyer once cited the works of Le Corb as the inspiration for his own architecture, but the Brazilian architect's curved forms deviated from Corbusier's linear style early on. Less than a year after his death and 25 years after he was named the Pritzker Prize laureate in a ceremony at the Art Institute, this Niemeyer exhibition display the sketches that later became the buildings for which he is remembered.
"Sacred Spaces": University of Akron Center for the History of Psychology, Akron, Ohio (June 15–Aug. 23)
Chicago architect Suzanne Morgan assembled this exhibit on religious structures with the hopes of promoting inter-faith tolerance between religious observers. In certain ways, churches, mosques, synagogues, and temples are made by the same principles, if not for the same purposes. But curiosities persist between typologies of different faiths—or at least, that's Morgan's premise. Originally debuted in Chicago, the exhibit is now traveling, making Morgan's message of faith by way of design a new kind of gospel.