I know I shouldn't write about buildings that are still under construction. But the new Whitney Museum of American Art is already a presence that is so heavy, so clumsy, that I can't imagine any work improving it from the inside out.
The building turns its heavy haunches to the small, mainly brick structures of what used to be the Meatpacking District. The area has become gentrified at a speed and with a lack of inventiveness that is extraordinary, but it still has a scale and texture that offers a welcome respite from most of Manhattan's increasingly rigid and large blocks. The new Whitney, which may be completed sometime next year, will have nothing to do with that. It offers a small set of doors—cowering under a cantilever—to the city, turning its large glass instead towards the ticket-paying patrons' enjoyment of the Hudson River and New Jersey. The architect, Renzo Piano, Hon. FAIA, claims that the lobby's slope will let you see the river from the High Line. If you crouch down and squint, that might be true.
The rest of the building is a block with a few nicks and tucks, clad with grayish brown metal panels. I am hard pressed to say anything about it other than that it is big, badly proportioned, unrevealing of anything on the inside, and dull in its appearance.
This raises the question of how we got there. Once upon a time, the Whitney had a slash of planes as its homes. Designed by Marcel Breuer, the 1966 structure put a Modernist face forward among the row houses and residential ziggurats of the Upper East Side. Breuer's design might not have been to everyone's liking, but it was an object that brought the institution's energy and interest in representing the hopes and fears of modernity to the street.
After a few decades of growth, the institution started proposing additions. In 1985, Michael Graves, FAIA, then at the peak of his power, designed a Postmodern pile-up of considerable grandeur. In 2001, Rem Koolhaas, Hon. FAIA, took modernism one step further and many stories taller. Both designs were killed by a combination of virulent NIMBYism and the lack of the Whitney's ability to fulfill its ambition.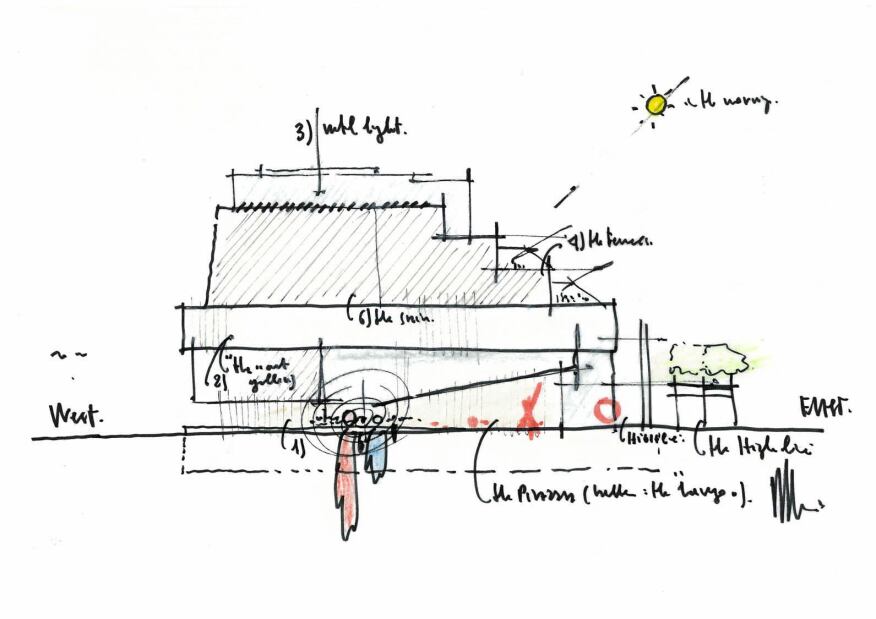 During the same period, Renzo Piano was developing from a radical tinkerer with technological fragments—an architect who wanted to liberate us to experience free space while understanding how things were made and worked—into the world's largest purveyor of prestige cultural institutions. As his commissions became bigger and more complex, he turned into a modernist decorator, festooning boxes with sun screens, steel colonnettes, and other metal gimcracks. Sometimes, like Houston's Menil Collection or the Twombly Gallery, these were places of wonder surrounded by paeans to construction. Most of the time, however, they just used up vast amounts of money that could have been spent on other cultural investments.
These two sad declinations look to be coming together at the Whitney Museum. (I was able to visit last week, although I was not invited inside.) It is especially a shame because the institution, under director Adam Weinberg, has been seeking with more intelligence than most to figure out how its mission can offer specific contributions to both New York and the wider cultural world's understanding of our modern condition. Now it will have to do so in a monument unworthy not only of those ambitions, but also of its site and of architecture in general. I can only hope for interior redemption when the structure opens next year.
Aaron Betsky is a regularly featured columnist whose stories appear on this website each week. His views and conclusions are not necessarily those of ARCHITECT magazine nor of the American Institute of Architects.