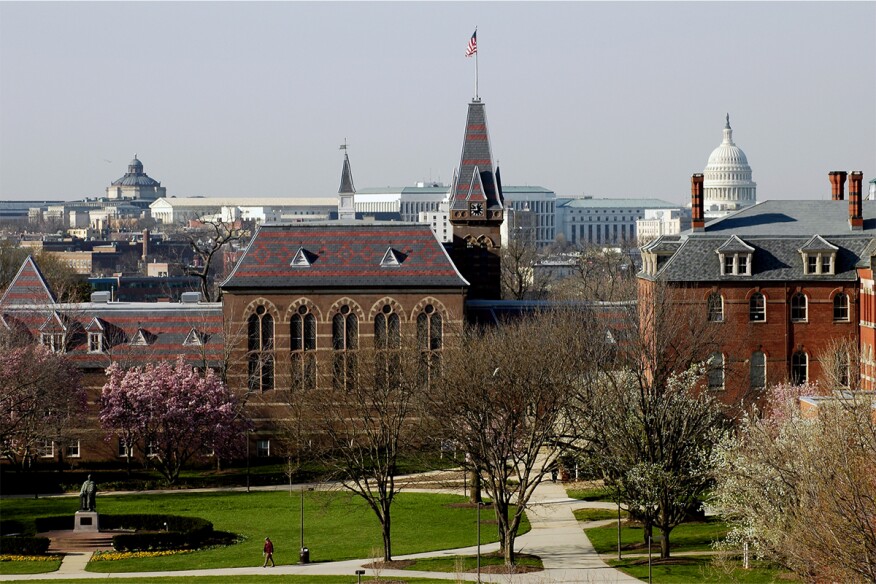 Gallaudet University, a Washington, D.C., school geared towards deaf students, kicked off a design competition this week to remake parts of the school's campus and surrounding areas. The project will be the first use of the DeafSpace Design Guidelines, devised by the school's DeafSpace Project, in a public space.
Hansel Bauman, the university's campus architect and the co-founder of the DeafSpace Project, describes the competition: "The Gallaudet University International Design Competition invites multidisciplinary talent to participate in a creative exchange with members of the deaf community and residents of Washington, D.C., that will, for the first time, bring the wisdom of DeafSpace to the public realm as they [re]imagine the campus and adjacent public realm through deaf peoples' perspective."
The school sits on 99-acre campus in Northwest, D.C., that abuts the Florida Avenue Market and the indoor artisanal Union Market. This new design competition aims to create public spaces that cater to both deaf and speaking patrons in the area ​and bridge the campus and changing neighborhood.
Earlier this year, the university leased several pieces of property along 6th Street NE, which runs along the campus's northwest edge, to Maryland development company JBG Cos. for mixed-use projects. A masterplan developed by New York's Morris Adjmi Architects, with Gallaudet and JBG, will guide the design of these spaces. According to a competition document: "The Masterplan presents a Janus-like character for its cues and influences, looking both towards the quality of the massive existing market structures and the more intimate and delicate historic campus architecture of Gallaudet."
This design competition will address the public space in these projects—a development dubbed the 6th Street Corridor Project—but not the buildings themselves. This competition's scope also includes a new campus entrance called Gateway Plaza as well as a one-story Gateway Pavilion near 6th Street and Florida Avenue. Additionally, the competition calls for updating the campus's Olmsted Green, designed by Frederick Law Olmsted and Calvert Vaux, and the landscape near Faculty Row. The competition will also reexamine the use of the Edward Miner Gallaudet Building. (See the area outlined in red in the map below.)
The university is also soliciting ideas from the public in the project's first stage. This part of the competition, "Shape Gallaudet," asks for ideas—in words, photographs, sketches, or video—that could wind up in the design requirements for the project itself.
In collaboration with JBG and competition organizer Malcolm Reading Consultants, the university issued the request for proposals on Wednesday, and submissions for the first stage are due on Oct. 1. No more than five shortlisted teams will be selected from the first stage. Those teams will then be tasked with developing designs for the project's spaces and structures. A winner will be announced next February, and the finalists will receive $50,000.