When I first read the exhibition title "Hippie Modernism," I made some bad assumptions. I imagined the show would be a long overdue look at the built work of architects like David Sellers, AIA, who fled Yale University in the mid-1960s, bought some land in central Vermont, and started building whacked-out ski chalets without benefit of plans or drawings. I imagined it would involve the oeuvre of Steve Badanes, Assoc. AIA, John Ringel, and Jim Adamson, who spurned their formal Princeton educations and formed a nomadic collective called Jersey Devil, which during the 1970s crafted eccentric houses around the country with descriptive names like Snail, Hoagie, and Airplane. I read the title and thought, It's about time that these counterculture heroes got a museum show.
When I arrived at the Cranbrook Art Museum in Bloomfield Hills, Mich., just outside Detroit, I realized that, to the show's curator, Andrew Blauvelt, the term "Hippie Modernism" meant something else entirely. The exhibition is mostly comprised of highly conceptual explorations by artists, designers, and architects. There's not a lot of built work, at least not in the conventional sense. The exhibition covers the years 1964–74, a period when, according to Blauvelt, "Architecture shifts from spatial concerns to temporal concerns." Meaning: fewer structures and more love-ins. The show's subtitle, "The Struggle for Utopia," is a good indication that the emphasis is on the fanciful rather than the concrete.
Blauvelt, formerly a design director and curator at the Walker Art Center in Minneapolis, spent five years organizing the exhibition for the center, where it was on display until February. At Cranbrook, where Blauvelt was recently named museum director, the show runs through Oct. 9, and then it heads, appropriately enough, to the University of California, Berkeley Art Museum in February 2017.

Anarchy and Its Resonance Today
Blauvelt was initially drawn to the period because of his fascination with Italian Radical architects, including Ettore Sottsass, an itinerant conceptualist in the 1960s who established himself in 1980s Milan as the progenitor of the Memphis design movement; the Florence-based collective of conceptual architects known as Superstudio; and the free-form school Global Tools that staged oddball educational workshops in various Italian cities in the early 1970s. The Radicals were decidedly anti-building, anti-product, and anti-profession.
In the wider world, of course, there's long been a fixation on midcentury style. But this is a different version of the period. "Hippie Modernism" is largely about the mess and tumult that never quite manifested as style: not daisy prints or granny glasses but dense schematics for bubble-shaped environments. In a way, Blauvelt has unearthed an aspect of the 1960s that has startling resonance today. Much of the show embodies the period's anarchic quality—the institution-burning, chaotic, occasionally frightening aspect. The shocking outbursts of violence that we've recently been experiencing and the newly conspicuous fragility of our societal bonds (not to mention a presidential candidate who is intentionally channeling Nixon) invites comparison to that turbulent decade a half century ago.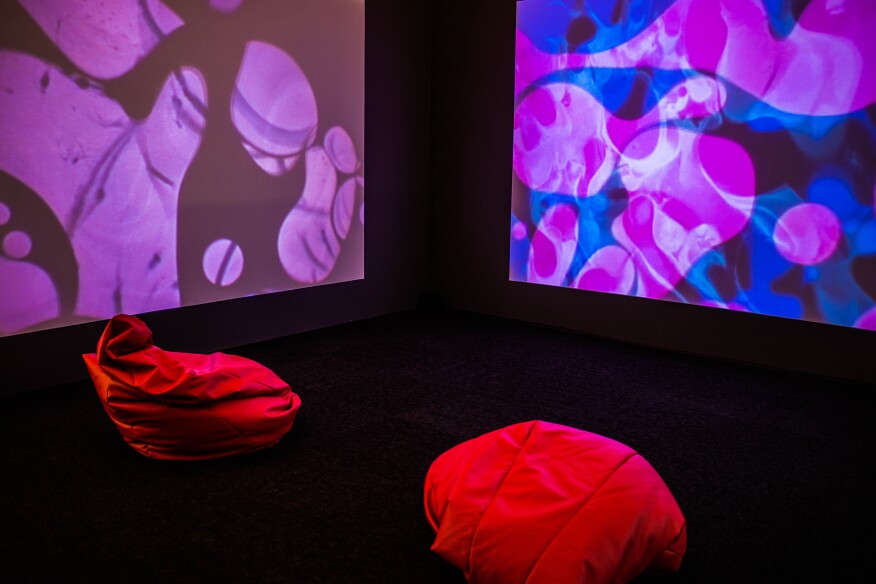 Part of Blauvelt's mission was to resurrect a lost era, one in which he sees the underpinning of the present moment, with special emphasis on hippiedom's interest in finding ways to circumvent conventional approaches to making and doing things. Never mind that the free-for-all that was the 1960s was generated by different currents (the war, the assassinations, the drugs) than today's often commercially engineered "disruptions." "You can't have Airbnb," Blauvelt tells me, "without crash pads and communes."

Blauvelt was also motivated by a feeling that much of the aesthetic culture of the era has been intentionally erased, that it was regarded as an embarrassment, that it was not welcome in any canon. He makes this clear in the exhibition catalog, a stupendous, oversized paperback (with a cover photo of a 1976 fire that partially destroyed R. Buckminster Fuller's Expo '67 dome) that mimics the feel, if not the graphic density, of the Whole Earth Catalog. In his catalog essay, Blauvelt writes that the art historian H.H. Arnason included a section on psychedelic art at the end of the 1968 edition of his survey, History of Modern Art (H.N. Abrams), contrasting minimalist art on one hand with "the surprise images of cosmic or mythic events" conjured up by liberal drug use. When the 1977 edition was released, all mention of psychedelic art had vanished. Similarly, a 1982 book called Architecture Today (H.N. Abrams) by theorist Charles Jencks included a chapter authored by historian William Chaitkin called "Alternatives," covering all manner of experiments, built and unbuilt, including domes, inflatables, and sheds constructed on the beds of pick-up trucks. That chapter, Blauvelt notes, was nowhere to be found in the 1993 edition.
The exhibition is Blauvelt's attempt to reinsert lost ideas into our cultural and aesthetic history. Perhaps too coyly, Blauvelt divided the show into three sections: Turn On, Tune In, and Drop Out. Predictably, there is lots of visual overkill, like mind-blowing paintings (for instance, the intricate, acid-fueled canvases of Isaac Abrams) and graphic design, including the familiar posters for Fillmore concerts and assorted be-ins, with hand lettering that jiggles like Jello. Here and there, little rooms are constructed on the gallery floors: one has wall projections of lava-lamp-ish blobs; another, Ken Isaacs' remarkable Knowledge Box, has 24 carousel projectors outside, showing Life magazine images in grids of four on the walls, floors, and ceiling.

Sottsass the Beat
Much of the exhibition, however, is an examination of the hijinks of the architects who, like everyone else from the mid-1960s through the early 1970s, were often too preoccupied with mind-bending to build things, or even to imagine things that could be built. Instead, we get lithographs and collages that are more Carlos Castaneda in spirit than Le Corbusier. My favorites are those that Sottsass made in the early 1960s, when he was floating around San Francisco, hanging out with Alan Ginsberg, Bob Dylan, and Lawrence Ferlinghetti. Blauvelt suggests that the architect, more commonly associated with Milan's refined materialism, was once a Beat. His series of lithographs, "The Planet as Festival," are finely drawn, detailed images of a whimsical science fiction utopia. One, called "Roofs under Which to Debate," shows a landscape dominated by Wonder Bread–shaped halls arranged like starfish arms around glass domes. Elsewhere in the show are Superstudio's photo-montages of "12 Ideal Cities" circa 1969, in which the planet is unaccountably layered with massive, hovering grids. These are darker in spirit than the drawings by Sottsass, but no more closely tied to reality.
For me, the star of Blauvelt's version of Hippie Modernism is the collective Ant Farm, founded in San Francisco in 1968 by architects Doug Michels and Chip Lord. Michels neatly expressed the mission of the group and the zeitgeist when he told an interviewer, "We wanted to be an architecture group that was more like a rock band." While Ant Farm is best known for Cadillac Ranch, a Stonehenge made of cars partially buried and standing on end, Hippie Modernism paints the group as road-tripping performance artists who erected a first aid shelter, a giant, pillowy, inflatable environment, at the notorious 1969 rock festival at Altamont Raceway Park in Tracy, Calif.
And much wall space is devoted to Ant Farm's 1971 plan to set up a nationwide "Truckstop Network," a chain of hippie KOAs that would provide sleeping facilities, food, and day care along with a "media dome," a darkroom, and an "inter Truckstop computer information system." The idea was that lots of people would travel the country in vans set up with audio and visual equipment and, along the way, they'd shoot documentaries that could be accessed through some sort of alternative media network. In short, Ant Farm was trying to will into being the kind of physical and technological interconnectivity that didn't actually become real until some 25 years later.
Attempting to Capture the Ephemeral
Wandering through "Hippie Modernism," I found myself wondering whether it's possible to reconnect with the psychedelic moment … and if we even want to. In a way, a movement that was all about the ephemeral and the hallucinatory wasn't meant for posterity. I discovered that I don't have a lot of patience for native messiness of the 1960s, the frenetic assemblages of every idea that can possibly fit on a page, on a canvas, or in a room. I am just old enough to have had firsthand experience with crash pads and communes, and I prefer Airbnb.
On the other hand, some of the more straightforward things that the hippies—although, alas, not the architects—were able to accomplish in the 1960s are pretty astonishing. For instance, the Dutch Provos, famous for distributing free white bicycles around Amsterdam, also initiated "The White Car Plan" in 1968, in which three-wheeled white electric cars were available for use to system members, a clear precursor to today's car-share programs.

There is one small section of museum wall space that jibes nicely with my initial expectations for the exhibition. Drop City, a loosely organized artistic commune founded in 1965 by a bunch of art school grads, was built on seven remote acres in southern Colorado. The Drop City crew, like a lot of people, was inspired by Fuller, but they didn't exactly know what he meant by "geodesic." So they improvised, constructing irregularly shaped domes from discarded car roofs and other scrap materials. The result was a series of colorful, iconic buildings that earned Fuller's approval—he gave the community his first ever Dymaxion award in 1966—and kickstarted a dome-building fad that was the genesis for myriad other strains of experimental building. To me, the photograph of those party-colored domes against the blue Colorado sky shows the exact spot where hippie meets modernism … and it makes me long for the show I'd been hoping to see.