Renderings of the Day:Shigeru Ban, Hon. FAIA, has been selected to design Mt. Fuji Shizuoka Airport in Makinohara-shi and Shimada-shi, Japan.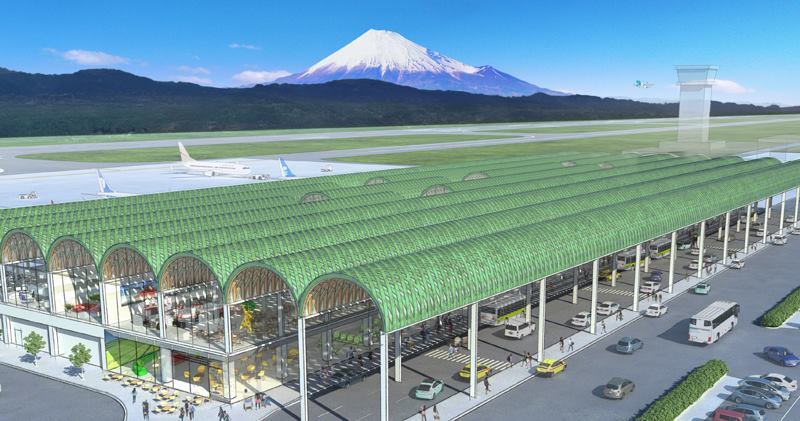 ICYMI: The Trump family broke ground on a $200 million project to convert Washington, D.C.'s landmark Old Post Office into a high-end hotel. [ARCHITECT]
Video of the Day: The Carolina Panthers finished the first round of renovations on their Bank of America Stadium. Here's a sneak peek. [The Charlotte Observer]

Ad of the Day: It's a Silver Line Dance Party for the Washington, D.C., Metro's five newest stations, which open tomorrow.

Instagram of the Day:

Happy belated birthday to Richard Rogers, Hon. FAIA, (July 23) of Rogers Stirk Harbour + Partners. [ARCHITECT]
6 More Stories for Friday:
How good of an investment is buying a property in Washington, D.C.? [Washington City Paper]
A vacant 1960s office building in Crystal City, Va., will be converted into micro-unit apartments—many being 360 square feet or less. [Arlington News]
Inspired by Cliff May's design philosophy, architect Grant Kirkpatrick focused his design of a California ranch house on the landscape first. [Los Angeles Times]
Kansas City, Mo., is shaping up to become "America's soccer capital" with the planned construction of a $75 million soccer development center, designed by local firm Populous, which also designed the nearby Sporting Park. [Sports Illustrated]
Clemson University architecture students designed and built trails, bridges, and drainage systems to restore the South Carolina Botanical Garden, which flooded in June 2013. [The Tribune]
The Buffalo History Museum in Buffalo, N.Y., will undergo $1 million in renovations. [The Buffalo News]
Step Up, Step Down:
Nader Tehrani has stepped down as head of the department of architecture at Massachusetts Institute of Technology. Meejin Yoon, AIA, a faculty member of MIT's School of Architecture + Planning since 2001 and cofounder of Boston's Höweler + Yoon Architecture, has been appointed to replace him.
Watch our ARCHITECT Visits episode with Höweler + Yoon Architecture, where Yoon and partner Eric Höweler, AIA talk about how they started their firm, their offices in Boston, their workshop, and the differences between HY Architecture and MY Studio. [ARCHITECT]
Also, in the interest of full disclosure, Höweler + Yoon redesigned the offices of ARCHITECT's parent company, Hanley Wood, here in D.C. In this story, our executive editor of design, Katie Gerfen, describes the design. [ARCHITECT]
ARCHITECT Awards: Enter Now!
The Annual Design Review is a juried competition of the best U.S. architecture completed in the past 12 months. Entries are due Sept. 5.
The Progressive Architecture (P/A) Awards recognize unbuilt projects demonstrating overall design excellence and innovation. Entries are due Oct. 31.
For more news and views,sign up for the ARCHITECT Newswire, the best daily newsletter on architecture and architects.
Note: This article has been updated since first publication to add that Meejin Yoon is a member of the American Institute of Architects.