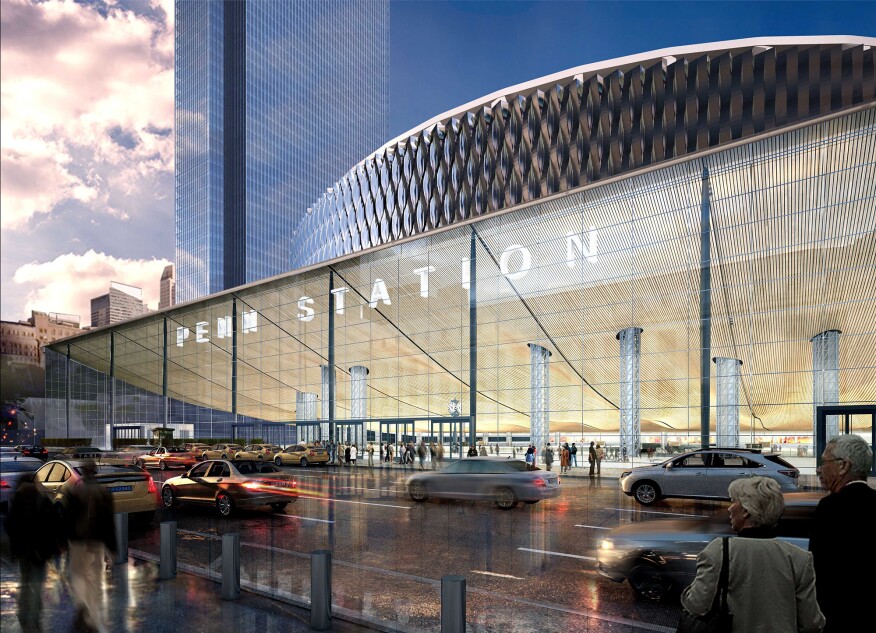 During a Jan. 6 press conference at Madison Square Garden in Manhattan, New York Gov. Andrew Cuomo rolled out his sixth announcement, and arguably most ambitious, as part of his 2016 plan to modernize the state's infrastructure. Shared with Amtrak and the Metropolitan Transportation Authority (MTA), Cuomo's vision involves the renovation of Pennsylvania (Penn) Station and the nearby James A. Farley Post Office Building. The project, which has been dubbed the Empire Station Complex, has an estimated $3 billion construction cost, and will be expedited by a public-private partnership to ensure a three-year building timeline, which starts this year.
The improvements to Penn Station include a series of focused areas within the heavily trafficked transit hub. Renovations of the underground transit station, which lies beneath Madison Square Garden between Seventh and Eighth avenues, include widening existing halls, reconfiguring ticketing and waiting areas, updating signage, and increasing natural light for a better passenger experience.
The state, along with Amtrak and the MTA, envision a façade made of glass for the entryway on Eighth Avenue. According to The New York Times, the project could entail demolishing the 5,600-seat theater beneath Madison Square Garden.
Exterior renovations will also be carried out, involving areas on 33rd Street, as well as Seventh and Eighth avenues, to ensure more connectivity between the underground spaces and the street level entrances.
Built in 1910, the original underground infrastructure, carried out by iconic American firm McKim, Mead & White, is built to serve up to 200,000 commuters a day, according to Gov. Cuomo's online proposal. However, as one of the busiest transit stations in the Western Hemisphere, according to The New York Times, it now hosts more than 650,000 commuters on a daily basis.
Sitting across the street from Penn Station is the historic Farley Post Office, built in 1912, which will be reconfigured into a train hall​ for Amtrak, serving passengers riding on the Long Island Rail Road, New Jersey Transit, and the proposed AirTrain to LaGuardia Airport. The two sites will be linked by an underground pedestrian concourse, and the project is estimated to increase the former post office's size by 50 percent. Standing at 210,000 square feet, the new space will be roughly the same size as the main room in New York's Grand Central Terminal.
The state, which owns both of the sites, will issue a call for designs this week. Developers who wish to partake are expected to deliver within 90 days, and can submit proposals for one or both of the spaces.