This is an archived week of our news feed from the week of October 12 to October 16, 2015.
For the latest news, check out our daily real-time News Roundup.
October 16, 2015
New Design for V-A-C The V-A-C Foundation in Moscow has unveiled plans to develop a new site for contemporary arts and culture. The main building to be revived and redesigned is the GES2 power station, situated in the popular Red October district of the city. Renzo Piano Building Workshop (RPBW) have been commissioned to design the new GES2 and surrounding area. [ARCHITECT]
China's Mini Eiffel Tower Entertainers perform a lion dance at the topping-out ceremony of the half-sized replica of the Eiffel Tower on the construction site of The Parisian Macao resort in Macau, China. The project, estimated to cost $2.7 billion, is set to open in late 2016. It will feature more than 3,000 hotel rooms and suites, 490,000 square feet (45,990 square meters) of retail space including dining and beverage options, as well as meeting and convention facilities. [Yahoo Finance]
Appearances Can Be Deceiving That's one of the last lines and one of the final conclusions in Wonkblog reporter Matt O'Brien's long part-anecdotal, part-analytic examination of the Chinese economy through the lens of the city of Lanzhou, in the northwest part of the country. (It's actually geographically located dead center, but since the western part of China is so barren and uninhabited, practically everywhere that's not on the coast is considered west.) On a family trip to that struggling but growing city to visit his wife's family, he takes the time to go into some depth about how China has grown so quickly and the problems it is facing now, breaking his thesis down into four major parts. Buried in there is an anecdotal argument for what many economists consider a major problem for China's economy to overcome in its quest to turn from a producer-based economy into a consumer-based one (which it desperately needs to do to sustain growth). "Lanzhou's people are either too scarred, too strapped or too stretched to spend," O'Brien writes. "Retirees, the oldest of whom have lived through the Japanese invasion, the civil war, the Great Leap Forward and the Cultural Revolution, will always squirrel away as much as possible. Half a lifetime of expecting the worst and still being disappointed has taught them that you can never have too much of a personal safety net, even if, like my wife's grandparents, that means trudging across town to save a few yuan on groceries." Definitely worth your time to check out the full story. [The Washington Post]

Ups and Downs HDR has hired John Knickmeyer, AIA, as a higher education principal in their Washington, D.C., office. [HDR]

All Clear Ahead Designs for Krause Gateway Center by Renzo Piano Building Workshop have been circulating for a while, but pretty soon it should turn from drawing to reality. The building's groundbreaking is scheduled to happen this fall. Demolition of the existing buildings on the site has already begun. Follow the link to see more renderings and drawings. [ARCHITECT]

Check Out Our Interactive Energy Use Map To reduce energy consumption, states, counties, and municipalities are increasingly requiring owners of public facilities, commercial buildings, and even private residences to conduct energy audits. The collected data can then be used to benchmark or monitor performance and compare it to that of similar structures. [ARCHITECT]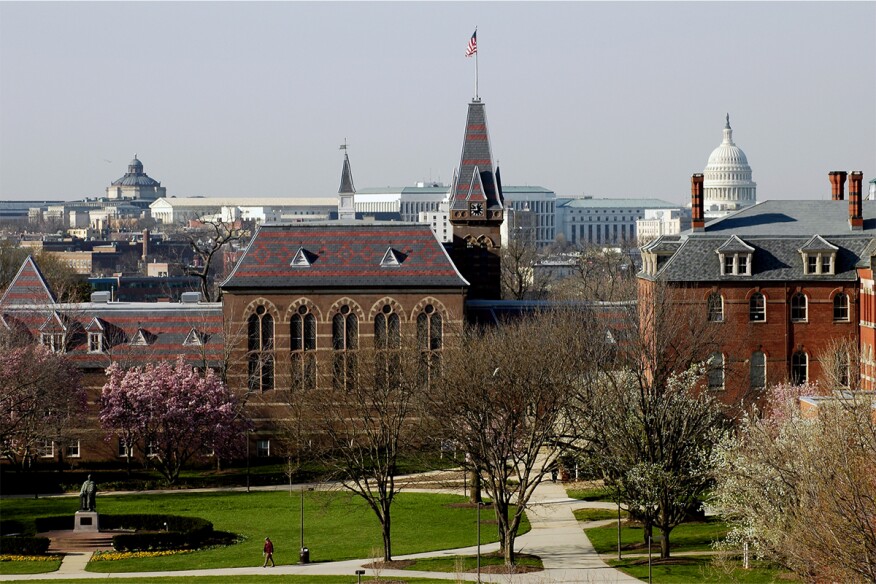 Songs for the Deaf Gallaudet University in Washington, D.C., a bilingual school geared towards deaf students, announced four shortlisted firms for its International Design Competition: Belfast, Ireland–based Hall McKnight Architects, Roxbury, Mass.–based Kennedy & Violich Architecture, New York–based Marvel Architects, and Boston-based MASS Design Group. Each finalist was awarded $50,000 to produce concept designs, one of which will be chosen in January 2016. [ARCHITECT]

New York, New York As Archtober rolls through cities across the U.S., Matthew Postal of the New York City Landmarks Preservation Commission share some of his favorite spaces and buildings in the Big Apple. [ARCHITECT]
Awards: Enter Now!
The AIA, the Association of Collegiate Schools of Architecture, and the Architects Foundation's Design & Health Research Consortium is adding up to six new member organizations. Application materials are available on the AIA's website. Deadline is today.
Nominate an individual or organization that is advancing the green building industry through the adoption of technologies for the inaugural BOLD (Building Optimizers, Leaders and Disruptors) Awards. The deadline is Oct. 28. Finalists will be notified on Nov. 11, and winners will be honored at Greenbuild in Washington, D.C.
The 63rd annual Progressive Architecture Awards program is now accepting submissions. The winners of our annual program honoring unbuilt designs are published in the February issue. Regular deadline is on Oct. 30, with the late deadline (and extra $50 per entry) on Nov. 4. Enter now!
The Graham Foundation's Carter Manny Award recognizes doctoral students working on dissertation topics in architecture. Applications are available online now and due Nov. 15.
The Urban Land Institute is now accepting applications to compete in its student competition to design an urban planning and development scenario. Teams must apply by Dec. 7.
Bathroom products manufacturer Victoria + Albert is challenging designers to create a space that uses its products. Entry is free and submissions are due Dec. 20.
AIA|DC is accepting entries for the Sarah Booth Conroy Prize for Journalism and Architectural Criticism to reward excellent reporting of architecture and urbanism in Washington, D.C. The annual prize is $5,000. Deadline is Dec. 31.
For more news and views, sign up for the ARCHITECT Newswire, the best daily newsletter on architecture and architects.

Click "next" to read past days of the News Roundup.