This is an archived week of our news feed from the week of October 19 to October 23, 2015.
For the latest news, check out our daily real-time News Roundup.

October 23, 2015


Ups and Downs St. Louis-based Arcturis has found a new design practice leader in Don Koster, AIA. Koster has been principal of his own eponymous firm for the past decade as well as a senior lecturer at Washington University. The firm also promoted four new directors: Bill Decker, Troy Guzman, Chrissy Hill Rogers, AIA, and Mark Stegeman.

133 Years Later... Antoni Gaudi's Sagrada Familia in Barcelona, Spain has finally entered its last construction phase. The less-than-traditional-looking cathedral—which will be the tallest religious structure in Europe at 172.5 meters (566 feet) once completed—has been over 100 years in the making, since Gaudi began its initial construction in 1882. This last stage, however will still take a couple of years to complete as the estimated date of completion is tentatively set for 2026. [Dezeen]
More Views of the Future of Mies' Only Library Since selecting the team of Dutch firm Mecanoo and D.C.'s own Martinez+Johnson Architecture to renovate the system's 43-year-old central library, the DC Public Library has been steadily releasing images of the redesign, and the questions about the unillustrated spaces are gradually being answered. On Wednesday, the DCPL released another batch of renderings of the renovated black steel and glass Martin Luther King Jr. Memorial Library, which was originally designed by Ludwig Mies van der Rohe and opened in 1972. [ARCHITECT]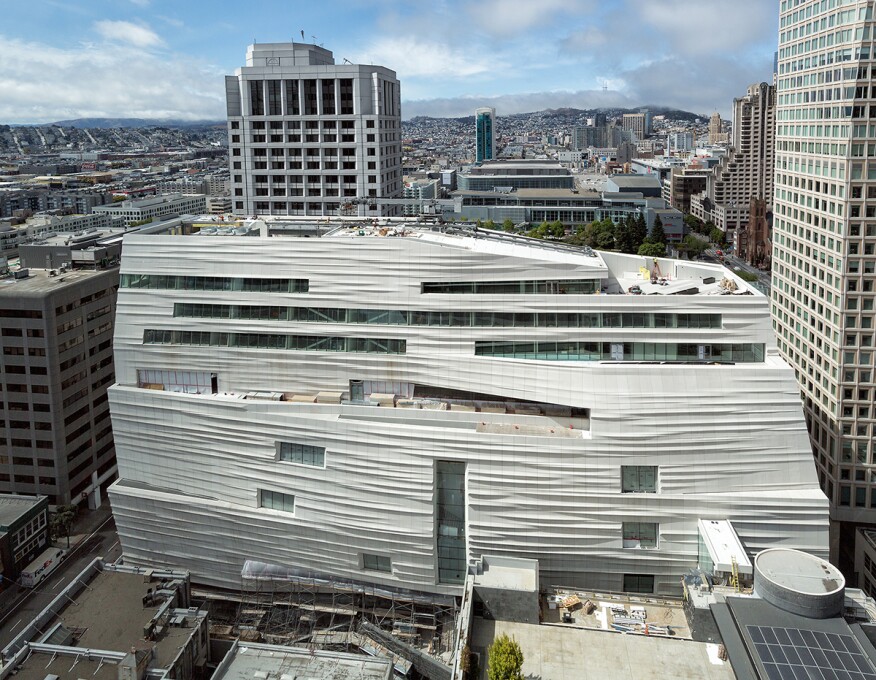 Opening Date The San Francisco Museum of Modern Art will reopen on May 14, 2016. It has been closed since 2013 when the museum broke ground on a Snøhetta-designed expansion to its home by Mario Botta. The 235,000-square-foot expansion will more than double the museum's floor space, and the San Francisco Chronicle reports that the new SFMOMA will have the most gallery space of any other American museum of its kind. [ARCHITECT]

2030 Growth According to the AIA, 140 firms submitted reports as part of its voluntary 2030 Commitment—a 41 percent increase over the previous year. Those reports tracked 4,354 projects and 2.4 billion gross square feet, which are up 78 percent and 50 percent from 2013, respectively. The program also registered 197 net-zero energy projects, compared to 73 the previous year. [ARCHITECT]

Breaking Up Is Hard to Do Even when amicable, the breakup of a partnership can quickly come off the rails if it is not meticulously planned, carefully executed, and negotiated with diplomacy and goodwill. To ensure a smooth transition, all parties must communicate openly to resolve a wide range of issues, including legal and financial settlements; client, project, and staff allocation; and messaging to clients. Here are some tips to keep the process moving smoothly. [ARCHITECT]

Awards: Enter Now!
The 63rd annual Progressive Architecture Awards program is now accepting submissions. The winners of our annual program honoring unbuilt designs are published in the February issue. Regular deadline is on Oct. 30, with the late deadline (and extra $50 per entry) on Nov. 4. Enter now!
Nominate an individual or organization that is advancing the green building industry through the adoption of technologies for the inaugural BOLD (Building Optimizers, Leaders and Disruptors) Awards. The deadline is Oct. 28. Finalists will be notified on Nov. 11, and winners will be honored at Greenbuild in Washington, D.C.
The Graham Foundation's Carter Manny Award recognizes doctoral students working on dissertation topics in architecture. Applications are available online now and due Nov. 15.
The Urban Land Institute is now accepting applications to compete in its student competition to design an urban planning and development scenario. Teams must apply by Dec. 7.
Bathroom products manufacturer Victoria + Albert is challenging designers to create a space that uses its products. Entry is free and submissions are due Dec. 20.
AIA|DC is accepting entries for the Sarah Booth Conroy Prize for Journalism and Architectural Criticism to reward excellent reporting of architecture and urbanism in Washington, D.C. The annual prize is $5,000. Deadline is Dec. 31.
For more news and views, sign up for the ARCHITECT Newswire, the best daily newsletter on architecture and architects.

Click "next" to read past days of the News Roundup.