As part of the 100-year celebration of Siam Cement Group (SCG), the largest cement company in Thailand, the company asked three architecture firms to design individual public facilities to promote community engagement in Bangsaen—a coastal town 62 miles east of Bangkok. The three structures include a library by DBALP, a multipurpose pavilion by DEPT., and a playground by Supermachine Studio, all of whom are based in Bangkok. Supermachine was founded by Thai architect Pitupong Chaowakul, formerly of Bangkok-based Thisdesign, who leads the studio's exploration in diverse design projects. The studio's work ranges from large-scale venues for Genie Rock Festival (G16), to residential houses that can float on water and chandeliers adorned with glass pigs.

Their answer to SCG's request for a playground is 10 Cal Tower, also nicknamed the Labyrinth, which is a three-level series of brick-red, concrete staircases who's path only leads to itself, and is supposed to encourage family interaction. The idea was spurred by questioning the regular playground setup, which physically separates parents and children within the same space—while the former plays, the latter sits idly by. So Supermachine's proposal is a stacked concrete labyrinth (not to be confused with a maze, which has multiple paths), providing a singular route through the multiple levels for the two audiences, reinforcing them to interact.

To blend in with its site, the tower is no taller than the tree line of the public park. At the top, it serves as an observation tower overlooking sports activities and the Gulf of Thailand. Designed with voids in between the flights of stairs, the tower allows for new trees and plants to penetrate in years to come, encouraging people to learn about the indigenous plants of the area.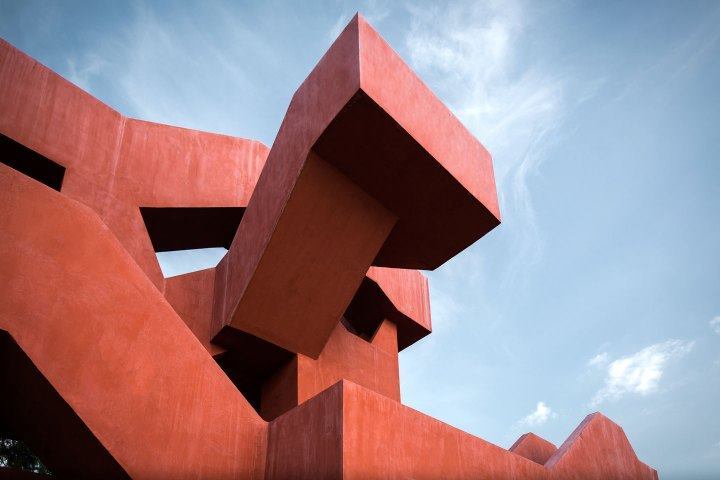 The name refers to the amount of energy it takes to travel from the bottom to the top of the tower while walking at a normal speed—which burns 10 calories.
Watch the video below to see the entire route from top to bottom and back again.