The Louis Kahn who emerges in the pages of Wendy Lesser's superb new biography, You Say to Brick (Farrar, Straus and Giroux, 2017) is different from the Kahn celebrated in the extensive retrospective of his work that recently ran at the San Diego Museum of Art and will reappear this month at the Kimbell Art Museum in Fort Worth, Texas. That second Kahn, in turn, is distinct in key ways from the Kahn whom I see young and mid-career architects increasingly citing as a touchstone in essays and public talks.
But taken together these three new Kahns—on the page, in the gallery, and in the lecture hall—suggest that the architect's work and legacy is in the midst of a significant and thorough reappraisal. It is one that in some respects comes as a surprise, not only because an earlier generation of critics and historians, led by Yale's Vincent Scully, had seemed to wring nearly every drop of meaning out of Kahn's buildings, but also because of the penetrating and devastating insights at the center of the 2003 documentary, My Architect, directed by and starring his son Nathaniel. In the wake of that film, which fully excavated the relationship between Kahn's architecture and his unconventional personal life—which included a long marriage to his wife, Esther, but also children (including Nathaniel) born to two other women—it seemed that pretty much everything that could be said about Louis Kahn had been. The work as well as the man had been laid bare.
"A Generous Egotist"
Yet here we are. Kahn, like Frank Lloyd Wright, is a figure for every new American generation to grapple with. Lesser, who is not an architecture writer but the longtime editor of the literary journal The Threepenny Review and the author of several nonfiction books, brings a fresh pair of eyes to Kahn's work. There are moments in You Say to Brick, especially early on, when that freshness seems closer to naïveté. "Kahn's best buildings are works of art that, to be fully appreciated, need to be experienced by a body moving through space," she writes in the prologue, as if this were somehow unique to Kahn.
But as the book unfolds, Lesser more than finds her footing. A careful historian who also has a keen sense of the big picture, she bores deeply into Kahn's complicated life, ultimately describing his architecture with as much sympathy and sophistication as she brings to her analysis of his relationships with colleagues, clients, and family members. Her Kahn is a "generous egotist": "the kind of egotist who saw and acknowledged the corresponding ego in every other living thing, and even in some things—like brick—that were not living." He was an architect who could be "in his own way, ruthless" but also was "a collaborator of extraordinary abilities." This seeming contradiction—the charming architect whose buildings and personal life were both the products of a self-absorption that was no less obvious for being largely generous and humane—is what ultimately powers her book.

Among my favorite scenes is the description of a visit by Nathaniel Kahn to his father's office in 1973, as the architect was working on the design (built posthumously in 2012) for a memorial to Franklin Delano Roosevelt on Roosevelt Island in New York. Louis Kahn, who was "fiddling with a model" of the design, asked his son, then 11 years old, for advice on how far apart to slide the memorial's massive exterior walls. "Nathaniel the child was delighted to be asked," Lesser writes. "Nathaniel the adult, reflecting back on the occasion, thought it offered a crucial insight into how his father worked."
"He liked to talk as he worked," Nathaniel Kahn told Lesser. "And it didn't matter whether you were young or old or an architect or not. He wasn't necessarily interested in your solution, but he was interested in what a conversation with you might bring out for him" (italics mine).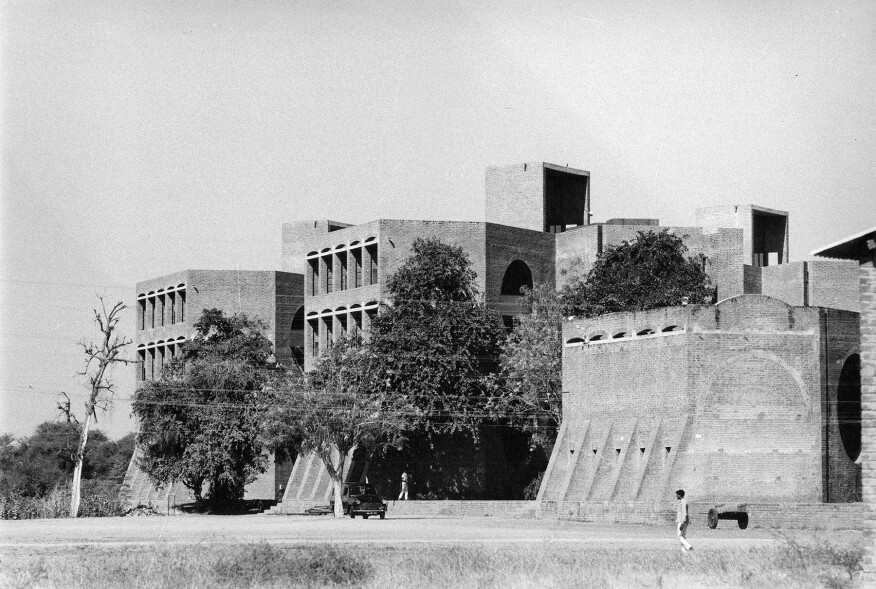 Lesser gives the book an unusual structure. She begins with Kahn's death in March 1974, at age 73, of a heart attack, just outside a men's room in the bowels of Pennsylvania Station in New York, at the tail end of a trip home from India. Then she turns back to his childhood, in a working-class family in Estonia and then Philadelphia, before moving the story forward in a largely chronological manner. She interrupts this essentially straightforward narrative at five different spots, however, to drop in chapters that each describe a single Kahn building in detail. And so between the section on Kahn's death and his childhood we get an analysis of the Salk; later entries of this kind, which she calls "In Situ" chapters, take us to the Kimbell; the library at the Phillips Exeter Academy in New Hampshire; the National Assembly Building in Dhaka, Bangladesh; and the Indian Institute of Management in Ahmedabad. These five buildings, Kahn's widely accepted masterworks, were all built in the incredibly prolific final 15 years of his life (or finished after his death).
It seems to me that one goal of this narrative strategy, which always keeps the reader at least mildly off balance, is to pay tribute to the combination of monumentality and complexity that marks so many of Kahn's buildings—the way they are reassuringly solid, with a kind of ancient logic, but also full of surprises and hidden sources of light. As Lesser writes of the Exeter library, "The sense of symmetry is overwhelming, but the use of asymmetry is equally important in the design. You can easily lose yourself in this building, and yet you can always find out where you are by orienting yourself to the atrium." Lesser's book is organized the same way, with the chronological narrative as an orienting mechanism (her version of the Exeter atrium) and the "In Situ" chapters injecting an element of asymmetry. Like the library, to borrow Lesser's description of it, the biography is "a puzzle that asks you to fit its odd pieces together."
Along the way the book is full of stories that will be familiar to Kahn fans (the scars on his face that were the product of a childhood accident; the semi-clandestine affairs with colleagues Harriet Pattison and Anne Tyng; the collaborations with the engineer August Komendant and the Mexican architect Luis Barragán; the revelatory stint at age 50 at the American Academy in Rome) alongside plenty of less familiar ones (Esther Kahn's own affair, with a man who is not named, and the surprising influence inside the architect's office during the 1960s of a young Hungarian employee who went by the single name Gabor).
Lesser, throughout, makes astute and sometimes surprising connections between the details of Kahn's personal history and his architecture. Among the most striking is her argument that in both life and art Kahn was interested in those moments when need—necessity, regularity, predictability—gave way to desire. In his architecture, she contends, desire—the drive to keep moving to discover what the unseen spaces of a building might reveal—"is the motivating force." She quotes Kahn: "Need is so many bananas. Need is a ham sandwich. But desire is insatiable and you can never know what it is."
An Overstuffed Exhibit
There were no bananas or ham sandwiches on display at the San Diego Museum of Art over the winter, where "Louis Kahn: The Power of Architecture" had a three-month run ending in January. Indeed, in certain ways the Kahn on view in the exhibition—first shown at the Vitra Design Museum in Germany four years ago and the first major Kahn show since the Museum of Contemporary Art in Los Angeles organized one in the early 1990s—was strikingly different from the one defined by Lesser's biography. The show (which runs at the Kimbell from March 26 to June 25) largely portrays Kahn as a singular creative force, a man who stood apart from both other architects and from the cultural zeitgeist.
The exhibit also suggests that Kahn still qualifies as a model for anyone dismayed by the increasingly cozy connection between high-end real-estate and contemporary architecture, turning Kahn's infamous failure to forge lasting bonds with deep-pocketed clients into a strength. The opening wall text in San Diego put it this way: "In today's world, where the act of building is increasingly subordinated to marketing strategies and financial speculation, Kahn reminds us of the age-old significance of architecture as the universal conscience of humanity."
Divided into six thematic sections—Science, Eternal Present, City, Landscape, House, and Community—the show in its San Diego incarnation was lively, wide-ranging and (with its video screens, models, drawings, and photographs) thoroughly overstuffed. And in that sense quite different from Kahn's buildings, which while never shying away from complex spatial ideas also tried to pare down their forms to some essential level of clarity.
A Return to History
It is that clarity, as much as anything, of purpose as well as form, that seems to appeal to the generation of architects now finding fresh inspiration in Kahn's work. In the diverse reaction against parametricism and overwrought form-making that has followed the 2008 economic crisis, a group of still-emerging architects (and by that I mean a group born between, say, 1965 and 1985) has focused anew on the uses of history. But this interest has none of the ironic, cheeky, or flimsily scenographic qualities that marked the historicism of postmodernists like Philip Johnson (in his AT&T phase), Robert A.M. Stern, FAIA, or Charles Moore.
Instead it seeks a deeper, even a primordial, history, on the one hand, with plain-spoken and often Euclidean forms, and on the other is determined not to give up on the idea of novelty and innovation even as it plumbs the past. Among the architects working in this vein are Los Angeles–based Sharon Johnston, FAIA, and Mark Lee, AIA, (who, appropriately, are directing this year's Chicago Architecture Biennial under the thematic banner "Make New History"); the Swiss firm Christ & Gantenbein; the Chinese architect Hua Li; and the Chilean firm Pezo von Ellrichshausen.
The National Assembly building, as featured in My Architect
Lesser's description of Kahn's National Assembly in Dhaka, completed posthumously in 1982, is very much in line with the sensibility of those architects, who look forward and backward at the same time and feel no sense of divided loyalty about the double perspective. The building's eight-sided concrete parasol ceiling, Lesser writes, a feature Komendant and several other engineers worked to perfect, "seemed like something that had flown in from outer space—as, indeed, did the entire Assembly Building. Yet in this version of the science-fiction visitation, the aliens from the future did not obliterate the past, but somehow managed to preserve a sense of the ancient and the traditional." Make new history indeed.