Three thoughts on Postmodernism this week. Paola Antonelli beat me to the first one.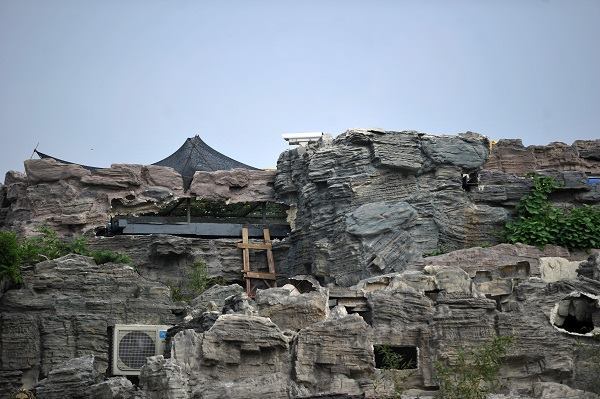 The Museum of Modern Art's senior curator of architecture and design tweeted that the mansion Zhang Lin built for himself on top of a residential tower in China—and the photos that went viral this week—brings to mind the work of Site. In particular, the 1981 "The Highrise of Homes" project. It is difficult to tell from the photographs that have appeared in the press how good the green crown on Lin's mansion actually is; it appears to be a pile of fake rocks covering an arched metal and glass structure, with some other bits and pieces of window assembly peeking out.
In that sense, it is perhaps more like Emilio Ambasz's 1994 ACROS Fukuoka Prefectural International Hall, a stepped park that covers a twenty-story building. Lin's is a private residence, which is why all we get are helicopter shots, and from the perspective given to us, it appears to be completely divorced from the rest of the building. Still, that makes it a better top than most of the fake pediments and ziggurats—let alone the flat landscapes of HVAC units—that crown most apartment buildings. I would love to make a personal assessment but, alas, the authorities have already forced Zhang Lin to tear down his Xanadu. Conformity rules: Anonymous, state power snuffs out an individual expression of extravagance.
Conformity doesn't just rule, but threatens to repress reality in Andrés Duany's dreadful counterproposal for the Dwight D. Eisenhower Memorial. It is a nasty thing to do to a fellow architect, in this case Frank Gehry—stoking the flames of public controversy with an alternative design. Doesn't the AIA have rules about stealing commissions? Beyond that consideration, Duany's massive, triangular block would present a closed fortress using up just about all the open space on the site. It would be an enigmatic icon of dead power, a mausoleum rather than a celebration of a spatially and visually open examination of Eisenhower's accomplishments. The thing delights in its ingenuity at fitting geometry into a triangle, but gives nothing back to the public. It is a sign for the defeat of democracy and its architecture.
In a final sign that Postmodernism is reaching some sort of apotheosis (unless we're counting the wildly successful David Bowie retrospective at the Victoria and Albert Museum in London), the AT&T Building is being converted into condominiums. Now called the Sony Building—in a celebration of the movement of power from utilities to games, gadgets, and other forms of entertainment—it has obviously outlived its usefulness as an office building. With a relatively small and inflexible floor plate, it was always a bit of a vanity project. It was also a gigantic domestic object: a Chippendale highboy blown up, Pop art-style, to an urban scale. Now it will have a domestic function as well, though one as fancy and expensive as the object on which Philip Johnson modeled the building design. It will thus look more like what it is, making it more of a duck and less of sign.
After all these decades, Postmodernism is beginning to look more like truth in advertising—a way to represent power and its inhabitation.
Aaron Betsky is a regularly featured columnist whose stories appear on this website each week. His views and conclusions are not necessarily those of ARCHITECT magazine nor of the American Institute of Architects.
Sony Building image courtesy a Creative Commons license with Flickr user HelveticaFanatic.