Has Mars ever supported life? Could it again? The recent confirmation that liquid water exists on the Red Planet's surface suggests that it might have harbored life in the past, possibly could still have life today, or else it at least one day certainly could. Though the idea of human life on Mars might be merely a dream away, NASA wants to foster the advancement of 3D-printing techniques to build housing on the planet using its indigenous materials.
Yesterday, the space organization awarded three teams a total of $50,000 in the first stage of its 3D Printed Habitat Challenge Design Competition, which asked participants to develop concepts for a 3D-printed modular dwelling for a four-person crew to be located on Mars. Chosen from more than 165 submissions, a New York–based architecture and space research collective comprised of Space Exploration Architecture and Clouds Architecture Office won first place and $25,000 for the proposal "Ice House." The second-place award of $15,000 went to Team Gamma, which includes includes Foster+Partners' New York office, robotics technology company Astrobotic , and University of New Mexico professor Penny Boston. Third-place honors, along with $10,000, was awarded to Team LavaHive, a multidisciplinary group comprised of astrophysicists, architects, and engineers.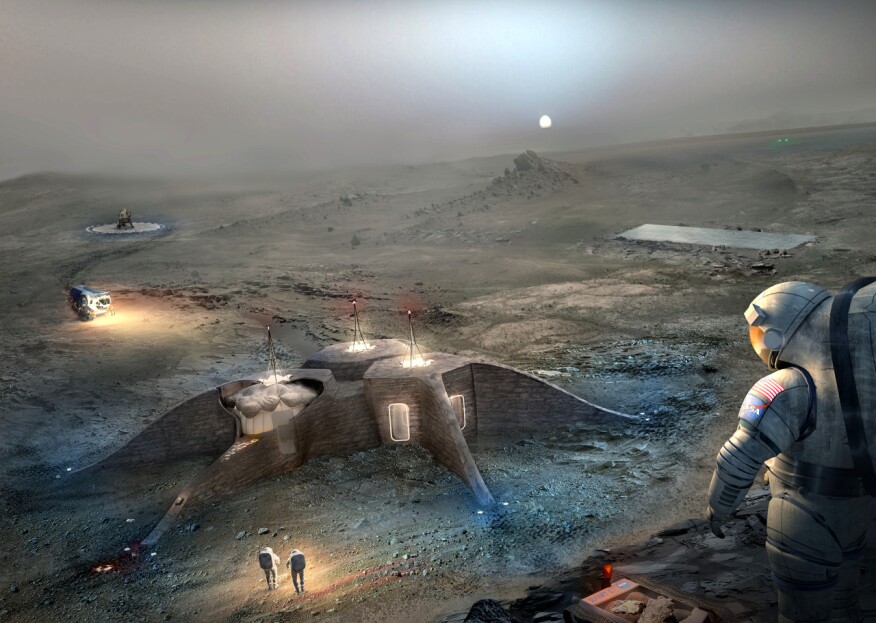 Judges evaluated the entries based on criteria including design approach, habitability, functionality, and the structures' ability to be 3D printed.
The design competition is the first stage of the challenge, which fosters the creation of additive manufacturing technology to fabricate sustainable housing in space and on Earth. The challenge is currently in its next phase, which hosts two new contests. The Structural Member Competition asks participants to create fabrication technologies needed to manufacture architectural components from a combination of indigenous materials and recyclables, or solely indigenous materials. The On-Site Habitat Competition challenges competitors to develop full-scale habitats using indigenous materials or indigenous materials combined with recyclables. Both competitions opened for registration Sept. 26, and each carries a $1.1 million prize.