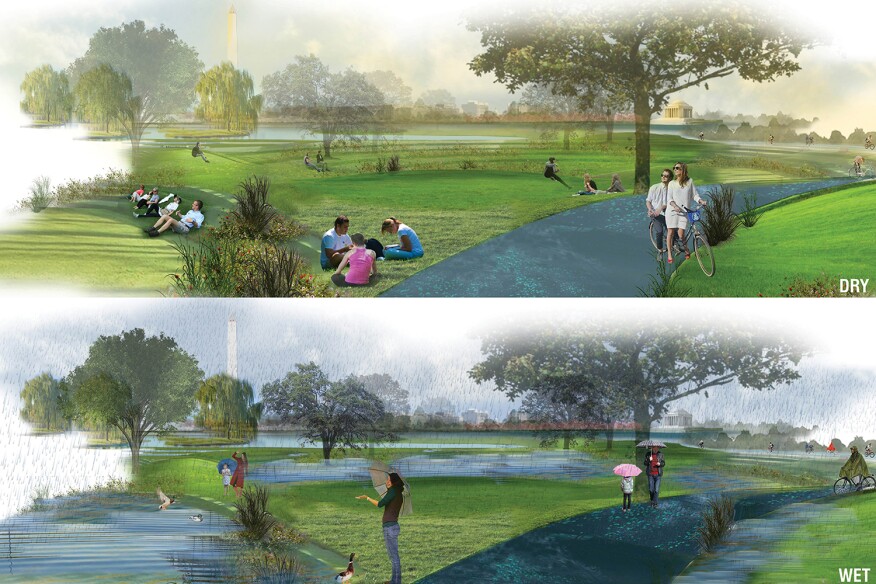 Blue Current DC, an entry from CallisonRTKL, was announced as the winner of the National Treasures Design Competition held by the Washington, D.C. chapter of Open Architecture Collaborative (OAC|DC) last week. OAC|DC's goal in hosting the open ideas competition was to promote storm surge mitigation techniques in D.C.'s Tidal Basin region as a response to the increasing frequency of storm flooding events locally and nationally. Selected finalists presented their proposals in Pecha Kucha format on August 18, with CallisonRTKL's Blue Current DC entry winning the competition with its use of protective levees that would encircle the low-lying western end of the National Mall, from the Washington Monument to the Lincoln Memorial, and southward surround the Tidal Basin and Jefferson Memorial.
These levees would enclose stormwater management piping while serving as the base for a raised, 4.5-mile bicycle and pedestrian loop trail around the monuments, accessible even in times of high water levels. Landscape interventions such as berms and bioswales would provide varied topography that would act as a buffer between the monuments and the Potomac River during storm surge conditions; terraced wetlands at river edges would add further protection during floods.
The jury for the National Treasures Design Competition included Katharine Burgess, director of urban resilience at the Urban Land Institute; Jon Penndorf, AIA, a project manager and sustainability leader at the D.C. offices of Perkins+Will; Ashley Wilson, AIA, who serves as the Graham Gund architect for the Historic Sites at the National Trust for Historic Preservation; and Jay Wilson, program analyst at D.C. Department of the Environment's Office of Policy and Sustainability.
See more images and information on the winning entry in ARCHITECT's Project Gallery.