The Market Street Prototyping Festival, being held this weekend in San Francisco, brings to life 50 community-driven designs. Last fall, an open call from Yerba Buena Center for the Arts, the San Francisco Planning Department, and the Knight Foundation yielded more than 200 project proposals, of which 50 were selected for their potential to make Market Street more engaging, and built for the three-day public showcase.
"The creativity of our communities should be reflected in our streets. By submitting an idea, or coming to the festival and voicing their thoughts, our citizens are shaping the city's future to be more beautiful, meaningful and inclusive," Deborah Cullinan, chief executive officer of Yerba Buena Center for the Arts, said in a release. "A community collaboration of this scale and nature has never been done before and is being studied by the Knight Foundation as a model for cross-city learning and neighborhood redevelopment."
Each of the selected prototype teams was matched with one of five districts along Market Street: Civic Center, Central Market, Retail Heart, Financial, and Embarcadero. Teams then shaped their responses to these districts by speaking with community members and learning their preferences. In the Civic Center district, a team from HOK developed Fogplane, which was designed as a tribute to Karl the Fog and the various microclimates of San Francisco, according to team member Mini Chu. Made of white fabric stretched between chromed columns, Fogplane provides several layers of transparency and opacity depending on one's vantage point. "As people interact with it in its various capacities and create serendipitous moments while creating space and touch, the project accumulates traces and memories of the bodies," Chu says. "Fogplane's fabric sheets mimic the fog's qualities of light, density, visibility, opacity and depth."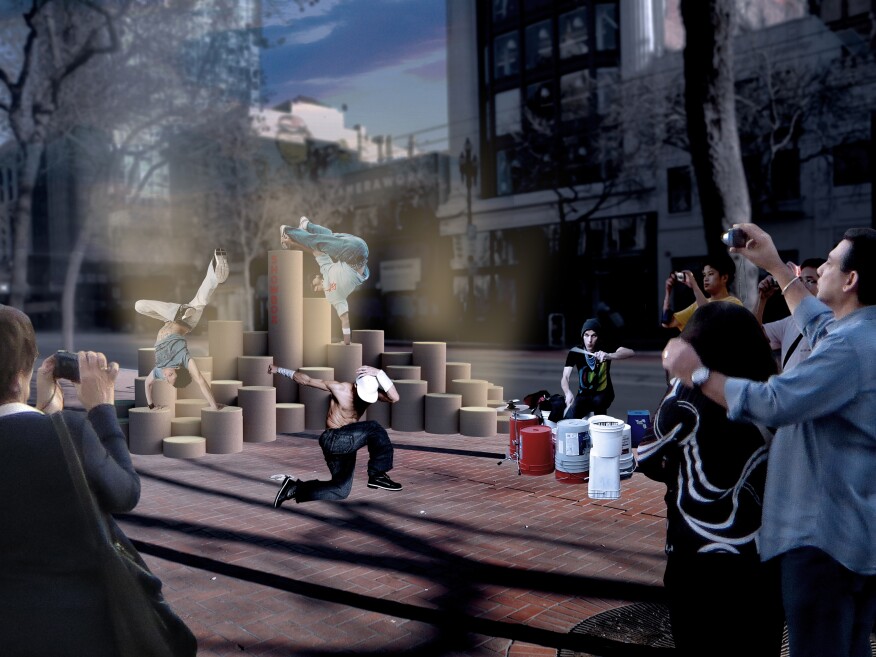 Also in the Civic Center district is The Show Box, designed by local firm Jensen Architects, which comprises a series of cardboard tubes forming a variable topography for seating and small-scale performances.
In the Financial district, Future Cities Lab developed Data Lanterns, which use colored light to display data from the city's transit systems, and could be deployed citywide as non-invasive light post signals.
David Baker Architects designed peepSHOW as a viewing station at the intersection of 7th and Market Streets to curate views of specific details in the Central Market district. The structure includes apertures that frame certain elements of the streetscape, each of which is accompanied by an explanatory audio snippet.
A redesign of Market Street is slated for 2018, and a smaller group of these prototypes will be realized as part of San Francisco's Better Market Street initiative.