Firm Description
Log in or Register to enter information about this firm
Projects
Empire, MI, United States
More from ARCHITECT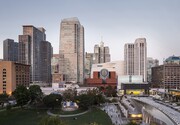 The grassroots coalition asks the president-elect to take action on mitigating the effects of climate change.
Read more
Motus Performance Center
A multi-use destination for Sport, Education, Concerts, Leisure, Conferencing and Exhibitions. Holmes Miller Architects, Scotland Read more
This 2,700-square-foot residence from the iconic architect in Mission Hills is listed for $925,000.
Read more