Firm Description
UrbanWorks Ltd.
Projects
Award Winning

Chicago, IL, United States
More from ARCHITECT
0128-MM-MITVideo
In a collaboration between Stratasys' Education, R&D departments and MIT's Self-Assembly Lab, a new process is being developed, coined 4D Printing, which demonstrates a radical shift in rapid-prototyping. 4D Printing entails multi-material prints provided by the Connex Technology with the added capability of embedded transformation from one shape to another, directly off the print-bed. This revolutionary technique offers a streamlined path from idea to reality with full functionality built directly into the materials. Imagine robotics-like behavior without the reliance on complex electro-mechanical devices! A collaboration between: The Self-Assembly Lab, MIT + Stratasys Ltd. + Autodesk Inc. Read more
Tech2016_ICDStuttgartPavilion
Institute for Computational Design - Prof. Achim Menges Institute of Building Structures and Structural Design - Prof. Jan Knippers SCIENTIFIC DEVELOPMENT Moritz Dörstelmann, Valentin Koslowski, Marshall Prado, Gundula Schieber, Lauren Vasey SYSTEM DEVELOPMENT, FABRICATION & CONSTRUCTION WS13/14, SoSe14, WS14/15: Hassan Abbasi, Yassmin Al-Khasawneh, Yuliya Baranovskaya, Marta Besalu, Giulio Brugnaro, Elena Chiridnik, Tobias Grun, Mark Hageman, Matthias Helmreich, Julian Höll, Jessica Jorge, Yohei Kanzaki, Shim Karmin, Georgi Kazlachev, Vangel Kukov, David Leon, Kantaro Makanae, Amanda Moore, Paul Poinet, Emily Scoones, Djordje Stanojevic, Andrei Stoiculescu, Kenryo Takahashi and Maria Yablonina WS14/15: Rebecca Jaroszewski, Yavar Khonsari, Ondrej Kyjanek, Alberto Lago, Kuan-Ting Lai, Luigi Olivieri, Giuseppe Pultrone, Annie Scherer, Raquel Silva, Shota Tsikoliya With the support of: Ehsan Baharlou, Benjamin Felbrich, Manfred Richard Hammer, Axel Körner, Anja Mader, Michael Preisack, Seiichi Suzuki, Michael Tondera IN COLLABORATION WITH: Departement of Evolutionary Biology of Invertebrates, University of Tuebingen Prof. Dr.Oliver Betz Departement of Palaeontology of Invertebrates, University of Tuebingen Prof. Dr.James Nebelsick, Dr.Christoph Allgaier Institute for Machine Tools, University of Stuttgart Dr. Thomas Stehle, Rolf Bauer, Michael Reichersdörfer Institute of Aircraft Design, University of Stuttgart Stefan Carosella, Prof. Dr.-Ing. Peter Middendorf PHOTOGRAPHY Roland Halbe FUNDING KUKA Roboter GmbH, GettyLab, tat aiRstructures, SGL Carbon SE, Sika Deutschland GmbH, Daimler AG, Walther Spritz- und Lackiersysteme GmbH, Lange+Ritter GmbH, Gibbons Fan Products Ltd, igus® GmbH, Peri GmbH, HERZOG Maschinenfabrik GmbH & Co. KG, AFBW – Allianz Faserbasierter Werkstoffe Baden-Württemberg e.V., Reinhausen Plasma GmbH, Reka Klebetechnik GmbH, HECO-Schrauben GmbH & Co. KG, Airtech Europe S.A., Mack Gerüsttechnik GmbH, RentES, Stahlbau Wendeler GmbH + Co. KG, CARU Containers GmbH, EmmeShop Electronics, STILL GmbH, SH-Elektrotechnik, GEMCO, Zeppelin Rental GmbH & Co. KG Read more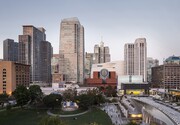 The grassroots coalition asks the president-elect to take action on mitigating the effects of climate change.
Read more