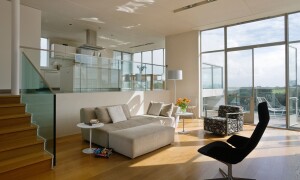 For 15 years, open floor plans dominated modern homes. Common knowledge dictated that in order to open up a house or improve a living area, walls must be knocked down. But, the trend may soon experience a downward spiral, thanks to iPads and other modern gadgets.
Broken floor plans, layouts that include compartmentalized spaces, such as studies and TV rooms, are on the rise due to new lifestyle changes, according to Mary Duggan, a judge of the RIBA House of the Year award. These lifestyle changes, including the greater use of iPads, are causing a demand for quiet spaces around the home, instead of large, open living areas. Libraries, for example, are popping up in more homes to satisfy this demand. Duggan also notes that several of the homes in the running for the award feature such floor plans, suggesting that the floor plans may become the newest trend.
Read more about this story at The Guardian.
Get more stories like this in our News Roundup.
Read more >