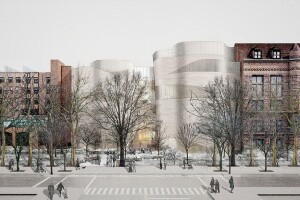 On Wednesday, the American Museum of Natural History in New York released renderings for its $325 million, 218,000-square-foot addition, the Richard Gilder Center for Science, Education and Innovation. The New York Times architecture critic Michael Kimmelman says it is a museum expansion that "for once seems as if it could work." The addition, designed by Chicago-based Studio Gang Architects, includes a new theater, exhibition spaces, laboratories, a library, open storage, and a live butterfly conservatory.
"It's part Dr. Seuss, part Jurassic Park, part parametric extravaganza, adding a kind of naturalism to abstract, airborne forms associated with contemporary architecture at its most theatrical," writes Kimmelman.
It will only occupy a quarter acre of the Theodore Roosevelt Park—much less than critics feared, but Kimmelman proposes opening up additional public parkland near the museum.
Read the full review on The New York Times.
And find even more great stories in our daily News Roundup.
Read more >