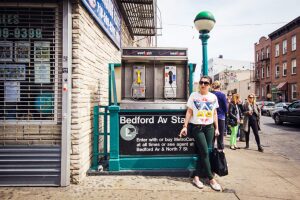 Why has God forsaken us? Well, He hasn't really, but if you live in Williamsburg or Greenpoint across the East River from the East Village and Lower East Side, it sure does feel that way sometimes. The L Train, which is your liveblood to Manhattan (and most likely your job, which you need to afford the astronomical rent in the hipster mecca where you live) shuts down regularly, or single tracks, or delays, or some other aggravation. Now comes the plan, in 2019, to shut the train down for an entire 18 months, to do extensive work to fix lingering damage from Superstorm Sandy and hopefully future proof the tunnel for more storms. That's all fine, but "Ugh!" right?
Well, there might be a silver lining to your commuter hell, writes Aarian Marshall in Wired. Last week, the Metropolian Transit Authority stated that it was looking into a plan that would shut down 14th Street in Manhattan (which tracks above the L train in Manhattan) and keep it open for only Rapid Transit bus lanes, bike lanes, and pedestrian traffic. This would be a huge experiment in street traffic patterns, as 14th Street is one of the major arteries of one of the largest cities in the country. Success here could lead to more streets shut to car traffic in the future, as well as more protected bike lanes and pedestrian lanes.
Read Aarian Marshall's full story at Wired.

Read more >