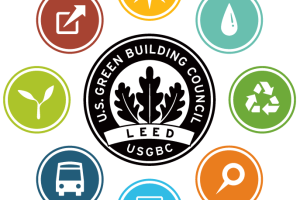 This week, the U.S. Green Building Council selected 24 individuals on which to bestow LEED Fellow status. The program started in 2011, writes Rachel Gilbert on the USGBC's site, "to honor LEED professionals who have demonstrated exceptional achievement in key mastery elements of LEED certification and significant contributions in teaching, mentoring or research with other industry professionals. LEED Fellows also have a strong history of highly impactful commitment, service and advocacy for green building and sustainability."
Also in the online release, Gilbert quotes USGBC president, GBCI, and COOMahesh Ramanujam as saying: "LEED would not have grown from an idea to a movement that spans more than 160 countries without the leadership and innovative thinking of professionals like our 2016 LEED Fellows. ... This group's work is a clear reminder of the significant progress we've made to create a sustainable built environment, and it is the ideas and contributions that these individuals make that will continue to advance our mission of a green building for all within this generation."
The 24 fellows with be honored at the USGBC Leadership Awards Luncheon at Greenbuild on Oct. 6 in Los Angeles.
You can read the full list of new LEED Fellow at the USGBC's website.

Read more >