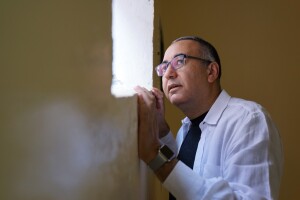 Curated by United Arab Emirates (UAE) University Professor Yasser Elsheshtawy, this year's UAE Pavilion forgoes the skyscrapers, "starchitects," and mega projects typical of the country. Instead, the professor of architecture focuses on UAE founder Sheikh Zayed's Sha'abi low-cost housing, which provided citizens in the 1960s and 1970s with modern homes and amenities for the first time.
The single-story concrete homes, designed to house populations that were still largely transient, are arranged on a grid around a central courtyard. As families became more prosperous, more and more residents left the homes for larger, modern residences. While many of the original developments have been demolished, a number of the homes still exist in the traditional neighborhoods, such as Falaj Al Mu'alla in Umm Al Quwain, Dhaid in Ras Al Khaimah, Bahia, Shahama and Baniyas in Abu Dhabi.
Elsheshtawy includes an interactive map in the design which charts the location and distribution of these remaining Sha'abi houses. Models, architectural plans, and archive documents are also be included.
For more on the pavilion, visit The National | UAE.
More stories can be found on our News Roundup.
Read more >