From 2000 to 2006, St. George, Utah, was the fastest growing metro area in the country, and that ain't whistling Dixie.
You might, however, hear old-timers humming that tune. The area, founded in the 1860s, is known as Utah's Dixie. It earned the name because Mormon pioneers settling there attempted to grow cotton. Unfortunately the crop didn't take to the mild, dry environment. But the settlers did, putting St. George on course to be a retirement and recreation mecca.
Today, people continue to flock to the city, which experienced a 40 percent increase in population in the first seven years of this century. Part of the draw, says local architect Greg Mathis, president of MRW Design Associates, is the location: "You can drive to Brian Head [Resort] and snow ski in the morning and head south to Lake Mead and water ski in the afternoon."
But business likes St. George, too. Because of its reputation as a retirement community, the healthcare and social-services sectors are the primary drivers of economic growth. Dixie State College and the tourism industry also spur job growth.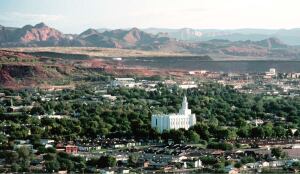 "We currently do not have an abundance of Class A space in St. George," says Ray Rosenthal, an associate real estate broker with Commerce CRG, "although we do have an increasing amount coming online and under construction."
These factors contributed to Forbes naming St. George as one of its 2007 Top 20 Small Places for Jobs.
POPULATION GROWTH
St. George's estimated 2007 population is 75,602; two years ago, it was 64,201. Demographers project that it will be 88,001 by 2010.
"Washington County's growth rate has been one of the fastest growing in the nation for a number of years, and it is projected to remain in that same category," says Commerce CRG's Rosenthal. For 2005–2006, the growth rate was 6.1 percent, compared with 2.1 percent for all of Utah. The county population is approximately 130,000.
OFFICE MARKET
The city currently has 1.8 million square feet of leasable office space. The overall vacancy rate is 7.3 percent, with an average asking rate between $13.20 and $18.00 per square foot, triple net.
RESIDENTIAL MARKET
St. George was recently listed by the U.S. Office of Federal Housing Enterprise Oversight as the No. 1 area in the United States for increase in home value: 38 percent. At year-end 2006, the average sales price of a home in Washington County was $330,208, and the average condominium sales price was $189,171.
MARKET STRENGTHS
Transportation access
Climate
Population and job growth
MARKET CONCERNS
Managing growth
Housing affordability
Increasing housing inventory
FORECAST
"The climate, quality of life, scenic diversity, accessibility, medical services, and lower cost of housing all combine to make St. George [desirable]," notes Mark Ward, marketing director for Split Rock Development, a local land developer. "In the next 10 years, the value of homes will continue to increase, population will grow steadily, and services will increase. The outlook for Utah—and St. George in particular—is very strong."