If you're being taken for granted, it can be hard to tell. Just ask the U.S. Green Building Council's (USGBC) LEED certification system. For years, as more and more flashy new buildings lined up for their bona fides, LEED routinely allowed them to stand on its shoulders and reap the benefits of sustainable credentials and higher property values. But once the certifications had been awarded, did those buildings look back? Did they keep the green promises they'd made?
"It's been like an arranged marriage. You go to the ceremony, then never see each other again," says green building consultant Jerry Yudelson about LEED, now in its third major iteration. "That's not the way it's going to be going forward."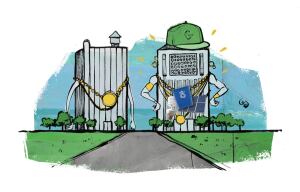 With LEED 2009, which launched in April and applies to commercial and institutional buildings, the system has clearer language regarding credit interpretation and harmonizes credits across different ratings (LEED for New Construction and LEED for Existing Buildings, for example), says USGBC spokesperson Ashley Katz. But also, finally, it asks for a long-term commitment: The owners of new buildings seeking certification must now agree to share annual data on the projects' water and energy usage for a period of five years or risk losing the LEED stamp of approval. On its announcement, this new requirement was hailed as a sign of LEED's maturity and a step toward greater energy efficiency and carbon reductions in LEED buildings. Several months down the line, though, how is it playing out? Are architects changing their designs, or clients their priorities, in light of the revisions?
"We don't really know what [a post–LEED 2009 world] is going to look like yet, or how clients are going to receive that and act on it," says Johanna Brickman, director of sustainability and associate partner at Zimmer Gunsul Frasca Architects in Portland, Ore. Brickman wonders about the logistics of the new system. "It's a challenge even for us to get that data from our clients, so I could imagine getting that from the thousands of LEED projects every year would be an administrative headache." Brickman says that aside from stressing the importance of long-term data reporting, the new point distribution hasn't really changed the design recommendations her firm makes.
For architects, the most significant change may be a new emphasis on siting, with more points awarded for offering access to public transportation, maximizing open space, and other site-specific measures. Additional points also can be earned for addressing regional environmental priorities.
Stressing that it's too early to make broad conclusions, Daniel Mills, the sustainability manager in HOK's Houston office and a member of the firm's sustainability leadership group, predicts that as LEED 2009 becomes status quo, owners and developers likely will "engage architects very early in helping with site selection" because of this shift. "Owners will become much more savvy" about these credits, he says.
By contrast, Mills believes a third major change included in LEED 2009—the raising of the minimum water and energy-efficiency standards—won't be felt so much by architects or their clients. "I don't foresee that being a big issue for owners to achieve," he says, because of the wider availability and lower cost of green products.
But the new requirements do mean it's important to ensure that your staff is up to date. For Denver-based Fentress Architects, says president and principal in charge of design Curtis Fentress, this means "more seminars and workshops to stay on the cutting-edge of evolving sustainable design and technologies."
Mills hails the new data-collection requirement, which, he argues, presents both a teaching and learning opportunity for the profession. "It's important for the owner to realize the full potential of what the design team has worked on for them; but it's also good because … it makes us more accountable in our design," Mills says. "There's kind of a feedback loop. And then you can take it forward in your next project."