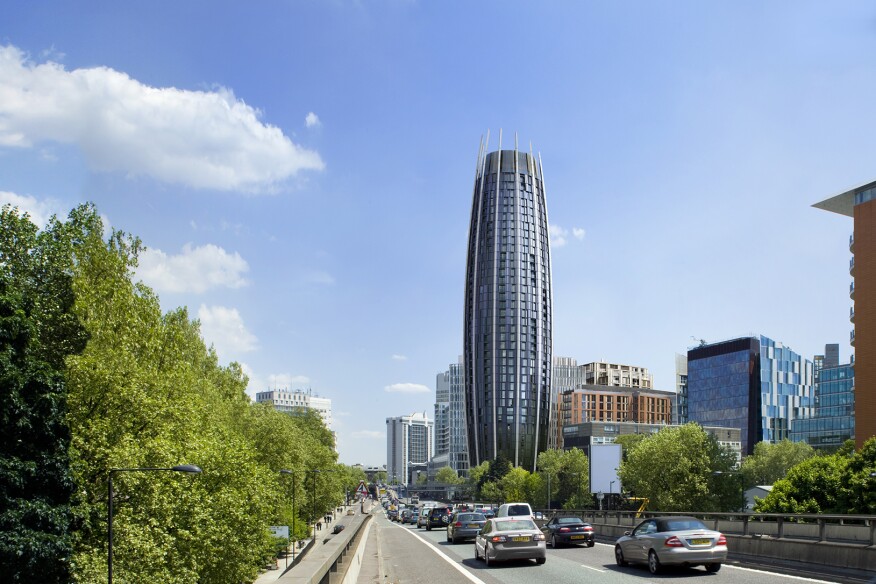 On Nov. 4, Bentley Systems announced the winners of its 2015 Be Inspired Awards during its annual Year in Infrastructure conference, held in London for the third consecutive year. Since 2004, the Exton, Pa.–based AEC software developer has invited product users to submit building, infrastructure, construction, and operations projects to its competition.
This year Bentley received a record 364 submissions from firms in 55 countries across 18 categories, which cover innovations in building, structures, construction, mining, and water treatment plants. Ten juries, each comprising industry experts, past award winners, and members of the press, selected three finalists for every category. Representatives from the 54 projects were then flown to London to present before the jury and conference attendees. (Disclosure: I was a member of Bentley's hosted media tour.)
In the Innovation in Building category, which received 32 entries, architecture and planning studio Robin Partington & Partners (RPP) won for its use of parametric design and building information modeling on 1 Merchant Square, in London. The 42-story high-rise, intended to become a landmark in the city, is one of four buildings on the Merchant Square masterplan, also by the London firm. Due to the tower's curvilinear and cylindrical silhouette, shaped to reduce wind loads, the floor plates and configurations change from floor to floor. The building's double-curvature form presented a challenge for achieving the custom-designed, midnight-blue glazed-terracotta rainscreen.
Using Bentley's AECOsim Building Designer, GenerativeComponents, MicroStation, and Navigator software, along with Microsoft Excel, the RPP team created a unitized system of panels, each trapezoidal in form and with five anchor points. They then shared the model with the panel manufacturer to ensure a smooth transition from design to production. The team also used the BIM software to expedite the documentation process, whose value was evident in many cases, one of which was for compiling the door schedule—with each floor featuring four different door types, the tower had more than 2,000 doors to specify.
The jury was impressed by how the project "leveraged the parametric model [to achieve] innovative uses of the building material and [to solve] unique engineering challenges," said Huw Roberts, Bentley's vice president of platform marketing, who presented the award.
Two other buildings were recognized in the competition. Stanley D. Lindsey and Associates, a structural engineering firm with offices in Atlanta and Nashville, Tenn., topped 46 other entries in the Innovation in Structures category for its development of the SkyHouse apartment building (shown above), a 23- to 25-story, 320- to 354-unit tower with ground-floor retail space that can be quickly modify to meet the local load requirements and geology. To date, 17 iterations, mostly in the southeastern U.S., have been built or are under construction by the developer Novare Group, in Atlanta.
In Bentley's Special Recognition Awards category, which highlights projects that were not recognized within the designated 18 categories, the Bill and Melinda Gates Hall (shown left) at Cornell University, in Ithaca, N.Y., won an award for Advancing Collaborative BIM. Cory Brugger, director of design technology at Morphosis Architects, in Culver City, Calif., accepted the award from Bentley CEO Greg Bentley, who said the project, which "generates collaboration and discourse among [the university's] computer and information science departments," was designed with AECOsim and Navigator.


For the full list of winners, see Bentley's Be Inspired Awards website.