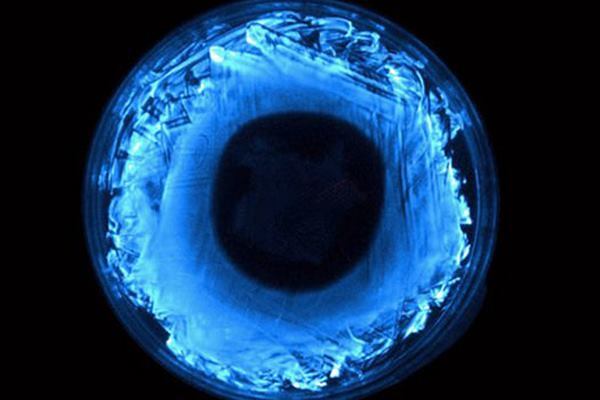 Increasing attention to biological systems and their operations have drawn designers to study phenomena like bioluminescence—the emission of light by living organisms. A team of students from the University of Wisconsin-Madison has proposed a radical idea for the phenomenon: to integrate it into a common industrial object.
The student finalists in Popular Science's #CrowdGrant Challenge, which is a competition seeking the "biggest, boldest science and technology project ideas," have proposed the commercialization of Biobulb—a microbe-powered lightbulb. The technology utilizes escherichia coli bacteria that are genetically engineered to bioluminesce. The organisms will derive energy from growth media, and use ambient light to make their own food. The bulb life is uncertain, but may last several months with repeated recharging via light.
"The Biobulb is essentially a closed ecosystem in a jar," says biochemistry major Michael Zaiken in the team's video pitch on crowdfunding site RocketHub. "It's going to contain several different species of microorganisms, and each organism plays a role in the recycling of vital nutrients that each of the other microbes need to survive."
Donations of $100 earn a starter kit to make a Biobulb at home. Could this be the most ecologically friendly nonsolar light source?
Frontier Fellows Biobulb Project from Wisc Institute for Discovery on Vimeo.
Blaine Brownell, AIA, is a regularly featured columnist whose stories appear on this website each week. His views and conclusions are not necessarily those of ARCHITECT magazine nor of the American Institute of Architects.