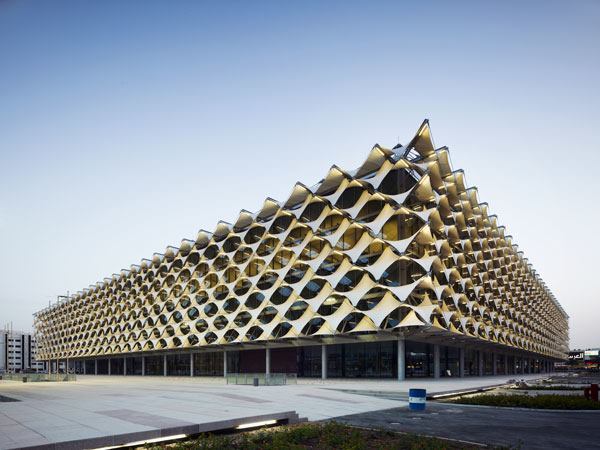 The façade of the recently expanded King Fahd National Library may look delicate but it more than pulls its own weight. The bold, yet contextual, design is crucial to the performance of the building, which is located in the extreme climate of Riyadh, Saudi Arabia.
Functionally speaking, the approximately 1,000 twisted squares of textile shade the building and infuse its interior spaces with natural light without completely blocking occupant views. This wouldn't be a critical matter were it not for the city's bustling activity, says Thomas Lücking, the Berlin-based managing director of German design firm Gerber Architekten, which designed the 440,000-square-foot addition as part of a larger renovation of the 1986 library. "The sky in Riyadh is quite boring, always bluish-white." But, he adds, "you can look down and see the life on the streets."
The design also pays homage to the region's culture. The tensile structure references the local nomadic tradition—as recently as 1950, 40 percent of the country's population lived in tents—while the intricate pattern echoes the rich history of geometric Islamic ornamentation. "To cover and veil precious objects in Saudi Arabia is also a tradition," Lücking says.
Completed in 2013, the renovation occupies the geographical heart of Riyadh's rapidly modernizing Olaya District. Rather than overtaking a public square by constructing an adjacent freestanding structure, Gerber designed its shrouded cuboid addition to envelope the existing library completely.
In a city that often experiences temperatures exceeding 100 F, "a glass building is nonsense," Lücking says. But the firm clung to its concept of wrapping the existing library with a glass edifice by shading the glazing with a polytetrafluoroethylene (PTFE)-coated, woven-glass-fiber membrane by Sefar Architecture. The smooth, self-cleaning membrane is better suited to the desert environment than PVC-coated polyester, another common awning material. The latter can yellow in the sun while the former starts as beige and then whitens over time, Lücking says.
Gerber initially experimented with a pattern of triangular awnings, but computer simulations of the sun's annual transit across the site by German environmental engineering firm DS-Plan calculated that the optimal awning shape was a twisted, three-dimensional square tipped on its end.
Each square of membrane measures 5 meters along the diagonal and is forced into an anticlastic—or double-curved—shape by cast-steel end connectors that pull each membrane corner to two nets of crisscrossed steel cable, spaced 8 feet apart. A steel-cable support system ties the tensile structure to cantilevered beams bristling out from the existing steel-and-concrete building.
The awnings block 93 percent of the incoming sunlight all day, save for about 30 minutes at daybreak and 30 minutes at sunset. To avoid turning their glass building into a greenhouse, the designers left a 2-meter gap between the tensile fabric façade and the building. Convection circulates hot air up and out of the cavity.
That geometry was the starting point, Lücking says. "The rhythm of the façade dictated everything else ... the grid of structural elements and the interior space."