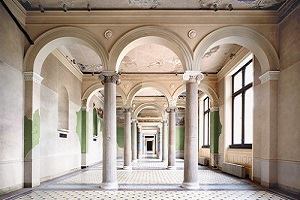 "Sustainable architecture is common sense rigorously applied." That was the simple message that Chilean architect Alejandro Aravena had to offer those of us attending the Holcim Forum on the Economy of Sustainable Architecture. Were it that simple. Through three days of lectures, discussions, and site visits in Mumbai, India, two weeks ago, we wound our way through a variety of different strategies that would make the places we inhabit more sustainable—though what that means remains an open question.
The simple and radical answer should be that sustainable architecture is the making of buildings or places of habitation that do not, either in their construction or in their use, use up non-renewable natural resources. Everything else is just a partial payment on that promissory note to our planet. As keynote speaker Lucas Bretschger showed, construction is still one of the world's worst energy hogs.
That was a point that did not receive much discussion. Perhaps that was a failing of yet another think-fest, but what was interesting to me about the Mumbai gathering was exactly that it did not focus so much on technologies or building construction techniques, as it did on another form of sustainability: the social and, as the title implied, the economic ability to create and maintain facilities. We met in a place that needs an overwhelming amount of basic housing, sanitation, power, and transportation facilities. Should those needs not take precedent over concerns for reuse, recycling, and lessening the dependence on fossil fuels? That was where the idealism of construction- and use-oriented sustainability met the reality of how architecture furthers what might at first appear to be a completely different kind of sustainability, that of community. The short answer to this conundrum, which came through case studies and site visits (like the visit to the Dharavi slum that I described in my last post): the best way to create both socially and environmentally sustainable structures is to reuse what is already there, whether it is human-made or natural.
The architect Francis Kéré, winner of last year's Gold Award in Holcim's Sustainable Architecture Prize, for instance, builds his designs as much as possible out of local earth and vegetation. At the completely other side of the spectrum, Sir David Chipperfield showed how reusing an existing building—the Altes Museum in Berlin—led him to make much better architecture than we have come to expect from him. Aravena kept it simple. In describing how to rebuild Constitucion, a community in Southern Chile devastated by a tsunami, he offered the importance of restoring and strengthening natural defenses, while creating housing that is basic, minimal, and adaptable, so that individuals can build on what the public invests. Architecture becomes an intelligent reuse of place and the making of an open and minimal framework for social life.
It was these simple goals, rather than ideas about compact cities, or community-based design, or any other faddish responses to urban issues, which seemed most self-evidently of use. Perhaps next time the Forum, which occurs every three years, can come to the point where it can write a manifesto that will word such a dual form of sustainability in a clear manner.