Technology is freeing workers in many sectors—particularly creative ones like architecture and design—from the office. Employers, in turn, are responding with incentives to encourage workers to keep showing up. Among them are spaces that better meld the digital, physical, and social aspects of contemporary office life. To that end, we've assembled products that combine soft forms and a warm material palette (here's looking at you, wood) with the resilience needed for high-traffic areas, bringing a touch of home to the corporate world.

Sylvi, Izzy+
Izzy+ created the Sylvi modular lounge system as a so-called "third space"—more collaborative than an individual workstation, but less formal than a typical conference room. With upholstered sofas alongside freestanding and connected tables, Sylvi meets the functional needs of a contract gathering space with a relaxed aesthetic. The system launches next month.
FH429 Signature Chair, Carl Hansen & Søn
When it debuted in 1954, Danish designer Frits Henningsen's gracefully curved, sculpted armchair stood in contrast to the linear constructions of his Danish-Modern contemporaries. To this day, it has remained in a class of its own, offering a fresh take on the typical lounge chair while fitting right in place in a corporate office or a midcentury residence. Carl Hansen & Søn is reviving the design in a choice of solid oak or walnut with leather or fabric upholstery. The chair, which will be available in November, measures 39.4" tall, 34.3" deep, and 26" wide with a seat height of 16.5".

Magneto, Foscarini
Personal tasklights bring utility to executive desks. This one also adds high-design fun. A rotatable, rare-earth magnetic ball connects the fixture head to the matte-varnished steel frame in Magneto, a table and floor luminaire from Italian lighting brand Foscarini. The company updated Magneto earlier this year with a 5W LED light source, in 2700K and with a color rendering index exceeding 80, that delivers 95 lumens per watt. It is offered in black and white finishes.
Fusion Collection, Unika Vaev
The Norwich, Conn.–based division of the ICF Group, Unika Vaev, introduced a trio of upholsteries that enliven wool with color and texture. The vibrant Muse offers a soft-yet-resilient checkerboard look in 17 colorways; the textured Cocoon counters its tactile boucle with a neutral color palette; and the classic Taylor marries a heathered texture and matte look with woven mélange yarn.

Row of, Mitab
Swap out the ubiquitous, drab file cabinets with these colorful storage options from Swedish manufacturer Mitab. Row Of is offered with four base modules and three cabinet heights, allowing designers to mix and match sizes for their desired effect, which designer Daniel Svahn says is meant to emulate the rows of houses and buildings that make up a cityscape. Push-open doors hide internal shelving.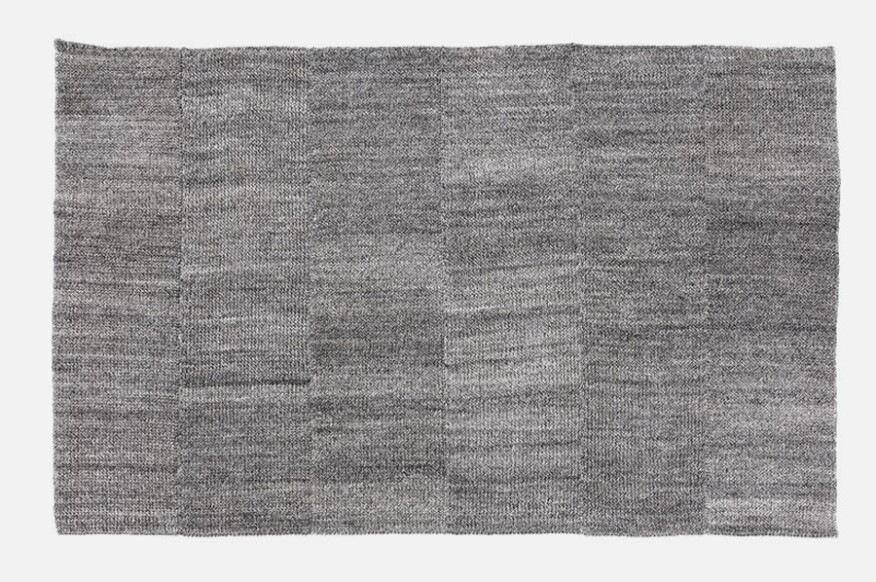 Maglia, Ruckstuhl
For buffering noise in low-traffic corporate applications like private offices and waiting areas, the Maglia area rug from Swiss carpet maker Ruckstuhl is made of fique fibers—historically used in sacks for transporting coffee beans—that are hand-spun and woven in Columbia's Curití region. The resulting thick, braided sheets combine a subtle mix of five hues each and are offered in nearly 30 colorways.
Carlyle, HBF Group
A gently curved back rests against a slender wood support that doubles as a handle for moving Carlyle, a chair that gets its name from New York's iconic Carlyle Hotel. A quarter-sawn ash veneer reveals a clean architectural grain. Offered in side, bar, and counter versions with a solid ash or upholstered seat. An optional footrest can be specified in brushed copper, brushed brass, and brushed aluminum.
Fouronefive_CO, Coalesse
Responding to the need for more collaborative space in the office, Coalesse's Design Studio created the versatile fouronefive_CO table, which integrates power supplies and hides the wires in four angled legs. Lightweight construction allows for a wide surfacing span to facilitate gathering. Available in a range of sizes, including a standard 28.5" work height, with rectangular, boat, round, and square tops in laminate or veneer.