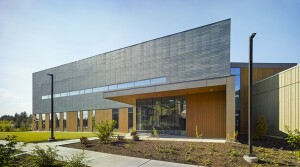 ZGF Architects LLP designed the 16,000 square foot new St. Charles Cancer Center entirely around patient well-being. The site, adjacent to the existing hospital and between Pilot Butte and the Cascade Mountains, drove the simple building form and heavy use of natural building materials. Full-height windows along two façades bring ample daylight into the center and provide views of the healing garden and reflecting pond or distant peaks. Patients can also access outdoor decks for infusion treatments or personal reflection. "There's always a connection to nature," says ZGF Design Partner Gene Sandoval.
Architects specified TruGrain® made with Resysta®, a fiber reinforced hybrid material with the look and feel of tropical hardwood, for portions of the exterior façade, decks and soffits. TruGrain® products contain rice husks, an agricultural waste by-product. When combined with a synthetic plastic polymer, salt and other additives, the result is almost indistinguishable from tropical wood. TruGrain® products provide similar workability, design flexibility and a beautiful finish. Most importantly, TruGrain® products are water-resistant, will not shrink or crack and result in great durability and long life span. Lastly, TruGrain may qualify for several LEED points. The durability and sustainability were two deciding factors for using TruGrain® on the St. Charles Cancer Center. Aesthetics factored heavily too; TruGrain® decking and siding profiles were stained a warm burma to blend in with the natural surrounding.
The project just received the Silver Prize in the 2015 Modern Healthcare Design Awards.
Renee Havrilla, Vice President overseeing TruGrain® development commented, "the St. Charles Cancer Center is an excellent example of how owners can achieve a beautiful, sustainable building with the decreased maintenance required with many other products. TruGrain® is the only synthetic product on the market today with the look and feel of exotic wood varieties and similar workability." She added, "the real beauty of the product is that it's incredibly durable. The fact that TruGrain® helps architects and builders achieve their sustainability goals is an added bonus."