The Atmospheres textile collection by Swiss fabric company Creation Baumann, is being launched in the United States by Rockville Center, N.Y.–based fabric manufacturer Carnegie. The collection comprises six window treatment options—four of whose shading capabilities are accompanied by its acoustic, glare control, and heat reduction qualities.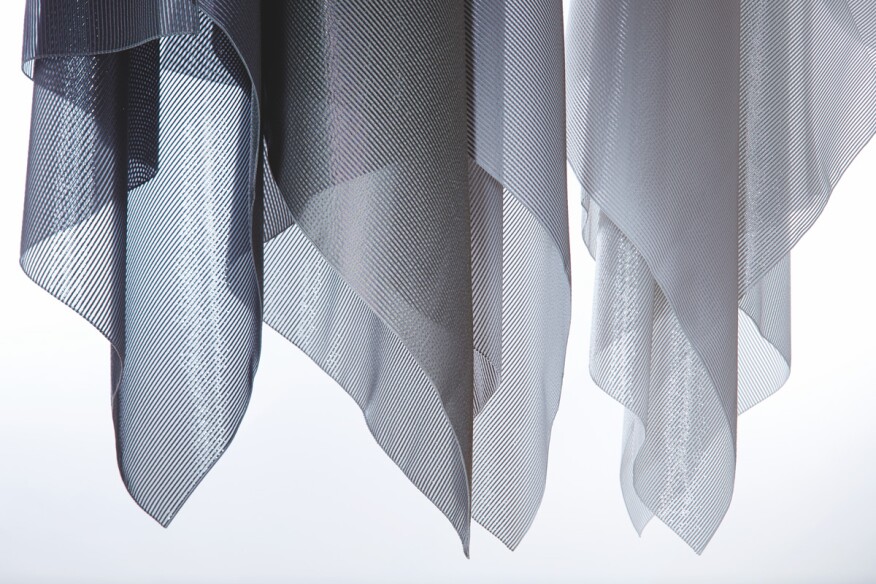 With the current trend of open concept offices that opt for tons of natural light, architects and designers must address the issue of maintaining energy efficiency within spaces that could easily overheat during hotter months, and feel chilly during colder ones. Four of the six fabrics in this new collection—comprised of Reflectacoustic, AluNet, Primacoustic, Terzacoustic, Karat, and Prato— utilizes yarn and weaving techniques to not only minimize glare and block excessive heat, but also contributes to a more acoustically balanced environment.
Reflectacoustic is a semi-transparent fabric composed entirely of flame retardant polyester. It has a woven metalized backing that helps absorb and reflect light, and has an Noise Reduction Coefficient (NRC) rating of 0.4. This textile is offered in five shades of gray.
AluNet's wide-knit fabric allows for transparency, but has an added aluminum backing for heat and glare protection.
Primacoustic and Terzacoustic are transparent textiles with sound-absorbing qualities. Corresponding foil yarns create a glossy, glass-like look to each fabric. Primacoustic comes in seven colors and has an NRC rating of 0.35, while Terzacoustic is offered in five colors and has an NRC value of 0.25.