Characterized by a corrugated aluminum base topped with an oversize bowl reflector, the Taccia luminaire was conceived by designer-brothers Achille and Pier Giacomo Castiglioni in 1958 as a tabletop solution for indirect lighting. While the pair's original vision called for transparent plastic to be used for the bowl's diffuser, the incandescent light source available at the time generated enough heat to deform the material. As a result, glass was used for the diffuser when the product went to market in 1962.
Fast forward to 2010: Italian lighting manufacturer Flos replaced the incandescent lamp with an LED light source. Now, the company is re-issuing the fixture with a design matching what the brothers originally intended, offering the diffuser in plastic instead of glass.
The new and improved, 28W Taccia LED 2016 uses a low-emitting, chip-on-board LED that delivers 2,068 lumens at a warm 2700K and has a crisp CRI of 93. The heat-resistant PMMA (poly methyl methacrylate, the same material found in Plexiglass) diffuser will retain its clean, transparent look, rather than yellowing with time like typical plastic. And unlike the 2010 LED version of the fixture, this iteration is dimmable.
The new model (shown above) was introduced at the 2016 Salone del Mobile, in Milan, and will be available for purchase beginning in September, offered in a choice of black anodized or silver finishes.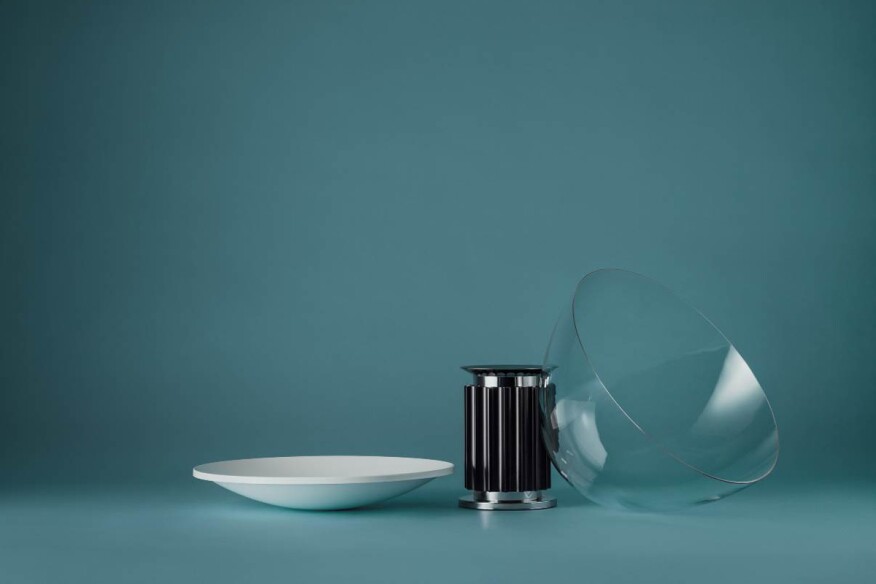 This article is part of a series of weekly spotlights covering the latest in innovative products and materials. Read more of ARCHITECT's Object of the Moment coverage here.